Published May 03, 2017 by Doug Cook
You're Here, Too? President Obama, Isaiah Bolden '15 Chat about Environmental Research in French Polynesia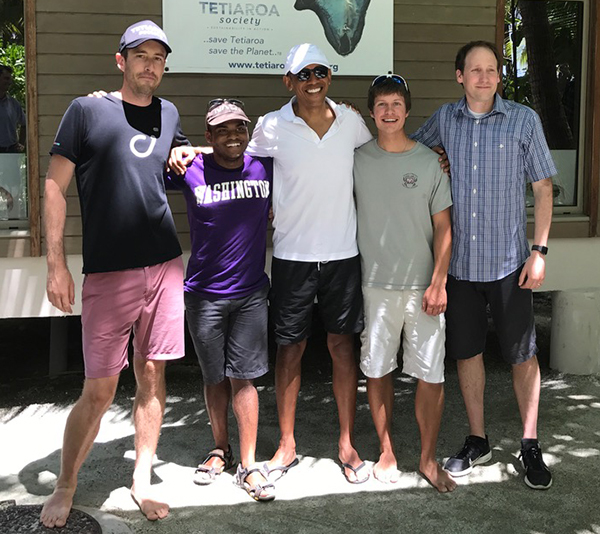 Isaiah Bolden '15 recently returned from French Polynesia, where he was doing fieldwork for his Ph.D. in oceanography, with data — and a great story.
Bolden's lab group was conducting research on Tetiaroa Atoll, a ring-shaped coral reef, when the vacationing President Barack Obama stopped by to chat.
"President Obama visited with the group as part of a tour of the multiple ongoing research projects on Tetiaroa," said Bolden, who, having begun his research on corals with Assistant Professor Earth and Oceanographic Science Michèle LaVigne as part of a Mellon Mays Fellowship at Bowdoin, is now in the oceanography graduate program at the University of Washington.
"Our team has been making semi-regular trips to Tetiaroa since 2014 to conduct a variety of experiments that aim to understand ecosystem-level response to ocean acidification in coral reef ecosystems," said Bolden, adding that Tetiaroa is ideal for this research because it is historically pristine, accessible, and has laboratory facilities with an infrastructure well-suited for their purposes.
Bolden says his advisor, Alex Gagnon, explained to Obama that one of their projects attempts to transfer carbon dioxide from the deep ocean to surface waters over a small patch of reef, and that this could simulate what end-of-century conditions will actually look like for coral reefs on an ecosystem scale that current models and culture experiments cannot capture.
"We were astounded by his knowledge on the subject," Bolden said. "He responded with a comparison of our group's research with previous studies of natural volcanic CO2 seeps impacting marine life in the Mediterranean.
"Unbelievable," said Bolden, recalling the exchange. "What a man!"