Published May 27, 2017 by Doug Cook
Commencement 2017 Student Address: Raisa Tolchinsky '17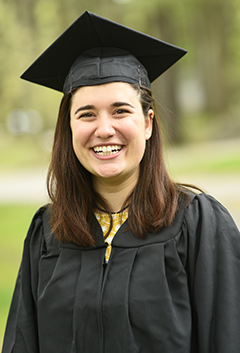 At Bowdoin's 212th Commencement ceremony, held May 27, 2017, Raisa Tolchinsky '17, winner of the Goodwin Prize, delivered a poem.
President Rose, invited guests, members of the Class of 2017: a poem, For Bowdoin, Class of 2017.
I don't know how to tell the story of the last four years.
I guess what I meant to say is,
what I have to share with you are only moments.
Here is when I asked my father, before he got in the car
"Can you remind me how to make friends?"
and here is the night we camped on floor of Farley Field House
but a lot of us couldn't sleep so we had to listen to the sound of
500 strangers breathing for hours,
and here is the first step of the first mile
of the pre-o trip that felt too hard but actually was just hard enough.
Here is when I introduced myself to the stranger wearing the same shoes as me
and the stranger who told the hilarious story about the track meet
(both would become my best friends)
and here are the afternoons we spent together in Thorne
where the sun came through the windows perfectly,
and in Moulton where the pepper flips went horribly wrong.
and at Super Snacks where the fourth grilled cheese
made a horrible night just a little bit better.
Here is October and the trees on fire,
the nights and nights and nights I spent
with a book open across my lap:
Whitman, Emerson, Ellison, and Hawthorne,
Shakespeare, Sexton, Sappho, Bishop, Barthe,
Plath, Dickinson, Douglass, and Dante,
and here are the unread pages of JSTOR articles and half-done problem sets,
the time I had to stop myself from kicking the printer in Smith Union
the third time I lost my One Card, and the fourth time I ran out of printer money.
Here is the scratched desk where I have written every last line of every final paper.
And here is the sign that someone wrote in chalk outside HL which said:
"don't forget to look up."
Here are all the times when I actually listened,
when I looked up to see the faint glimmer of the aurora borealis
or a hot pink sunset, or a sky filled with stars.
Here are four years of realizing I knew a lot less (and a lot more) than I thought I did:
when the quarterback turned out to be an art major,
when I fell in and out of love,
when I got a 42% on a midterm,
when I wept on the museum steps under a full moon.
Here are the hours spent asking questions and
the hours spent coming up with answers,
in the art studio, in the library, on the field—
answers which were often wrong, but
sometimes, more often than not, they were right,
like the professor who said, "you guys need to be harder on yourself,"
or Junot Diaz who told us to be kinder to ourselves,
or Josiah at the C-store who told me one rainy Wednesday morning,
"life is hard but also great."
I don't want to forget these moments, or a million others:
when we went bioluminescent skinny dipping and I was too scared to jump in,
but Ben pushed me in anyways, and it was awesome, and worth the cold,
so thanks, Ben,
or when we turned our house into a stage and listened to jazz until the sun rose,
or when Nunoo and I talked about God over lunch for hours.
I don't want to forget 12 perfect sunrises plus the twelve donuts from Frosty's I ate
while watching them
or the kids from Maine watching the kids from California
as it snowed, and snowed, and snowed
or when that snow turned to mud, and spring came, and I noticed that tree next to the window of my first room at Bowdoin was just a little taller than I remembered.
And Class of 2017, I know I've already forgotten so many moments that happened here
And I know that maybe my moments were nothing like yours,
Or maybe they were similar
Or maybe you were part of them,
And if you were, I want to say thank you.
But I'm sharing them with all of you
because I don't know how to tell the story of these past four years in any other way,
and that's why graduation feels so scary, because I can't wrap it up with:
"college was great" or "I learned a lot" or "I made friends for life"
because the reality is
that the time here has gone far too slowly and far too fast and a million other clichés,
and speaking of clichés, for many of us, Bowdoin was not "the best days of our lives";
college was not all perfect grades and games and parties,
It was sometimes scary, and hard, and lonely,
and also surprising, and strange, and lovely
and a hundred other adjectives that will never be enough.
So maybe it's ok that we can't wrap it up,
that there is no one narrative, that we don't know how to tell the story.
Maybe, for now, there are the moments
where we truly paid attention,
and maybe sometimes,
paying attention is enough.