Published May 12, 2016 by Tom Porter
Academic Awards, Karofsky Prize Presented on 2016 Honors Day
Bowdoin College held its 20th annual Honors Day ceremony May 11, 2016, in Kanbar Auditorium, Studzinski Recital Hall, to recognize the academic accomplishments of Bowdoin students.
In addition, the 2016 Karofsky Prize was announced. The Karofsky Prize is awarded annually at Bowdoin to an outstanding junior faculty member who best demonstrates the ability to impart knowledge, inspire enthusiasm and stimulate intellectual curiosity.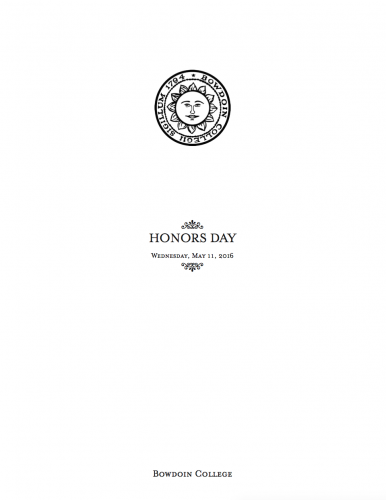 The award is generously funded by members of the Karofsky family, including Peter S. Karofsky '62, Paul I. Karofsky '66, and David M. Karofsky '93.
Each year, the previous recipient of the Sydney B. Karofsky Prize gives a talk at Honors Day.
This year, 2015 winner Emily Peterman, assistant professor of earth and oceanographic science, gave the address "Reaching The Peak."
"I'm a geologist," Peterman said, "so perhaps it's no surprise that I want to talk a bit about how to reach these peaks, the paths taken to get there, and how that journey prepares us to conquer other peaks."
In life, as in geology, she said, "we are shaped and transformed by the paths we choose, so it's important to choose wisely."
In the same way that a rock's path is influenced by the forces of nature, Peterman told the assembled students that their paths will change too.
But, she added, they need to remember one thing: "Whether we are aware of it or not, we retain a record of the path we've taken. And that has uniquely prepared us for our next journey, our next peak."
Peterman had three pieces of advice to offer students: The first is "take good notes. As you work towards the peak, you will invariably forget the early steps. They're important. They're where you came from and they shape your path."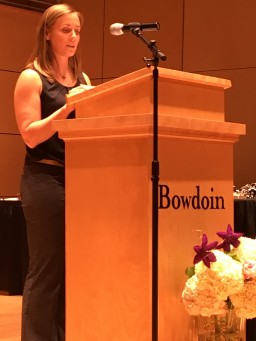 Secondly, she said, "be persistent. If the peak is worth summiting, it might take some time. You might even have to retrace your steps at some point.
"Many of the rocks I study have been metamorphosed more than once, and they preserve evidence of more than one path to more than one peak. Have the courage to keep going."
Finally, she advised, "take a moment to appreciate the context. Appreciate the peaks around you, and appreciate the detours you take in getting to the top."
And remember, she said, there is more than one path to the peak, and there are always more peaks to climb.
Following Peterman's address, Interim Dean for Academic Affairs Jennifer Scanlon presented this year's Karofsky Prize to Assistant Professor of English Emma Maggie Solberg.
Solberg, who earned her B.A. in the U.K. at St. Hilda's College, Oxford, and her Ph.D. from the University of Virginia, teaches courses on medieval British literature from the Dark Ages to the birth of Shakespeare.
She's currently working on a book about early English drama and the cult of the Virgin Mary. Click here for an interview with Solberg.
The evening's musical interlude was the "Tarantella in A minor" by Charles-Camille Saint-Saëns.
It was performend by Emily Yukiko Licholai '18, on flute, and Kelvin Guo '18, on clarinet, with Beckwith Artist In Residence George Lopez on Piano.
Departmental prizes were then presented to students by academic department and program chairs.