Published February 17, 2016 by Rebecca Goldfine
Justin Pearson '17 Wins Princeton Policy Fellowship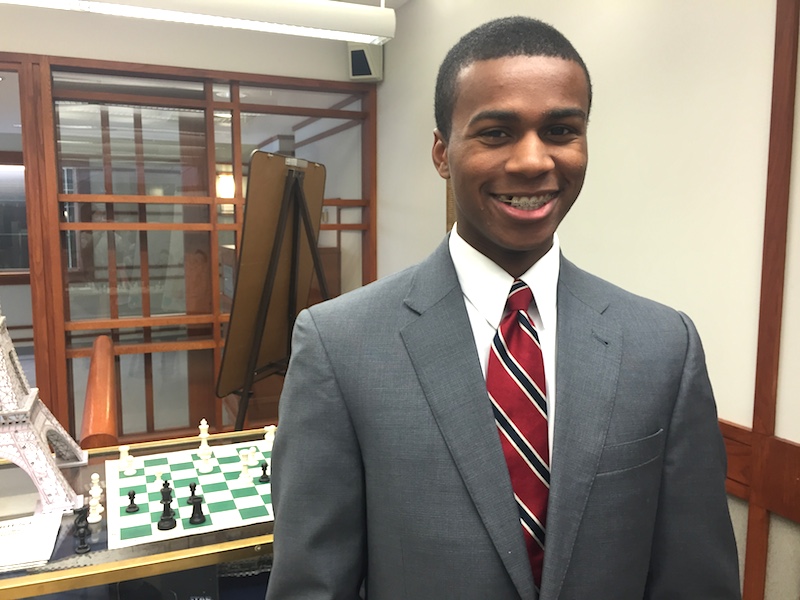 When Justin J. Pearson was 11, his family temporarily relocated to the Washington, D.C., area while his father attended Howard University's Master of Divinity program. Four years later, after his father had his degree, Pearson's parents returned with their five boys to Memphis, leaving their prosperous suburban home in Virginia for a different kind of life.
Pearson's parents are service-oriented — his mother is a teacher, his father a preacher — and they wanted to return to Memphis to give back to their community. For Justin, the transition from a well-funded public high school in Centreville, Va., to an inner-city high school in Memphis was "jarring." He started his sophomore year without all the textbooks he needed. He recalled mornings when he pulled up at the school to find throngs of kids circling an early morning fight. He described classes disrupted by students screaming after being pepper sprayed.
"It was two different Americas," Pearson said. By age 15, he had lived in two echelons — the upper middle class and the lower class — and had experienced the disparities in schooling between them. "It was the bridging of those two experiences that first showed me there were real, deep-seated, entrenched problems in education," he added.
Pearson began to address the problems at Mitchell High School while he was a student there. He got involved with student government and a student advisory board for the school district, and he helped launch a student group to stop violence. He advocated for more textbooks, technology and AP classes. He also joined the debate team, helping lead his school to many tournament championships. "This is important because it made an academic activity okay to the rest of the student body," Pearson said. "Our winnings were announced alongside football games."
Pearson has stayed committed to education reform at Bowdoin, where he is majoring in government and legal studies and minoring in education. He is also a Mellon Mays fellow. This summer he has been accepted to Princeton University's Public Policy and International Affairs Junior Summer Institute at the Woodrow Wilson School. The program's mission is to help students from underrepresented groups acquire a graduate degree, typically in public policy, public administration or international affairs. The program provides a $5,000 scholarship to its participants if they end up attending one of 30 top public policy graduate programs.
PPIA is geared toward rising college seniors who have an interest in a specific area of domestic or international policy, from public health to the arts. Pearson's focus is clear: education policy reform in the United States. "I think in order to provide the most opportunities for the most kids, government policies have to change," he said. "When our system denies students the opportunity to dream up where they want to be and then go after it because of where they come from, or who their parents are, or the neighborhood they grew up in, it takes policy change to get at the heart of that."
At the same time, Pearson knows that wherever he ends up professionally — whether at a think tank or in elected office — he does not want to lose touch with the teachers, students and school administrators he aims to help. "The disconnect between policy and the people it serves, I think, is one of the largest problems in education reform," he observed.
Even while living in Maine, Pearson has not lost touch with Memphis. Each summer, he returns to the city to work with students at a summer organization that he founded with help from a Thomas A. McKinley '06 and Hannah Weil McKinley '08 Summer Fellowship grant through Bowdoin, as well as a Nucor Steel grant and other donations. Since he launched Camp Hope two summers ago, he's expanded the camp to two locations and increased the budget to hire three college interns and a program director. Over 150 high school students have participated, he said.
Though Pearson probably would have enrolled in more AP classes and participated in more enriching extracurricular activities at a tonier high school, Pearson said he's indebted to Memphis for giving him a good education that went beyond the classroom. "I am so thankful I went to Mitchell High School," he said. "I am where I am because of that school. That school built me. I was born in Memphis and grew up in Centreville, but I was built, transformed and reformed in Memphis."