Published August 14, 2015 by Rebecca Goldfine
Spending a Summer on an Island of Birds
For more photographs and a different way to experience this island story, head to Story Map.
Common terns flying over head, Marisa Browning-Kamins '16 rowed a dinghy with two other passengers across a small harbor toward a pebbly beach.
Once the boat had reached the island, they were greeted by Nico Kaminow, a young man with a deep tan and bushy black beard and hair. Sitting under a big umbrella, the novel Les Miserables open on his lap, Kaminow was on beach duty, responsible for steering unwary boaters away from Stratton Island's fragile seabird nests and protected seal cove.
Stratton Island, a National Audubon bird sanctuary located off the coast of Old Orchard Beach, is part of Project Puffin, a longterm bird restoration effort in Maine. This season, Browning-Kamins was part of a four-person staff living on the island for the entire summer to protect and monitor its bird colonies.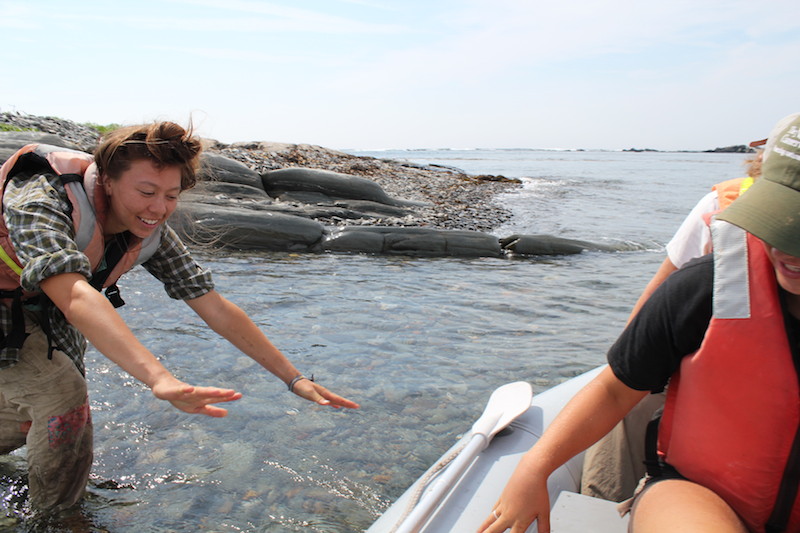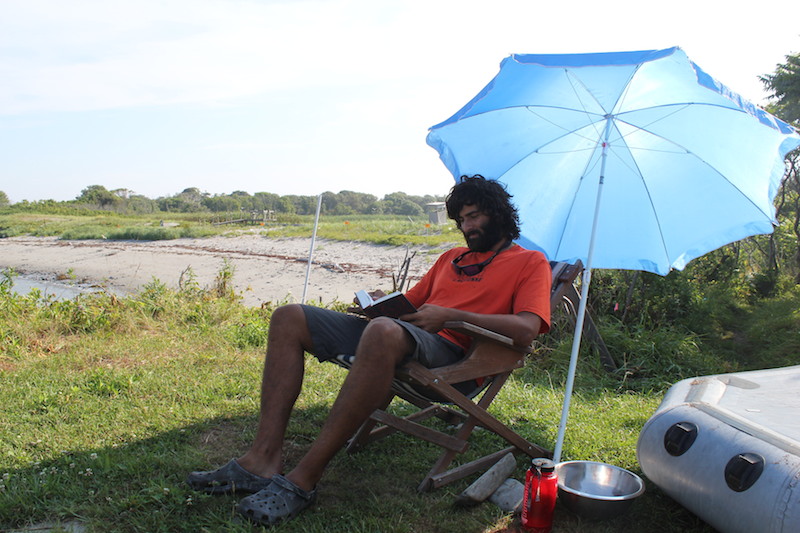 Two of Marisa Browning Kamin's team members, Kristina McOmber and Nico Kaminow
Browning-Kamins is the third recipient of a Bowdoin fellowship that funds summertime field work with Project Puffin. Last year Lila Wright '16 and Claire Schollaert '16 were the first two Bowdoin students to receive the grant.
Project Puffin was founded in 1973 on Easter Egg Rock to rebuild Maine's puffin colonies, which had been nearly wiped out by hunters. Over the years, the project has grown to encompass six more Maine islands, each the site for thousands of nesting puffins, terns, razorbills, storm-petrels and other birds.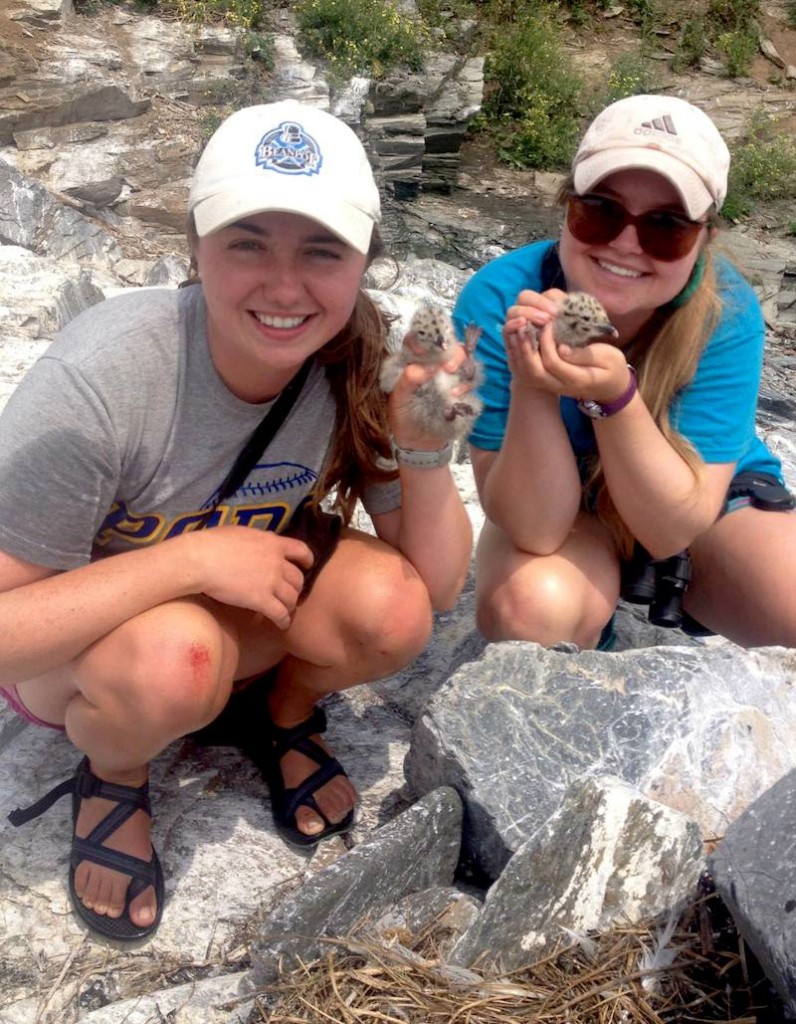 So far, all of the Bowdoin fellows have been placed on Stratton Island, one of the more accessible of the seven Project Puffin islands. It lies close to Prouts Neck, Scarborough, in Saco Bay, a 20-minute boat ride. The island is a preferred spot for nesting roseate, least, Arctic and common terns. Many other bird species arrive on the island's shores or around its freshwater pond, including glossy ibises, little blue herons, great and snowy egrets, American oystercatchers, northern shovelers, common eiders, and black crowned night herons.
Last spring, before moving to the island, Browning-Kamins had some trepidations about her new job. To live for 10 weeks on a small island with no electricity, running water or enclosed structures other than tents take a certain amount of fortitude.
"It sounded daunting," she recalled. "I thought it was going to be rocky, cold and isolated." Instead, she found a sunny island with no mosquitos, several beaches and a network of narrow paths canopied by sumac trees and edged with elderberry bushes, chokecherry trees and jewelweed. "There's a big contrast between how difficult it seems on paper and how delightful it really is," she added.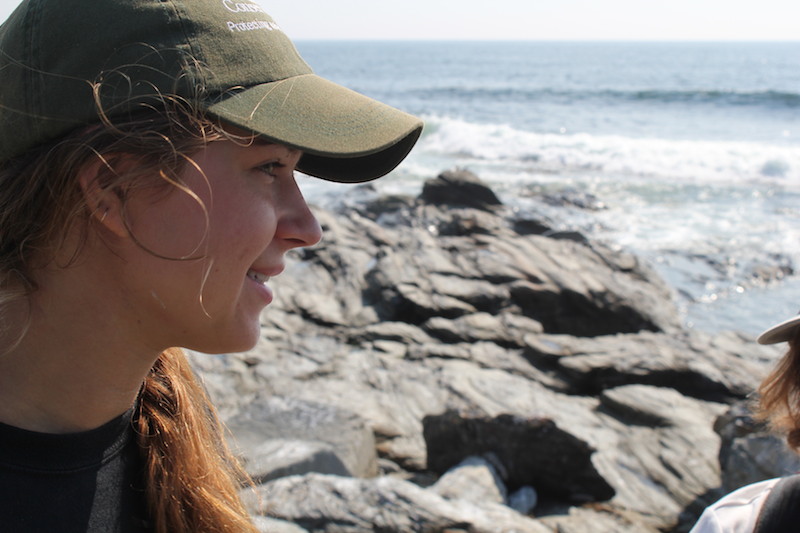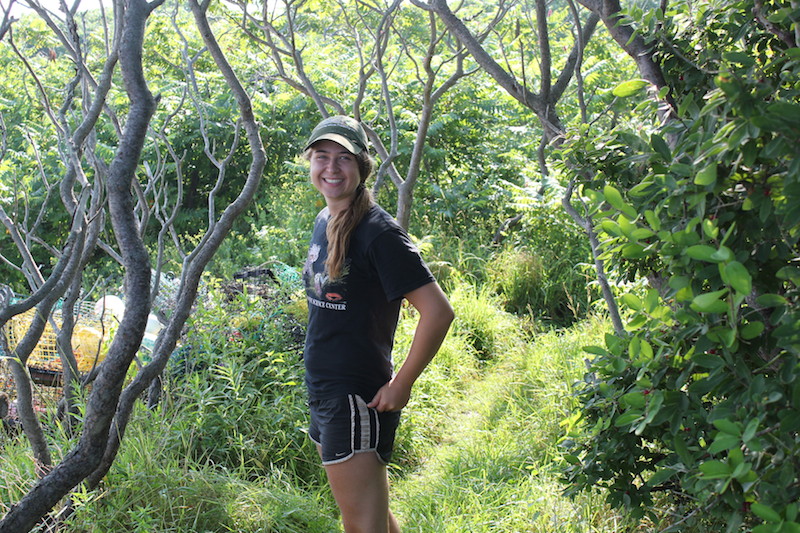 The social hub of Stratton Island is its kitchen and lab area, which has been set up in an old apple orchard. A rough lean-to makes do as a kitchen and shelters a small propane refrigerator, gas stovetop and wooden table with benches. The shelves are well stocked with spices, cooking oils, crackers, nuts, cocoa and tea. Oranges, bananas and avocados hang in nets from the rafters. Solar panels on the roof provide enough electricity to charge computers and phones. "We don't want for much," Browning-Kamins admitted. Dinner duty is shared. Browning-Kamins made chicken marsala once. Her crew mate Kristina McOmber recently made sushi.
Besides a big shopping trip on the mainland once a week, the staff is expected to remain on the island for the duration of the summer season. They live in separate tents tucked away in nooks, their privacy provided by the island's tangled vegetation.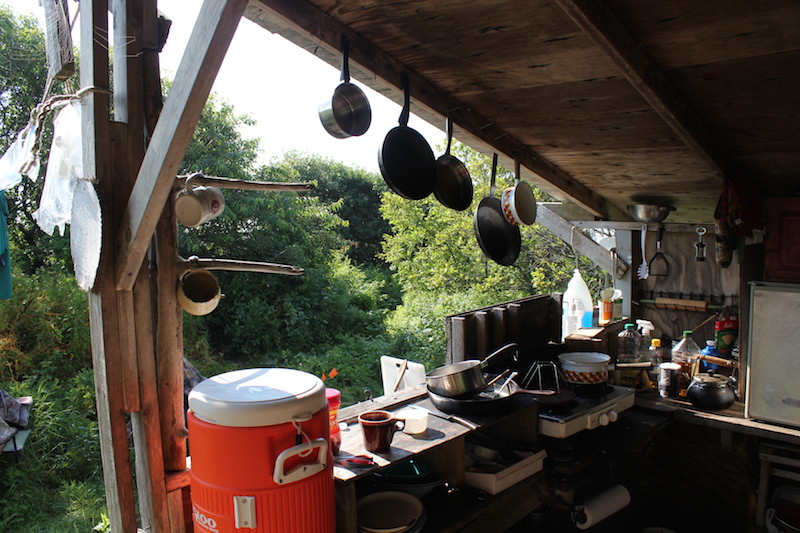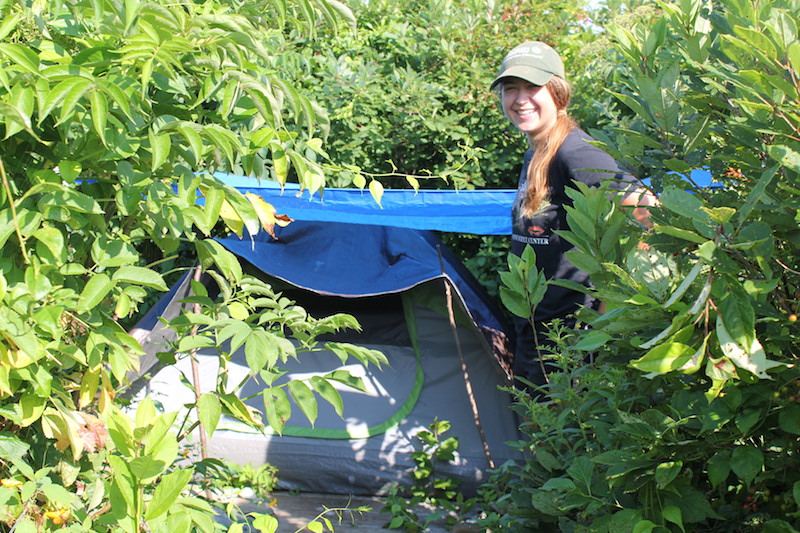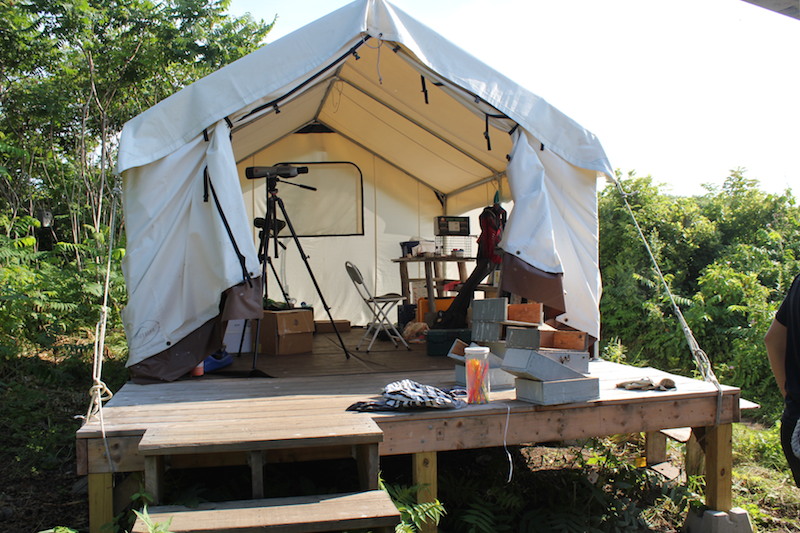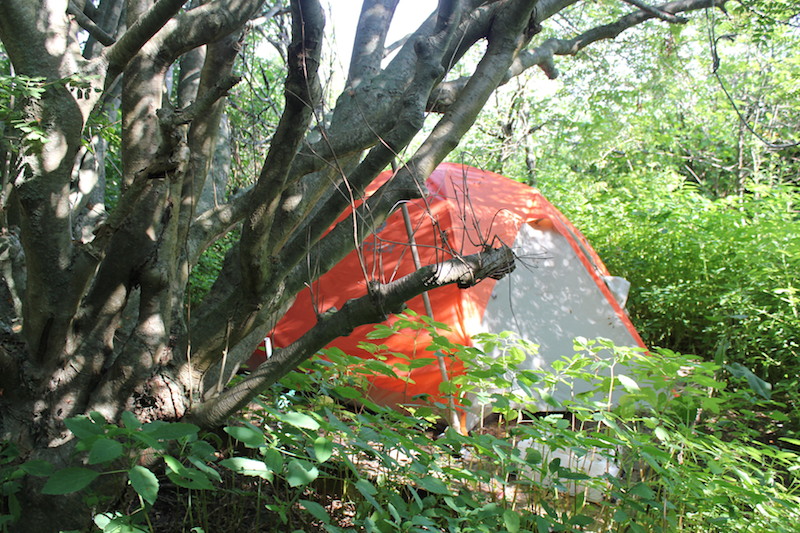 Each summer, the crew's primary responsibility is to monitor breeding terns and chick development. They keep close tabs on birds within certain productivity plots, counting eggs and chicks, noting which birds are mating, and monitoring the amount of food chicks are being fed. They also band the chicks.
To avoid being dive-bombed by protective terns, the researchers must arm themselves with hooded sweatshirts and ball caps. The kak-kak-kak warning of the birds can be so deafening at times that you can't hear the person next to you, according to Browning-Kamins.
In addition to monitoring the bird colonies, the team gathers daily weather data, taking turns rising at  6 a.m. to collect it. They also do regular counts of the other bird species on the island, and they count the seals breeding in the cove. Browning-Kamins said that occasionally curious seal pups would sneak up on her on the beach.
All the data collected from Project Puffin's islands is added to a longitudinal study of the seabirds. "With this data set you can see longterm trends and patterns over time," Browning-Kamins said, including possible effects of climate change on the birds. "It is really valuable for science."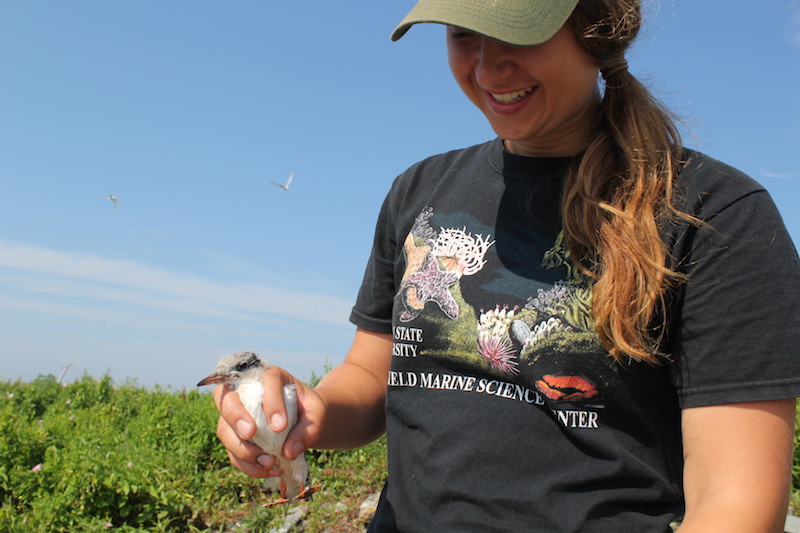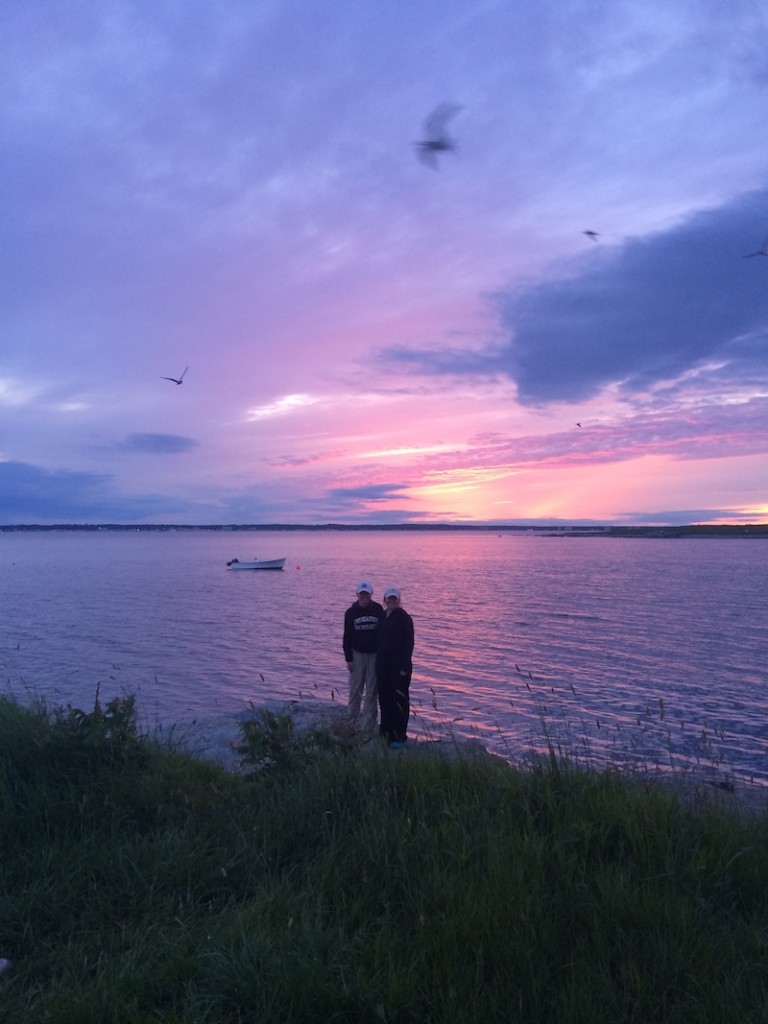 Browning-Kamins is an environmental studies and visual arts major. Although she had done quite a bit of fieldwork before working on Stratton Island, she had never worked with birds. By the end of the summer, however, she could identify many species by their calls, and she could easily scoop up a fuzzy tern chick scrambling around on the beach. "I've worked so hands-on with wildlife," she marveled. "It's very tangible and satisfying, working directly to help species that need help."
While Browning-Kamins did not do independent research on the side, it is possible. Last year, Lila Wright collected data for an independent study to determine whether nest location affected the success of roseate tern chicks. The experience convinced her to pursue more field research, and she spent the following spring and summer doing field research in the Galápagos Islands and in the Ecuadorian Andes. "Going into Project Puffin, I had zero experience with birds, but [Audubon] allows inexperienced biologists and ecologists to have this opportunity, and it was so cool to experience that firsthand," Wright said.
Although Clair Schollaert also didn't do an independent research project on Stratton Island, she said she was inspired to live on Kent Island the following summer, where she conducted herring gull research for a senior honors project. "I like the dynamic nature of field research," she explained.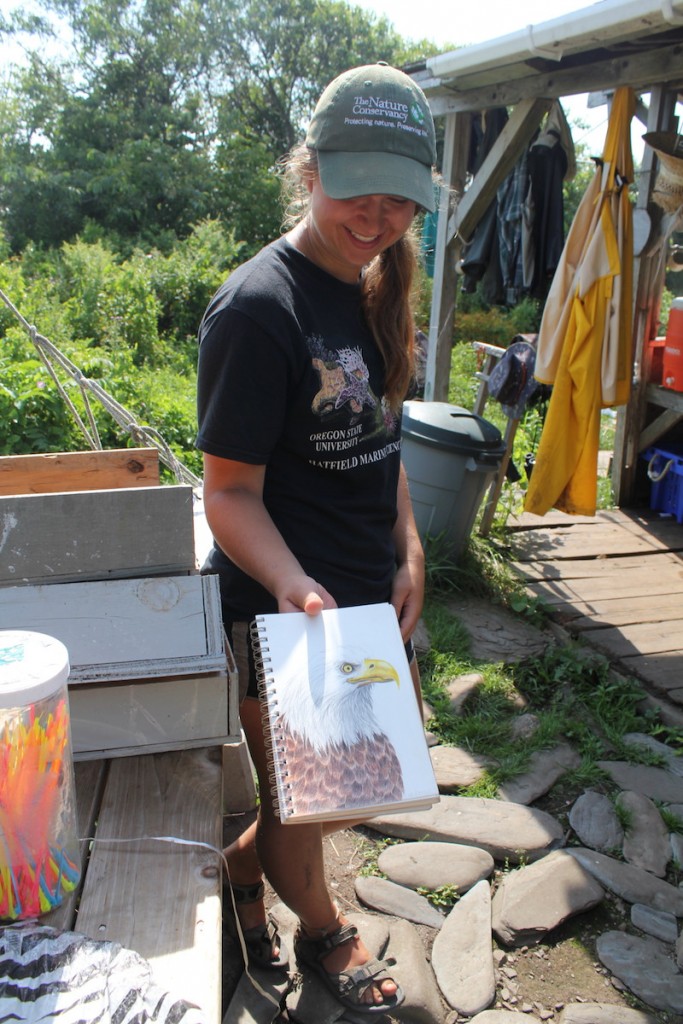 Along with gaining scientific experience, the three Bowdoin students said they felt personally changed by the experience. "I realized that I can live so simply," Schollaert said. "I realized what I can live without and how happy and content I can be in an environment that lacks all the amenities of everyday life."
Browning-Kamins also appreciated the unusual opportunity for such peace and quiet. "You learn to live with yourself without distraction from society," she said. To fill the downtime between checking on wildlife and ridding the island of an invasive plant, she read many books, did crossword puzzles, practiced the banjo and worked on bird illustrations.
But this kind of solitude can also be trying. "It's isolating and can be difficult to maintain relationships," she acknowledged.
The job requires complete dedication, Wright said. "I think because the conditions are so different, you have to be all in," she explained. "It was essentially 24-7. You're always on. You don't have time off and there is no escaping, because you are on an island."
Despite the isolation, or perhaps because of it, the staff tends to create tight bonds, strengthened by the shared mission to protect wildlife. "They become family," Schollaert said. On rainy days, Browning-Kamins said she would huddle in the lean-to with her crew mates, playing board games and card games. They talked, made dinner, watched sunsets and toasted s'mores at the fire pit. They went to bed in their tents at sunset and rose early in the morning. "It's a different rhythm out here," she said.
The Stratton Island job is a perfect one for college students, according to Browning-Kamins, because it's a time in your life to do what matters to you without worrying about earning money. "In the end you do this job because you care," she said.