Published July 13, 2015
Bowdoin's Gibbons Fellows Get Technical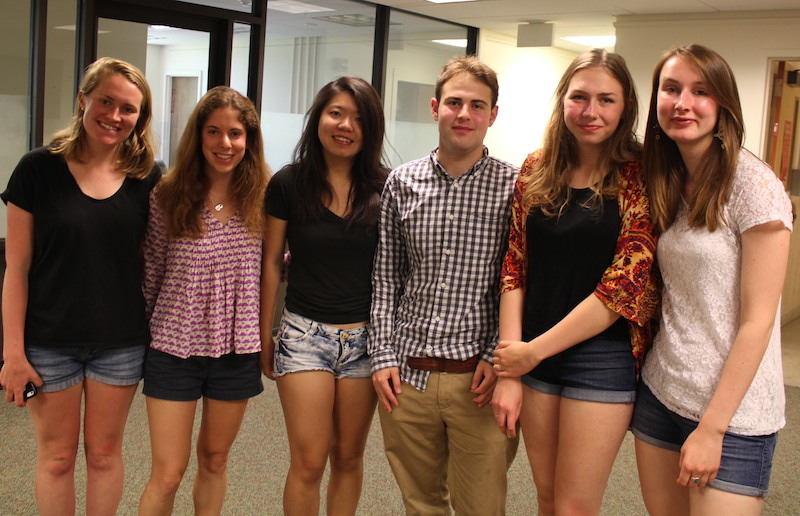 Several students this summer have a unique opportunity from Bowdoin to find creative technical answers to academic questions. They are part of the Gibbons Summer Research Program, established by John Gibbons '64, which enables students to work one-on-one with professors to apply technology to aspects of faculty research or work.
This year's Gibbons crew includes 10 students working in the fields of sociology, neuroscience, history, the arts, Arctic studies and math.
For example, Helen Wieffering '16 is working with a neuroscience professor to map information flows in the brain regions associated with memory. Laura Griffee '17 is creating virtual 3-D galleries of an art professor's sculptural installations. Wildon Kaplan '17 is creating a digital map based on a long-lost one used by the captain of a shipwrecked Arctic vessel. Caroline Montag '17 is doing quantitative historical research on the first 15 years of co-education at Bowdoin, from 1971 to 1986.
Read more about the 10 projects: 
Ethan Crow '15 is helping Assistant Professor of Sociology Marcus Lopez make a visual analysis of the human and non-human aspects of strawberry production in California and Baja California. The analysis will include data ranging from water distribution systems to the racial composition of residents in strawberry producing communities. The aim is to merge two academic approaches — from the social sciences and the natural sciences — to analyze a complex food system.
Helen Wieffering is helping Assistant Professor of Neuroscience and Psychology Erika Nyhus investigate the cognitive processes involved in remembering the past. She is assisting Nyhus in analyzing three electroencephalography (EEG) studies to detect the direction of the flow of information between brain regions during memory retrieval. Wieffering, a math major and computer science minor, said, "As I'm entering my senior year, I'm thinking about how to use my math degree. I want to see how mathematics can be applied to science research."
Garrett Carver '17 is working with Associate Professor of History and Environmental Studies Matthew Klingle to analyze the spatial and temporal patterns in diabetes research and in the distribution of the disease after World War II. In particular, Carver is using topic modeling to identify historical trends in biomedical diabetes research among specific demographic groups (e.g., Native Americans, African Americans, etc.).
Riley Freedman '17 is designing a new website on the history of energy for Assistant Professor of History David Hecht that eventually could include maps of global energy production and distribution, energy-use data, a timeline of major developments and key inventions, and biographies of important historical actors. The website will be used for Hecht's History of Energy course.
Laura Griffee is creating online pages for Assistant Professor of Art Jackie Brown into which visitors can enter to explore Brown's sculptures. Online 3-D spaces are "the innovative forefront of what a lot of companies are trying to do," Griffee said, from real estate agencies to museums. In Griffee's online galleries, visitors will be able to interact with the art in a way they cannot do in real space. "They can rotate the works, click on them and open up more photographs or information," she explained. Griffee has designed her own major — computing in media arts — to combine her interests in computer science and the arts. "[This summer project] is a dream," she said. "I've been given so much leeway and this project is so exciting because I have some say in developing the process."
Wildon Kaplan is working with the Peary MacMillan Arctic Museum, which recently uncovered a map that once belonged to Robert Bartlett, captain of the Karluk ship. The vessel, in 1913, became trapped in Arctic ice and sank a few months later. Kaplan is creating an updated digital map based on the original to discern how sea ice has changed between 1913 and today. "The disaster would not have happened today because sea ice coverage is so different now," he said. Kaplan, who is majoring in government and legal studies and Eurasian studies, and minoring in economics, said the project is a welcome opportunity to learn new skills. "It's given me natural science and computer science experience," he said.
Daniel Mejia '17 is assisting Professor of Sociology Nancy Riley in her research on the experience of Chinese people in Hawaii, and the role of race and segregation in Hawaiian society. Mejia's contribution is to map the residential dispersion and segregation of Chinese in Hawaii over the past 150 years.
Caroline Montag has been scouring College archives, particularly from the Bowdoin Orient, to research the 15 years that followed after women were first admitted to Bowdoin. "I'm doing a lot of research on where the women came from and what their views were on coeducation and how the campus responded to it," Montag said. She's moving beyond just reading and analyzing documents, however. She is also using statistical analysis on quantifiable data to observe how certain trends changed — such as legacy rates and academic achievement — as more women were admitted. Montag is a gender and women's studies and math double major and is being advised by Associate Professor of History Sarah McMahon. "This has been a great opportunity to study the history of Bowdoin," Montag said, "and a cool way for me to work with historical materials in a quantitative sense."
Sally Li is researching how people get inspired to garden and to eat locally. Working with Bowdoin's R. Wells Johnson Professor of Mathematics Mary Lou Zeeman and Assistant Professor of Computer Science Mohammad Irfan, she is applying a mathematical concept called "diffusion of innovation" to urban gardening. Diffusion of innovation refers to the study of how, why and at what rate new ideas and technology spread through a culture. Specifically, Li is looking at how people's social networks influence their decision to garden and to eat local foods. She is using Brunswick's community garden as a case study. "I'm benefitting from learning about math, computer science and modeling," Li said.
Gabriella Papper is examining old weather reports, letters, maps and other primary sources to discern what Gen. Joshua Chamberlain saw as he stood on Little Round Top and won the pivotal Battle at Gettysburg in the Civil War. "With new technology and tools we can investigate and augment the historical narrative about what happened in the battle, and how people interpreted the battle afterward," Papper said. For one, she's making a visibility analysis to see how the vegetation in July 1863 and the topography of the area might have affected what Chamberlain could see and the decisions he made. Papper's work lays the foundation for a class project in Assistant Professor of Crystal Hall's upcoming fall class, Introduction to Digital and Computational Studies. "Using digital tools we can question the historical veracity of events and see if we can tell some stories differently," Papper said.