Published July 28, 2014
Bring on the Science (Bowdoin Magazine)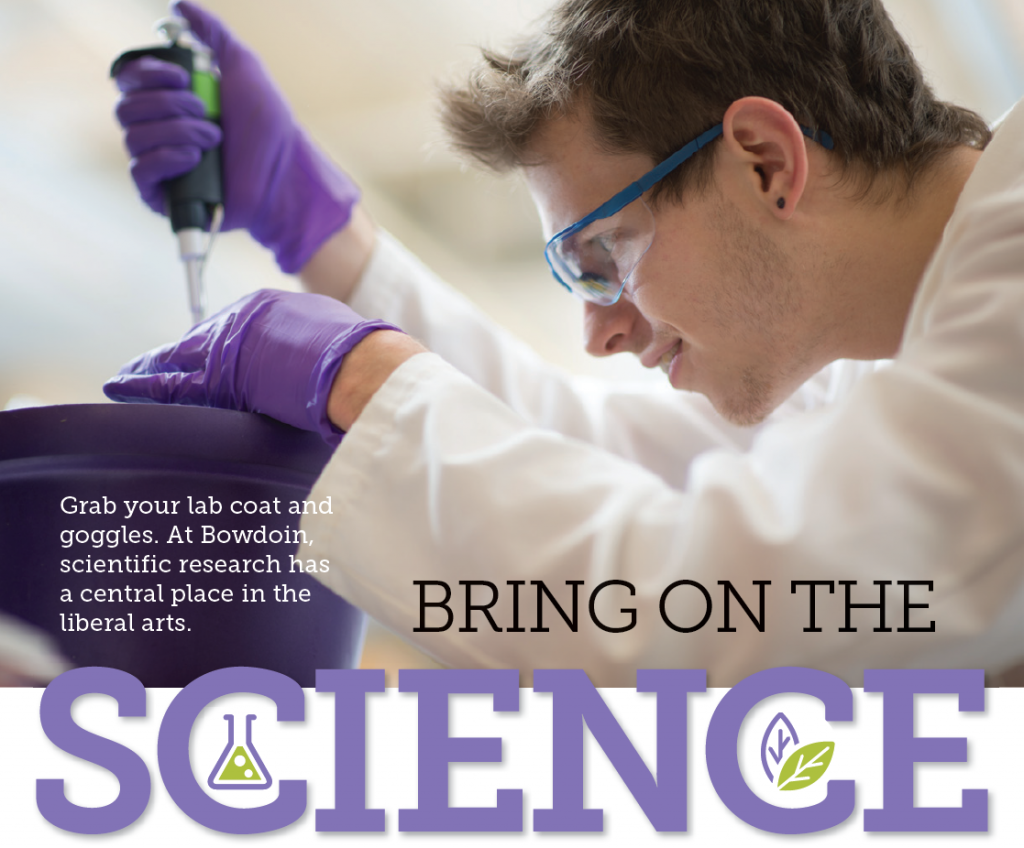 At a research hub on the coast of Maine, scientists are busy investigating the biology and ecology of bats and rats, lobsters and crickets, bacteria and yeast, eelgrass and elderberry. Shedding light on the inner workings of marine and terrestrial landscapes. Exploring the functionality of computer systems and the mystery of particles that cannot be seen. Answering questions with serious implications for human health, cyber security, the environment, and our understanding of the universe.
You might not immediately picture a small college campus as the site of this vibrant research culture, or liberal arts students as the scientists. But it's all happening at Bowdoin, where undergraduates in the full range of scientific disciplines are becoming seasoned researchers well before graduation, working alongside faculty members who are leaders in their fields.
Bowdoin's dedication to research is unusual in liberal arts colleges, says acclaimed science journalist and visiting faculty member Russ Rymer. He calls Bowdoin a "gold mine" for students in his science writing class, who have the chance to observe the ins and outs of serious research firsthand without setting foot off campus. "There are really interesting things going on here."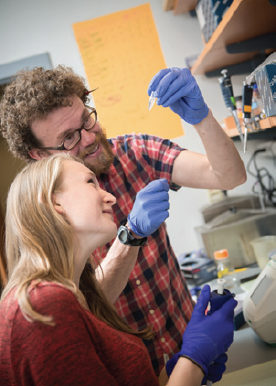 Others think so, too. Science faculty and programs at Bowdoin recently garnered two highly competitive national awards, totaling nearly $1 million between them. Assistant biology professor Jack Bateman was awarded a $797,395 CAREER grant from the National Science Foundation supporting his lab's research on gene regulation in the fruit fly. Alongside Bateman's award, Bowdoin earned a $104,000 Beckman Scholars Program award to fund the research of four student-mentor pairs over the next three years in fields connected with chemistry, biochemistry, biology, and medicine.
The truth is that Bowdoin students have an embarrassment of opportunities to get their feet wet as scientists, often literally, here on the Maine coast. They can apply for summer fellowships to do research on campus, in the Marine Lab at the Coastal Studies Center, on Kent Island at the Bowdoin Scientific Station, or at sites halfway around the globe. They can participate in research as part of their science courses. They can sign up for campus jobs as lab assistants, design independent study courses, and — the ultimate college research experience — take on an intensive yearlong honors project.
Some students even get a taste of research before beginning their first classes through a weeklong math and science immersion — the Bowdoin Science Experience — that takes place during orientation. The program has a sneaky way of taking unsuspecting humanities majors and transforming them irreversibly into scientists.
"When I arrived at Bowdoin, I knew I wanted to do something related to climate change, but I thought I would be a government major and pursue international environmental policy," says Margaret Lindeman '15. Inspired by the Bowdoin Science Experience, Lindeman spent the next two semesters working for earth and oceanographic science (EOS) associate professor Collin Roesler, followed by a summer fellowship of independent research, a collaboration with mathematics professor Mary Lou Zeeman, and ultimately a decision to double major in EOS and math with a minor in physics.
Lindeman has gone on to conduct statistical modeling research in North Carolina, present at a scientific conference in Hawaii, line up a position on a research voyage around Greenland this summer, and earn a Udall Scholarship for her work in climate studies — and she's still only a junior. "A major part of the reason that I became so interested in science was being involved in research from the very beginning," Lindeman says.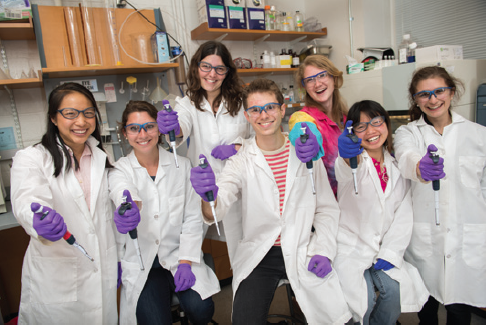 Research exposure is just as valuable for students who already have strong leanings toward science. Van Tra '13 entered Bowdoin intending to become a doctor, but, like Lindeman, got hooked on research during orientation week. Tra spent the next four years (plus a post-baccalaureate position) as an employee in the lab of chemistry and biochemistry assistant professor Danielle Dube, studying and developing therapeutics against disease-causing bacteria. Now devoted to a career in research rather than medicine, Tra "is currently deciding between a number of the best graduate programs in the country," Dube says.
This kind of training not only informs career decisions but also helps students build an arsenal of technical and professional skills. They leave Bowdoin already familiar with the challenges of planning and executing complex experiments. Many have authored scientific papers in conjunction with their advisors and colleagues from other institutions. They have gained experience in presenting their work through the College's annual President's Science Symposium and conferences across the country. They're primed for careers in science — and beyond.
"Independent research builds problem-solving skills, it builds confidence, it builds critical thinking, and it sets things up for success in any career," Dube says. "In my opinion, it's the most important thing that students can possibly do during their undergraduate training, regardless of where they're heading."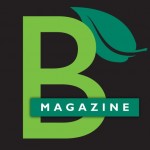 This story originally appeared in Bowdoin Magazine's Spring 2014 issue.