Published June 30, 2014
Bowdoin and INBRE Collaborators Receive $18.4 Million Grant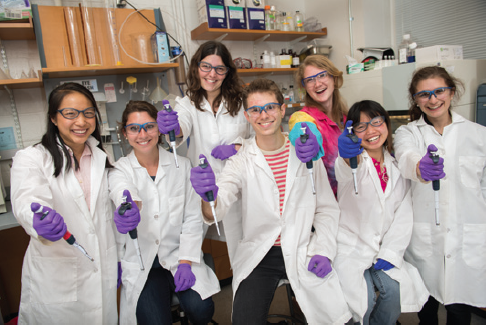 Bowdoin is one of 13 participating institutions in a program that just received an $18.4 million grant to strengthen biomedical research and workforce training in Maine. The National Institute of Health awarded the five-year grant to the IDeA Network of Biomedical Research Excellence (INBRE), a coalition of Maine colleges, universities, and research institutions.
MDI Biological Laboratory, the coalition's lead organization, noted in its recent announcement that this funding ensures the continuation of the INBRE program, which since 2001 "has brought more than $93 million in federal funds into Maine, improved the state's research infrastructure, and trained more than 2,000 Maine students in biomedical research techniques." At Bowdoin, INBRE funds a variety of biomedical research opportunities for both students and faculty each year, in addition to helping the College acquire equipment, supplies, and electronic journals to enhance research.
Two Bowdoin faculty members have been selected by the INBRE External Advisory Committee as individual investigators leading research projects under the new award: Danielle Dube, who was recently promoted to associate professor of chemistry and biochemistry (effective July 1), and biology and neuroscience associate professor Hadley Horch. During the previous five-year award period, biology assistant professors Jack Bateman and William Jackman each led INBRE projects as individual investigators.
INBRE also funds mentored research experiences for students throughout the academic year. Over spring break, one Bowdoin class is selected to participate in a two-week residential research experience at the MDI Biological Laboratory, during which students focus on theory and laboratory methods in a topic related to biomedical research. This past spring, members of a molecular evolution class made the trek from Bowdoin to Mount Desert Island for the residential course, while next year the opportunity will go to a class in biomechanics.
In the summer, the INBRE Summer Research Fellowship Program pairs students with biomedical research faculty at Bowdoin or elsewhere in Maine for a fully funded 10-week research experience. New graduates who have conducted honors projects are eligible for positions in which they continue their research and mentor students in the lab for an additional year after graduation.
This summer's cohort includes Megan Chong '15, a student working with Horch to investigate how the growth of auditory neurons is regulated in crickets, and Siena Mitman '15, who with Jackman is researching cell signaling during tooth development in zebrafish. New graduate Evelyn Dickinson '14 is studying the interaction between cardiac neurons and muscle properties in lobsters with marine biology professor Amy Johnson. Supplementing a fellowship from the American Physiological Society, INBRE is covering Laura Keller '15's housing and supplies for her research project with biology and neuroscience professor Patsy Dickinson.
Such opportunities "enable students to get training and become engaged in biomedical research at a very deep level," Dickinson said, noting that Bowdoin students frequently coauthor papers in major reviewed journals. Students are also able to attend national, regional, and state conferences to present their research, thanks to travel funding from the INBRE program.
The INBRE grant is one of several major awards associated with Bowdoin's science programs and faculty in recent months. The College won the highly prestigious $104,000 Beckman Scholars Program award from the Arnold and Mabel Beckman Foundation to fund the research of four student-mentor pairs in fields connected with chemistry, biochemistry, biology, and medicine, while Bateman was awarded a $797,395 CAREER grant from the National Science Foundation, supporting his lab's research on fruit fly gene regulation.