Published May 08, 2014
Students, Staff, Faculty Honored for Commitment to Common Good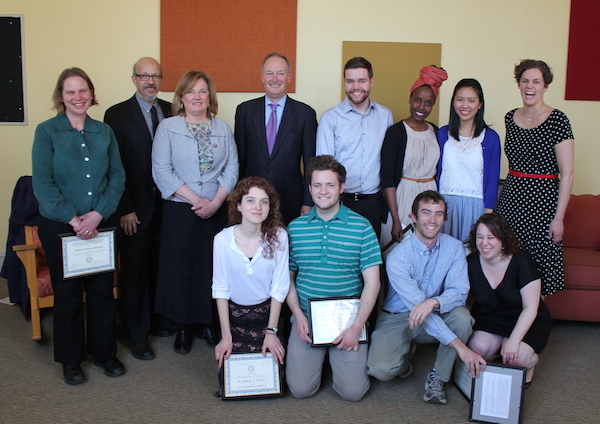 The McKeen Center has recognized the work of 11 people who are striving to end hunger, to bring art to the community, to help refugees and immigrants set up new lives in Maine, and to preserve historic buildings. And that's not close to listing the full extent of their work.
President Barry Mills presented the 2014 McKeen Center awards at a recent afternoon ceremony in Banister Hall. In his opening remarks, he tipped his hat to the McKeen Center for the Common Good, recognizing the central role it plays at Bowdoin. "[The center] is part of the reason so many students come to this school," he said. "It's because of the sincere, genuine and dedicated commitment we have to the common good."
Mills also praised the center for enabling students to design and pursue community service endeavors that are personally meaningful. This, he said, helps ensure they stay committed to service long after they've left Bowdoin, bringing their energy and experience to the new communities they move into after graduating.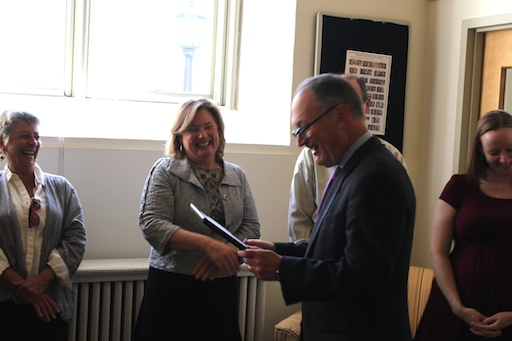 The Bowdoin Spirit of Service Award:
Presented annually to a Bowdoin senior and a community member who improve the lives of others through service, their actions speaking strongly while they remain humbly quiet.
Karen Parker, executive director of Mid Coast Hunger Prevention Project: Parker has sought to change the conversation about poverty both within MCHPP and in the broader community to include such groups as working poor families and youth with unstable living conditions. She has expanded MCHPP's summer and weekend meal programs to feed hundreds of children, and she has increased Saturday hours for the pantry and soup kitchen.
Lucy Walker '14: Walker has led the Portland Adult Education student volunteer group and an orientation trip working with immigrant communities in Maine. She received a summertime Global Citizens Grant to design an innovative storybook curriculum at an under-resourced school in Kenya. Walker has also volunteered at Spindleworks, a nonprofit art center for people with disabilities, and she painted and donated a mural for Brunswick's Mid Coast Primary Care and Walk-in Clinic. Her mural depicts characters based on real townspeople enjoying four seasons on Brunswick's town green.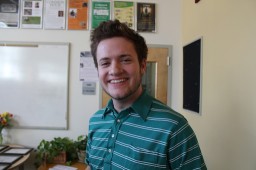 Robbie Harrison '14: 
 Harrison has led community immersion orientations for first-years, introducing them to the local community through service. Twice he led an alternative winter break trip focused on immigrant and refugee education in Portland, and he created and led a student volunteer group that assists with classes at Portland Adult Education. As a senior, he coordinated Common Good Day, Bowdoin's biggest service event, and trained and supported other student volunteer group leaders through his position as McKeen fellow.
The Lydia Bell Award for Initiative in Public Service:
Presented annually to a Bowdoin senior who exhibits the energy, enthusiasm and commitment necessary to initiate and lead opportunities for others to effect change, influencing the Bowdoin culture in the process.
Alex Doering '14: After completing a 30-hour, 10-week training at CHANS hospice in Brunswick, Doering became a committed hospice volunteer. He then helped plan training sessions for other Bowdoin students, helping to establish a cohort of Bowdoin volunteers to help local hospice patients and their families. In addition, Doering organized a weekend symposium this year on campus that brought together artists, scholars, health professionals, community members and students to enhance their understanding around what matters to people when facing the end of life.
The McKeen Center Faculty Awards for Public Engagement:
Presented to faculty who work to advance the common good through teaching, scholarship and service that engages with communities and addresses issues of public concern.
Ingrid Nelson, assistant professor of sociology and anthropology: Nelson's research focuses on youth development, education and inequality. Last spring, Nelson and her students conducted and analyzed interviews with college graduates who had received scholarships from the Mitchell Institute. They presented their findings to the Mitchell Institute and at the American Educational Research Association's annual conference this spring.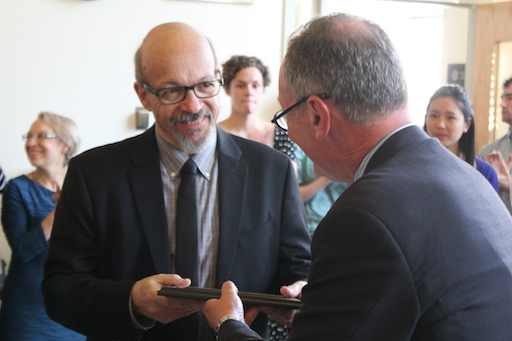 Mark Wethli, A. LeRoy Greason professor of art: A painter whose work has been exhibited nationally and internationally, Wethli has produced local murals for the Midcoast Hospital, the University of Southern Maine's Osher Map Library, the Portland Museum of Art, and Bowdoin's Druckenmiller Hall. In his public art course, Wethli has mentored students in the design of their own public art projects that have been selected for permanent display at Hannaford, in Harriet Beecher Stowe Elementary School, and at the Mid Coast Primary Care and Walk-in Clinic.
The McKeen Center Staff Award for Commitment to Community:
Presented to a Bowdoin staff member who gives their time, talent and expertise to benefit the community.  The recipients this year were nominated by their peers.
Andrew Cushing, sustainability outreach assistant: A native of Grafton, N.H., Cushing raised over $55,000 in grant funding for the Grafton Historical Society, organized an annual race to support the restoration of a carding mill, successfully nominated five Grafton buildings to the N.H. State Historic Register, and led three Bowdoin weekend service trips to Grafton. In addition, Cushing has held college aspirations talks in his hometown and has advocated on behalf of a much-needed school renovation. This spring at Bowdoin, Andrew helped curate a photo exhibit of students, faculty, and staff in front of their homes, designed to start conversations about privilege, diversity and the concept of home.
Eileen Johnson, program manager/GIS analysis and adjunct lecturer in Environmental Studies: Johnson's passion for identifying ways that GIS can contribute to understanding and protecting Maine's rural assets has led to long-term research collaborations between the Environmental Studies Program and towns and environmental organizations throughout the state. Through her annual GIS course, Eileen engages students in significant community-based research to map community assets and to understand the role of this research in informing policy decisions. She is also the coordinator for the Community Matters in Maine Psi Upsilon Fellowship Program, which places students in summertime jobs with environmental organizations.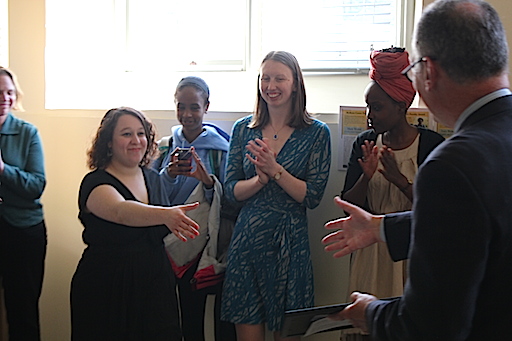 The Maine Campus Compact Heart and Soul:
Presented annually to six undergraduates across the state who have been actively involved in turning their campuses and communities into places of democracy by raising their voices on issues of local and global importance through civic engagement efforts.
Michelle Wiener '14: Wiener helped found the student mentoring group Fostering Female Leadership in Youth, which brings together college women and Bath Middle School girls. She helped develop a five-week training program for FFLY mentors, constructed a year-long syllabus, and wrote lesson plans for weekly mentoring sessions. Based on FFLY's success, the school system has requested the program be expanded to Morse High School. Michelle has also been a leader with Peer Health, Bowdoin Queer/Straight Alliance, the Safe Sex Project, and the Alliance for Sexual Assault Prevention.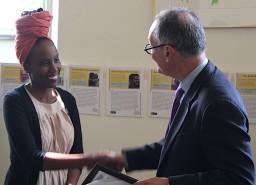 The Henni Friedlander Student Prize:
Presented to a Bowdoin undergraduate who has overcome adversity in his or her own life and gone on to contribute to the common good. The prize was established in honor of Henni Friedlander who survived Nazi Germany to immigrate to the United States, where she was an inspiring example of how joy of life, rather than hatred and bitterness, can lift the human spirit and enable us as a society to promote the common good. It is awarded.
Faith Biegon '14: Biegon participated in three weekend service trips, led a community immersion orientation trip, and traveled on an alternative spring break trip to Arizona. She also volunteered with the Portland Housing Authority tutoring group and was a member of the Common Good Grant Development Committee. Biegon is an RA in West Hall and part of the Africa Alliance, Bowdoin Christian Fellowship, Bowdoin Consulting Club and Bowdoin Women in Business.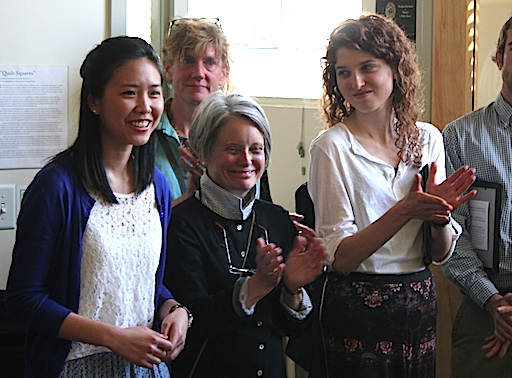 General R. H. Dunlap Prize:
Presented to the student who writes the best essay on the subject of service in addition to having demonstrated a personal contribution to service. The prize was established by Katherine Wood Dunlap in memory of her husband, Brigadier General Robert H. Dunlap, USMC.
Diana Lee '14: Lee has been a mentor to a middle school student, volunteered at the Volunteer Lawyers Project in Portland, served as a McKeen fellow, and led an alternative break trip. In her Dunlap essay, Lee pushes herself and others to examine the impact of privilege, the limiting effect of stereotypes, and, ultimately, the role of empathy, humility and the desire to learn in promoting understanding and dignity for all.
In addition, the McKeen Center wanted to recognize other award nominees: Aric Walton, for his work at STRIVE; Jamie Tatham for his work with the Mid Coast Hunger Prevention Program; and Allen Daniels, for his work with the Mid Coast Hunger Prevention Program.