Published April 08, 2013
Bowdoin Experts: What Students Can Do About Climate Change
Six faculty members, plus College Treasurer Katy Longley, recently took turns addressing student-posed questions about what Bowdoin students can do about climate change and what different fields can contribute to a possible solution.
The presenters were limited to three-minute remarks, and their advice ranged from changing small habits, such as reducing waste, to more radical counsel, such as to stop flying on airplanes and to have no children.
Sophomores Anna Hall, Courtney Payne and Margaret Lindeman organized the panel, "Reaching Day Zero: Living Sustainably at Bowdoin and Beyond," which was sponsored by the Green Bowdoin Alliance. President Barry Mills, who moderated the event, praised the three organizers for having the enterprising spirit to bring the group of experts together. "These folks are sophomores, which is good news because they'll be here for two more years to continue the enthusiasm and rigor they're bringing to this conversation," he said.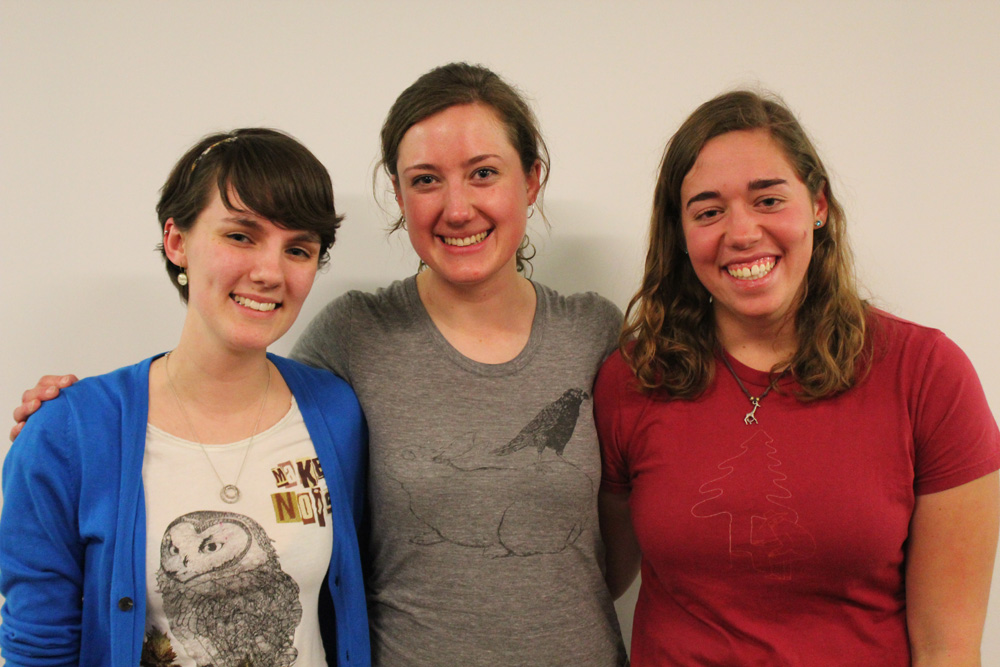 Lindeman explained that she, Hall and Payne wanted "to show everyone at Bowdoin that there is something you can do about climate change." In particular, they convened an interdisciplinary panel to demonstrate the variety of possible responses to climate change. The panel included a geologist, a political scientist, an English professor, an artist, an education professor, a mathematician and the College treasurer.
After the panel, the event organizers urged the audience to continue attending other green-themed events on campus this semester, including a new "green dinner" series fostering informal chats about sustainability and climate.
"We want to bring up issues that don't have easy solutions," Hall said, "and to keep talking about them."
Lindeman added, "We're testing the water with different things to see how we can get the most students involved."
And they have time to figure this out. "Like President Mills said, we're sophomores," Payne said. "We're not going away soon!"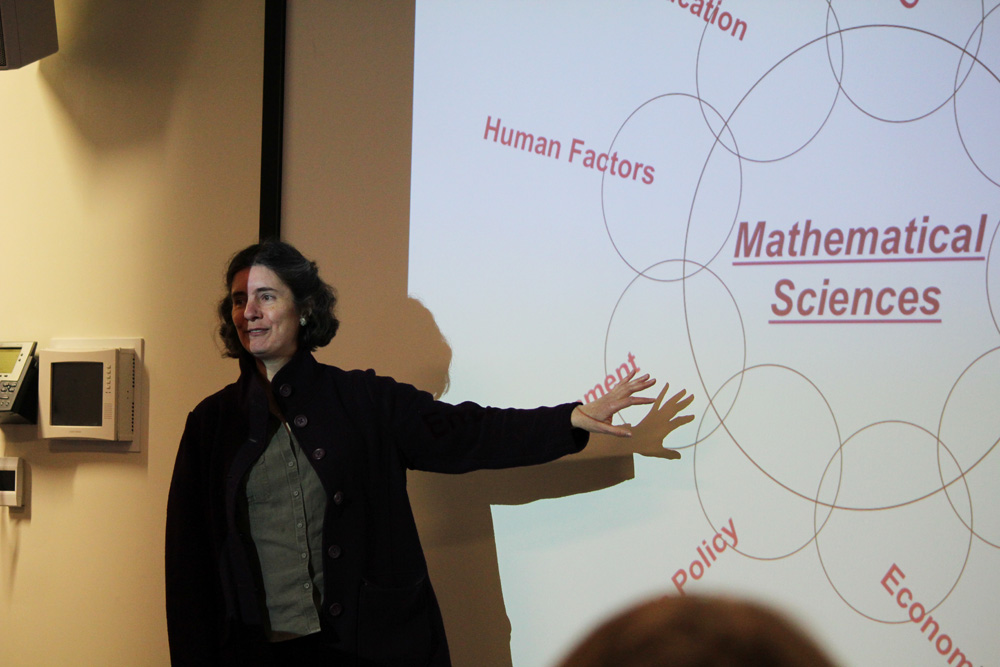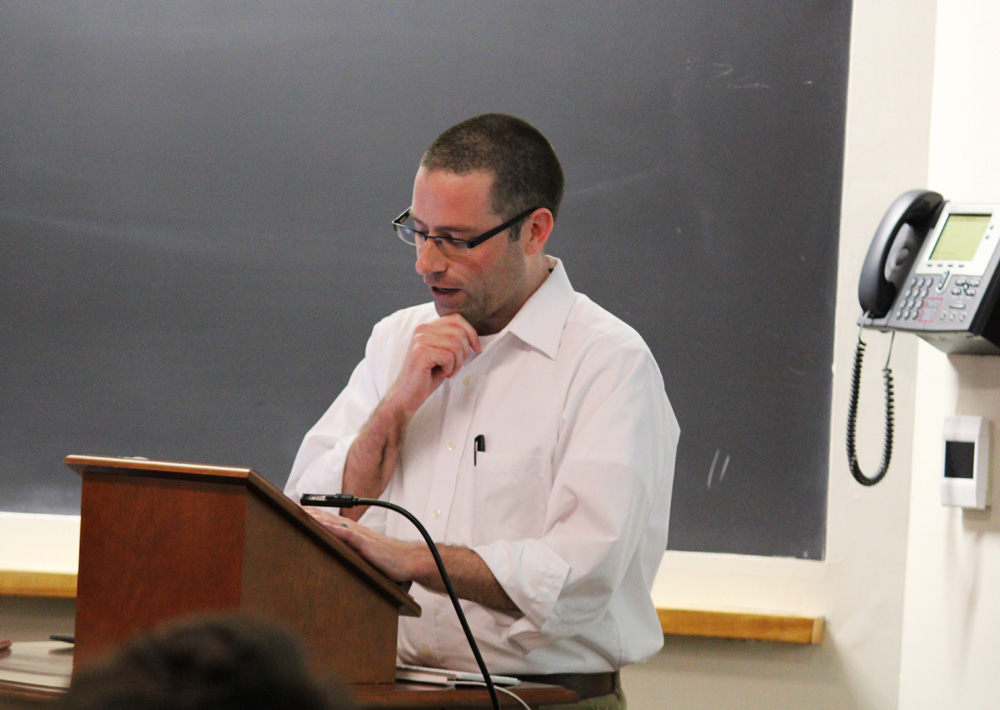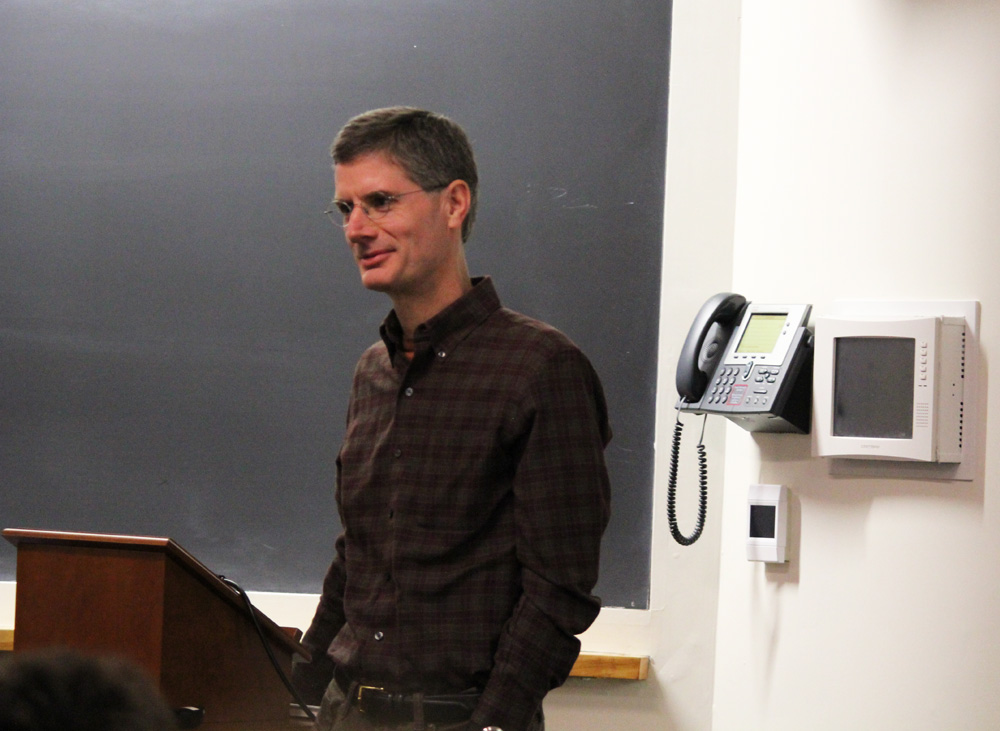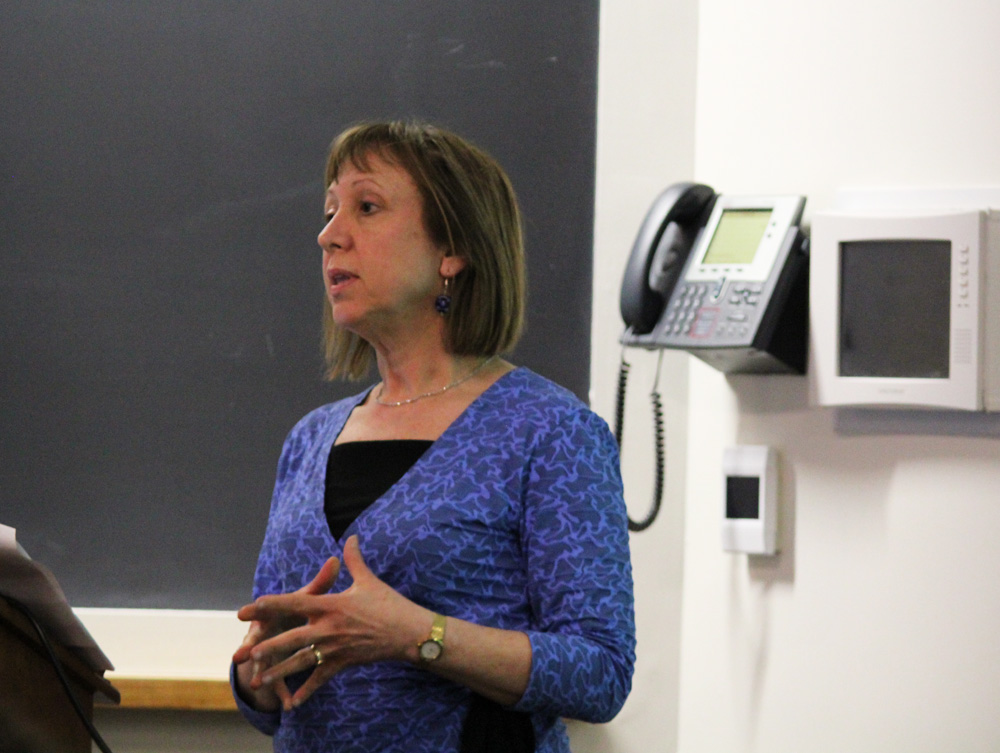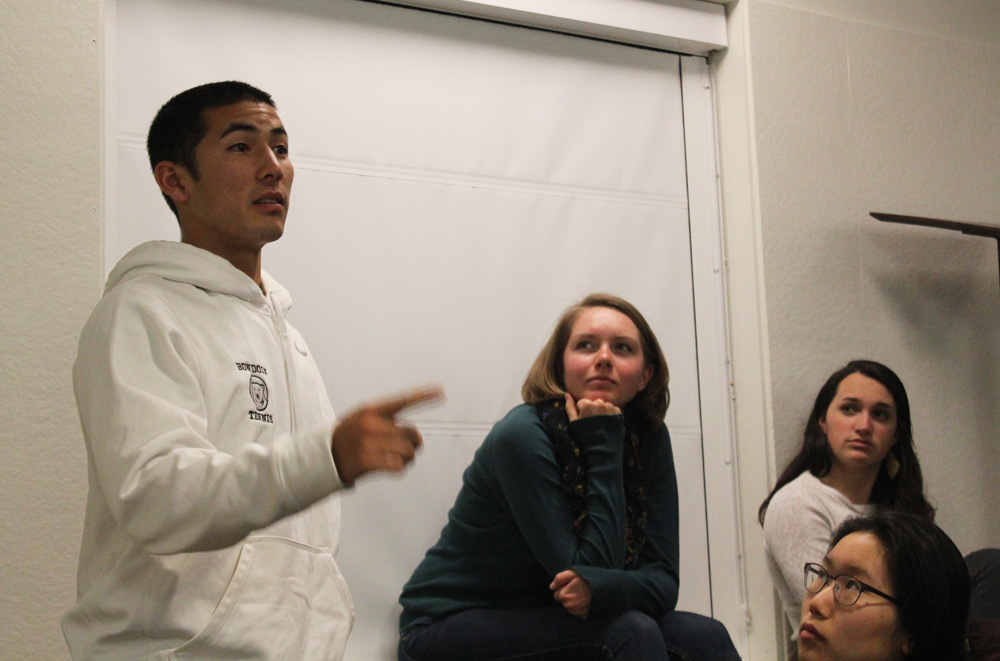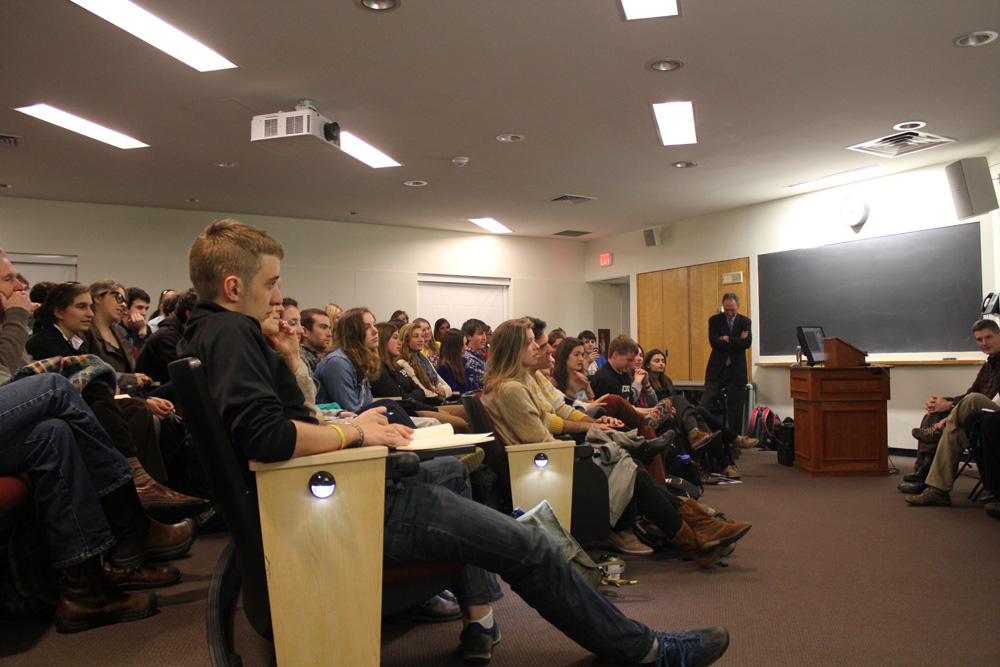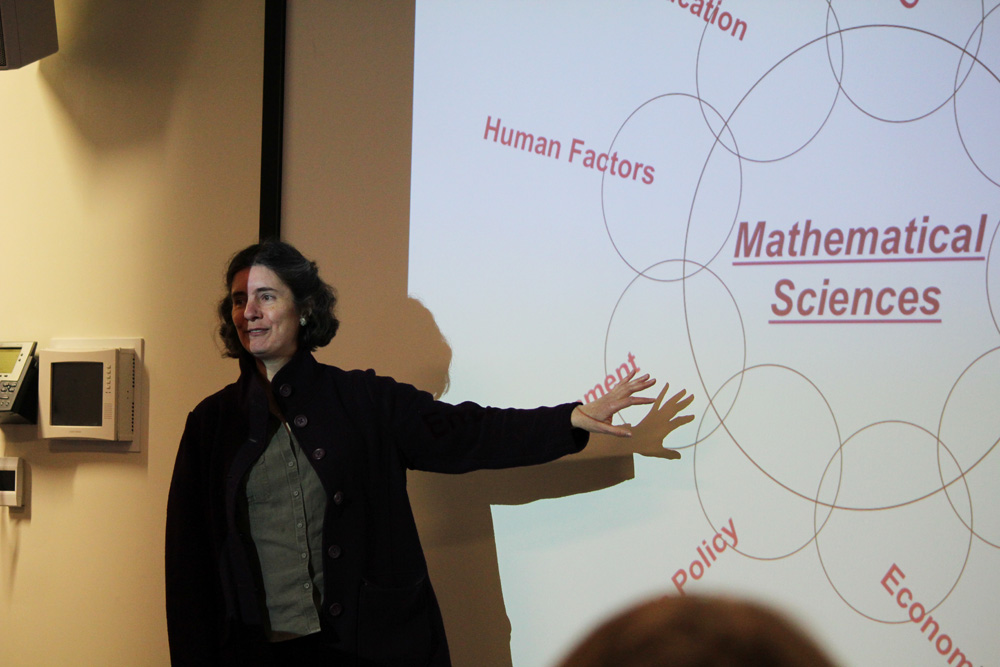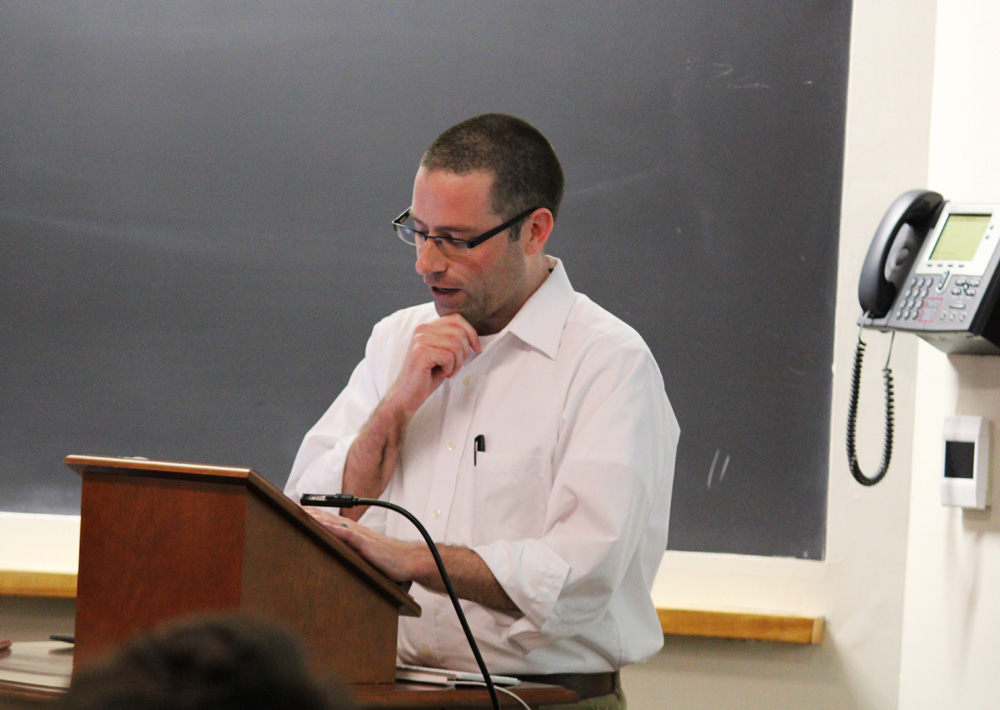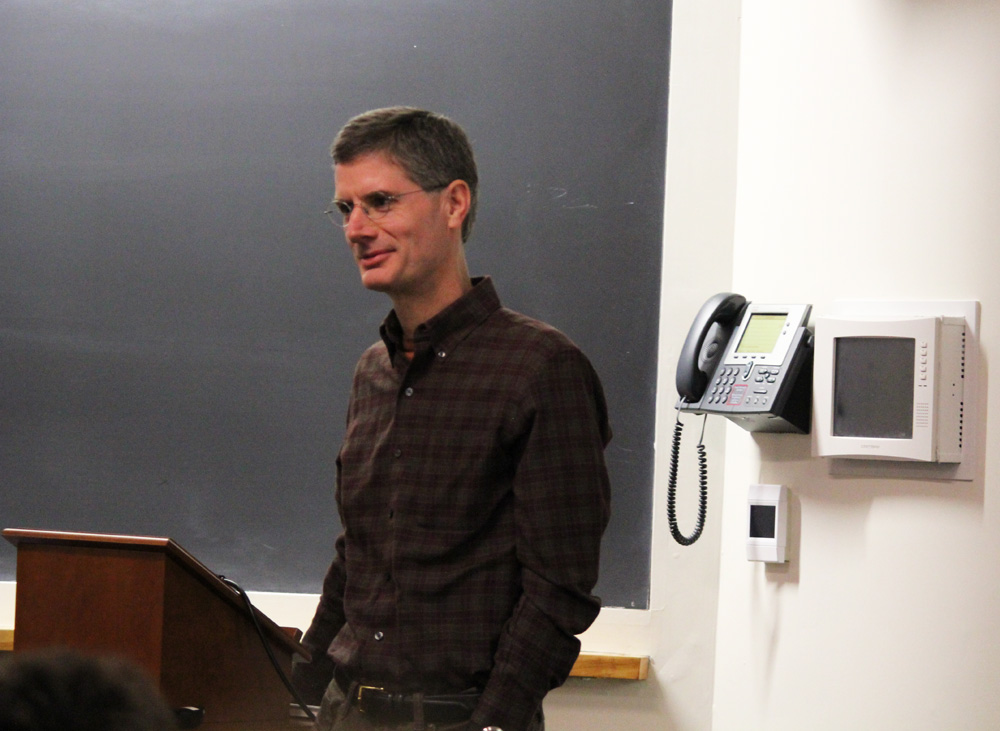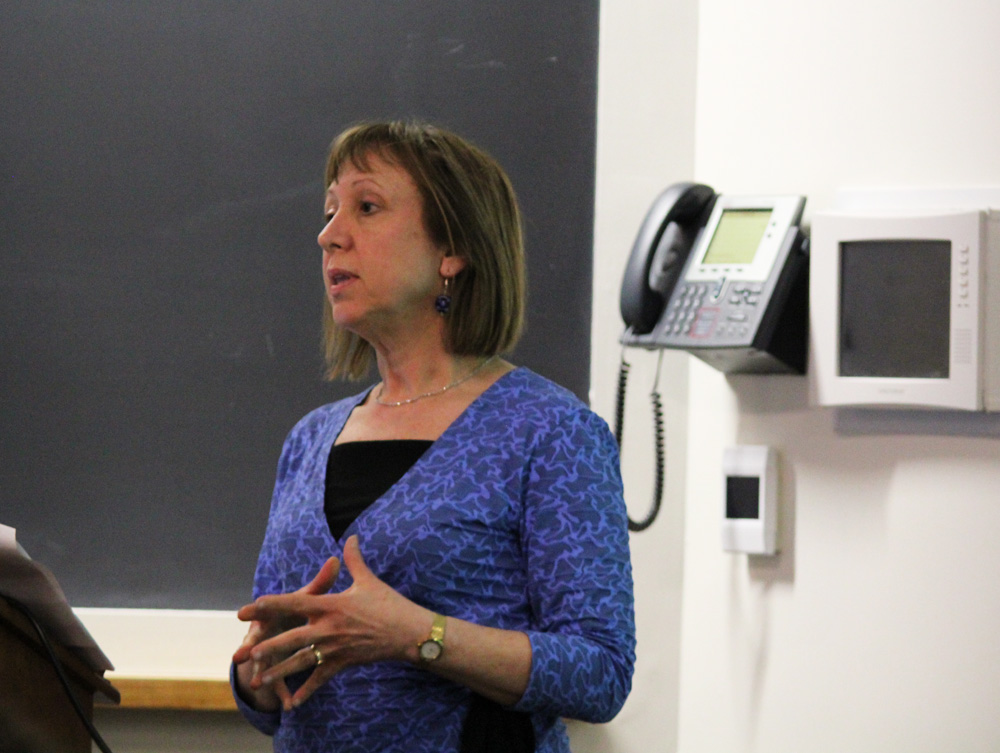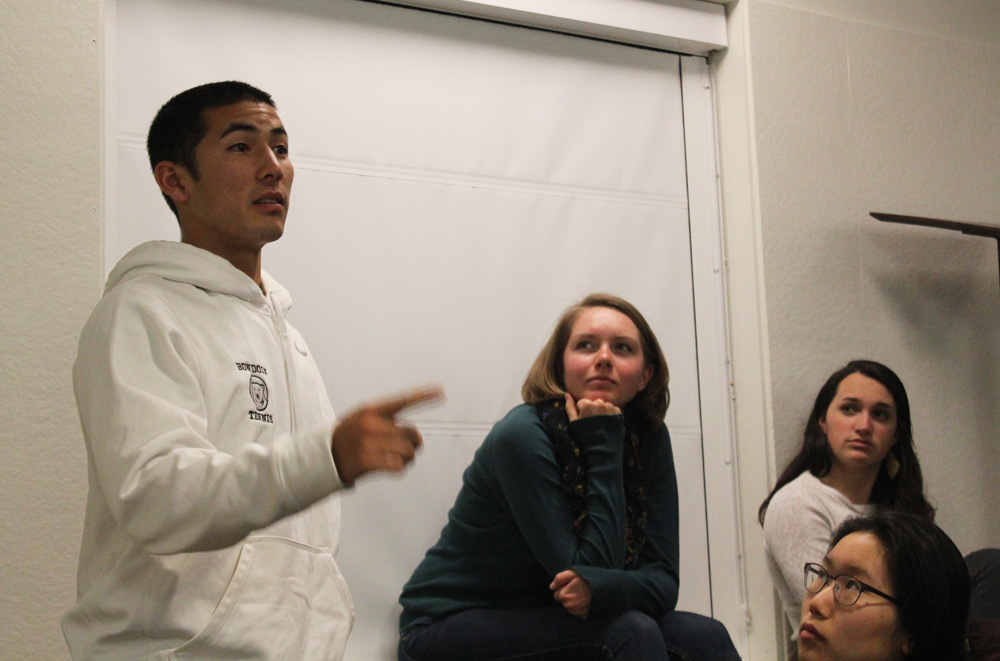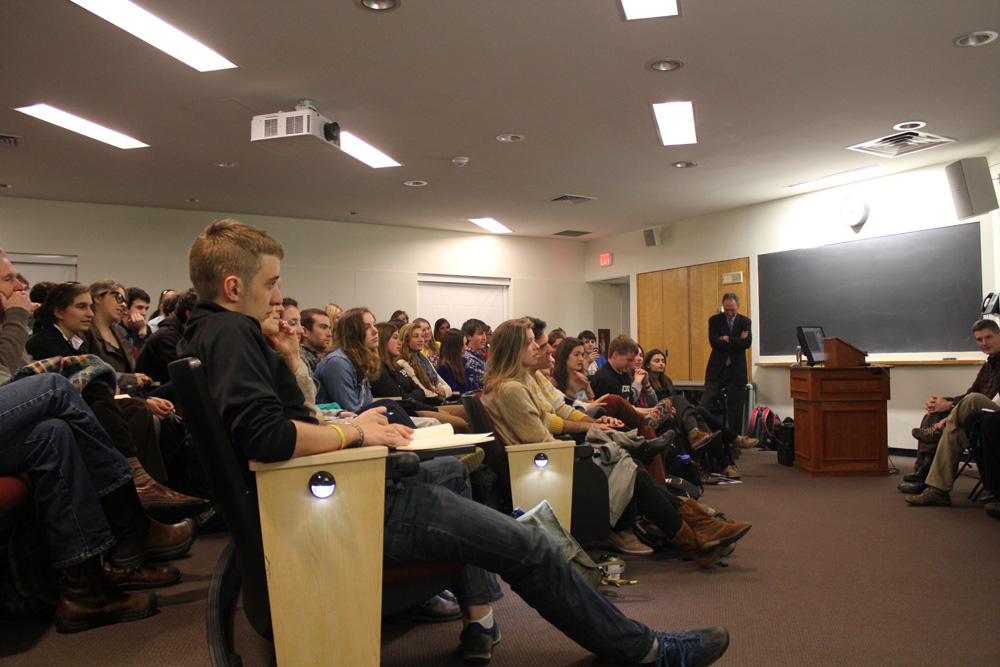 Bowdoin's R. Wells Johnson Professor of Mathematics Mary Lou Zeeman said she considered "Day Zero" to be "the day when every single decision you make has the planet as a factor… So it affects what you eat, what you wear, where you shop, what you buy, what you drive, where you live, how you travel." She told the students, "Whatever your talent, whatever your passion, you can use it to help the planet." Zeeman noted, for math enthusiasts in particular, that April is mathematics awareness month and that this year the month is dedicated to the mathematics of sustainability. "Mathematics month is designed to…show us we're not individuals and we can network and be collective, and be very powerful that way," Zeeman said.
Associate Professor of Art History Susan Wegner stood in for Barbara Putnam, Bowdoin's Coastal Studies Artist-in-Residence, who couldn't make the event. Wegner said Putnam recommended acting on a micro-level, which in an art studio means "no waste." "Use both sides of your sheet of paper, use the whole rag you're wiping your plate with, take paper out of the trashcan to clean your plate…[and] share materials." Artists can also reuse materials in their work, "which can comment on consumption and also make another use for these things that have been thrown away," Wegner said.
Associate Professor of Government Laura Henry started by sharing Margaret Mead's observation, "Never doubt that a small group of thoughtful, committed citizens can change the world. Indeed it's the only thing that ever has." Henry said she would modify the quote to, "we can change the world in part by changing institutions." Changing institutions could result in radical shifts in how we use resources, spend money and allocate political power, she said. Henry encouraged students to ask their towns to build walking and biking paths, to demand that utilities provide smart meters, and even to ask the charities they support (no matter their focus) to have a climate policy.
Andrew W. Mellon Postdoctoral Fellow in Education Casey Meehan's research explores the messages high school students receive about global warming. "What I'm finding…is that students…are asked to think about a very limited set of strategies in their response to global warming," mostly ones focused on personal conservation measures, such as buying local, walking more, turning down your thermostat, Meehan said. But stressing this type of mitigation can make people falsely believe these strategies are enough to prevent or quickly reverse global warming. And this, he said, is "setting our youth up for a profound sense of despair and profound loss of their sense of efficacy." He argued that schools, from kindergarten to higher education, are failing to prepare citizens "for our changing world," by denying students the opportunity to think deeply about difficult policy decisions, such as how coastal communities prepare for rising sea levels, farming communities grapple with droughts and arid communities allocate dwindling water resources. His advice to Bowdoin students was to find someone with a different ideological bent, and "to engage in a respectful dialogue about how our communities can adapt to climate change in a very just and deliberate manner."
Assistant Professor of Earth and Oceanographic Science Emily Peterman offered several strategies for Bowdoin students. One was to ask questions of oneself and others, ranging from the relatively mundane — such as whether to ride your bicycle instead of drive your car — to more pressing ones about population numbers or what communities are doing to address rising sea levels. "This will allow you to engage people in conversation, and expand conversation, to make it so you're not isolated," she said. She also urged students to use data to make their arguments transcend beliefs, to devote their talents to figuring out climate change, and to develop scientific literacy.
Professor of English and Program Director of Gay and Lesbian Studies David Collings offered several measures students could take to tackle climate change, including joining an ecological revolution, contributing everything they can in their jobs to alleviating the problem, and to stop flying in airplanes. "These are difficult things," he said. "If you can't quite get to zero emissions, you should consider buying offsets of your own." Buying offsets, he added, helps remind us that our activities do affect the planet, and that we should try to reduce that impact. Finally, Collings suggested not having children. "Our population on the planet is way beyond the carrying capacity of the earth," he said.
Treasurer and Senior Vice President for Finance and Administration Katy Longley spoke about Bowdoin's actions to reduce its carbon footprint, and urged students to learn about, and get involved in, the school's efforts. In 2007, President Barry Mills signed a climate change commitment to become carbon neutral by 2020. Since 2008, the College has reduced its greenhouse gas emissions by 24%. Bowdoin has also converted from #6 oil to natural gas and installed a co-generation facility and some solar thermal panels. Longley also pointed out that Dining Services has a "big farm-to-table" initiative, and that the College is greening its fleet of cars by buying hybrid vehicles. In the future, Bowdoin is looking into installing a solar photovoltaic system on Farley Field House, possibly adopting fuel cell technology, and designing an ecological trail system for the 200 or so acres the College is acquiring on the former navy base. "Many of these projects might lend themselves to independent studies or research for your classes," she said.