Published August 06, 2012
Slideshow: Museum Interns Catalogue Remains of Four-Year Arctic Journey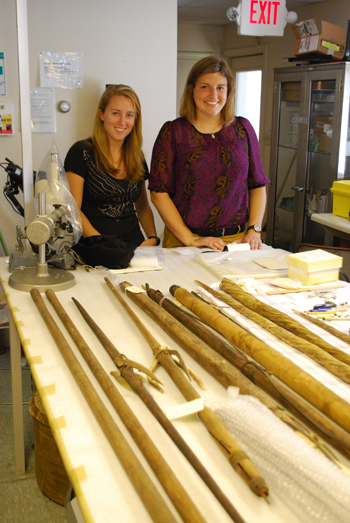 In 1913, Walter Elmer Ekblaw, a cheerful, stout-hearted geologist and botanist with a penchant for adventure and romanticism, set off with Arctic explorer Donald MacMillan, class of 1898, on a hunt for a fabled island called Crocker Land.
That journey ended up taking two years longer than expected, and its participants suffered through frostbite, a boat wreck, the loss of an entire dog team that got buried in the snow, and the murder of an Inuit guide (expedition member Fitzhugh Green shot and killed the man after an argument). They also had to recast their original mission after it turned out that Crocker Land didn't exist. "It's just an empty part of the Arctic Ocean," Anne Witty, the Arctic Museum's assistant curator, said. The enticing snow-capped peaks visible on the horizon from the north shore of Axel Heiburg Island, near Greenland, were a mirage, or more specifically, a Fata Morgana, a kind of optical distortion seen on land or sea.
Last September, the grandchildren of Ekblaw gave Bowdoin's Peary-MacMillan Arctic Museum a collection of Ekblaw's artifacts and journals from this voyage, which had been stored in family homes. The collection, which contained everything from toiletries to bird eggs, had been packed into boxes, some which hadn't been opened in decades. One box even contained a book, The Rim of Mystery: A Hunter's Wanderings in Unknown Siberian Asia, that was 60 years overdue from the Worcester public library. Genny LeMoine, the Arctic Museum curator, returned it, according to Meg Bunke '14, one of the students working with the collection.
Since last year, the Arctic Museum has been sorting and cataloging the collection, relying greatly on student interns. This summer, Bunke and Alex Brown '13 completed the process of identifying, describing and labeling all of Ekblaw's 280-plus objects.
Brown, a history major who has worked for the museum since her freshman year, says the experience of handling the artifacts has given her a new sense of her discipline. "It's a whole different kind of history; it's very different than reading it in book," she said. She also likened the work of identifying the objects to a "real-life game of Pictionary." She described figuring out that an object resembling a pencil sharpener was in fact a device for sharpening razors, blades and knives, and claimed she can now distinguish between walrus ivory and narwhal ivory, polar bear claws and bird beaks.
Bunke and Brown have also photographed and read every page of Ekblaw's 41 handwritten journals, which provide a daily account of all four years of the journey. "We've gotten to know Ekblaw so well," Bunke said. "We know so much about his life." Here Brown chimed in, "Yes, especially his love for Augusta May." Augusta May was Ekblaw's fiancee and future wife, whom he missed dearly and recalled often in his journals.
And Ekblaw was one of the more likable characters on the expedition. "He is really enthusiastic," Brown said, especially about the opportunity to collect natural specimens. "He's like a kid in a candy shop."
Although most of the other crew member became worn down and disheartened as the years dragged on, Ekblaw's spirits remained high. "He's the only one who stays positive over the four years. Everyone else [except MacMillan] gets depressed and wants to go home and get out of these hard conditions," Brown said.
Also Ekblaw tends to the poetic in his descriptions of the scenery and his experiences, Bunke said. Opening to a page in one of his journals, Bunke read aloud one of her favorite lines that Ekblaw had written in his flowing penciled longhand: "A beautiful moon shone upon the field, a moon that does not set for days at a time, a moon that makes the coming night lose the terror of continual darkness."
Based on Elmer Ekblaw's journals, interns Meg Bunke and Alex Brown have proposed two interactive museum exhibits.
In one, visitors to the museum – mainly kids – will be able to play a game based on the popular video game, Oregon Trail. In the Arctic version, players must try to discover Crocker Land in the far north while surviving the hurdles of traveling in the Arctic. To develop the game, Bunke and Brown are making notes on every decision MacMillan's team made and the consequences of those decisions. Players will have to decide where to travel and when to hunt, as well as how to gather scientific samples, gauge the condition of ice, avoid storms and deal with frostbite.
The other museum module Bunke and Brown have come up with will have young visitors pack a sledge, deciding which objects will be helpful and which will just add weight. The Arctic Museum is planning an exhibition of Ekblaw's collection next year, the centennial anniversary of the 1913-1917 Crocker Land Expedition.