Published June 28, 2007
Researchers Develop 'Bar Code' for Sea Urchins

A new technique for measuring sea urchin growth being developed at Bowdoin College's Coastal Studies Center could turn the sea floor into something akin to an underwater supermarket.
Bowdoin Biology Professor Amy Johnson and Research Associate Dr. Olaf Ellers have been experimenting with a process for marking sea urchin growth that results in colorful fluorescent stripes in their shells, much like a bar code.
"We are developing very precise growth markers that will allow you to uniquely identify animals by their striping patterns," says Johnson, a leading expert on sea urchin growth.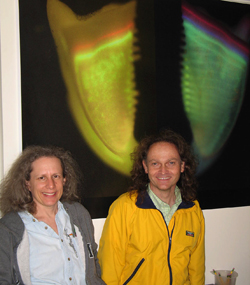 The echinoderms are submerged in vats of seawater containing trace amounts of dye, which they absorb internally into their teeth and jaws, creating a color stripe. Urchin teeth grow continually, says Johnson, providing a new growth line between fluorescent markers every week or so.
Depending on the dye used, markings will appear in green, yellow, blue or red. They are visible under ultraviolet light and appear much like a supermarket bar code.
"This technique allows you to put marked urchins out in the field, then collect and identify them," notes Johnson. "The innovation is important for both science and industry: It will help researchers measure urchin growth, movement and survival — and it could help urchin aquaculture farmers 'trademark' and recoup their seed urchins in the wild."
Maine's sea urchin industry once rivaled lobsters (sea urchin roe is considered a delicacy in Japan), contributing millions of dollars to the Maine economy each year. Unfortunately, over-fishing has caused a rapid decline in urchin stocks in recent years.
""What they are working on will impact urchins as a commercial product in the future.""
—— Michael Devin, R. J. Peacock Cannery
Various efforts are underway to reseed the native urchin population, including commercial aquaculture concerns, such as the R.J. Peacock Cannery in Lubec, Maine, known primarily for its salmon.
Michael Devin, science manager at the cannery, says Johnson and Ellers' work is "very important to urchin culture and ultimately urchin fisheries. What they are working on will impact urchins as a commercial product in the future — whether reseeding commercial stocks or raising urchins from egg to market."
Devin is doing trials of their marking process with seed urchins at the Lubec hatchery and will release a batch into a lease site in Cobscook Bay this summer.
"At farmed aquaculture sites, there is a big concern that urchins will 'walk' off the leased sites," explains Ellers. "So, this technique has the potential to show them how many stay there. Down the road ... you could imagine having a number of hatcheries on the Maine coast, each one tagging its urchins with a special mark. When fishermen picked urchins up in the wild, hatcheries could be paid based on the markings."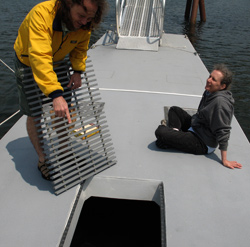 Much work remains to be done to perfect the technique. Currently, the urchins must be broken open to read the markings, since their skeletons accrete from the inside. This summer, the researchers are working on techniques to try to produce external striping patterns. They also are working with collaborators to test the procedure with bivalves, such as scallops, whose shells grow externally.
"Hopefully," says Johnson, "we can do something to help the urchins. I guess that's why I got into urchin research in the first place: I wanted to do work that had some connection to what was important to the community. If our work has somehow helped the State of Maine, that would be great."