Consistency from Cliff Island: Roger Berle '64
---
Roger Berle '64 started his annual giving to Bowdoin with $10. It's been fifty-four years, and he hasn't missed a year since.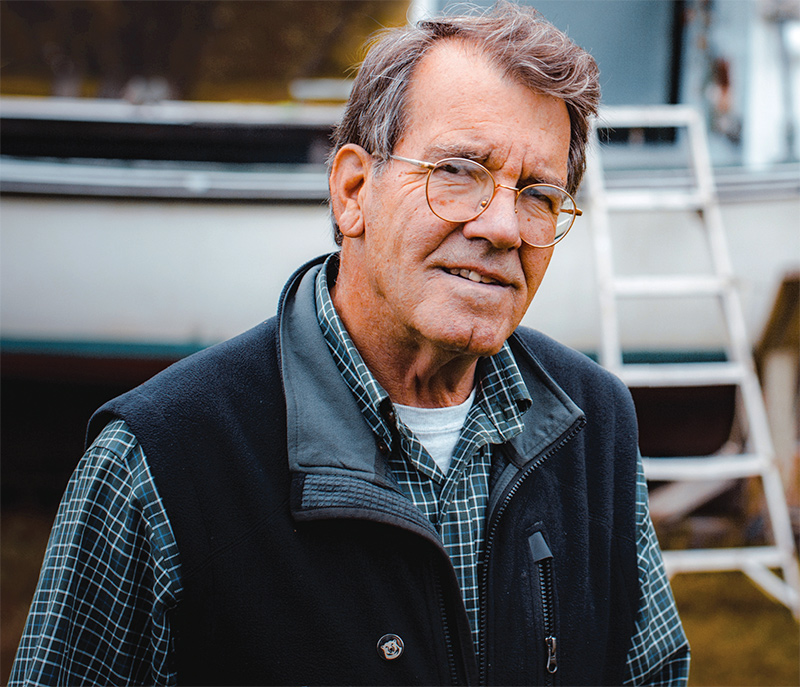 Depending on who you ask, Roger Berle is the heart and soul, or guardian angel, or unofficial mayor of Maine's Cliff Island.
His grandparents first came to the island in the summer of 1905 to escape the crowds and temperatures of New York City—seeking something closer in temperament to their native Norway. Roger's first visit, at the age of six months, came in 1943.
"I always felt that my paradise was Cliff Island. I never have gone a year without being on Cliff Island for at least a month. I went to Bowdoin probably because of that attraction—everything in me, all the molecules in me, led in this direction."
Roger's Bowdoin experience was bittersweet, although it ended on a high note. As a then-shy person, he felt immediately comfortable in the welcoming Bowdoin community. And his confidence grew when he was named cocaptain of the freshmen hockey team and later made two varsity squads.
On the academic side, though, he struggled. "I failed courses I knew I could have done very well in," he says now. Because of his academic difficulties, he left the College for a time. "I took a sabbatical after a year and a half. Returning on weekends to see my friends just wasn't the same, even though the welcoming was still there.
"My overall experience was wonderful. At Bowdoin I felt treated as an adult, which made my early failure even more poignant. I learned several important lessons. My comfort with governmental structure and process has been a lifetime plus of my government major at Bowdoin. The painful sting from not having persevered after my first three semesters has led to my earnestly sticking to all my commitments. I have developed a keen sense of what is needed in an organization or for a project I face and how I can use my leadership (and soldiering) skills to each situation's best avail. Not doing it 'right' at Bowdoin the first time has made me insist on 'doing it right' the first time ever since."
Roger was interviewed by Dr. Lisa Belisle '92 for Maine: The Magazine, and the two Polar Bears discussed how he ended up in fundraising.
"My mother was an ardent conservationist in her quiet way. My father, in his off time from work was a community activist, very involved in the selectmen manager form of government in our town in Massachusetts, and he was also a fundraiser. When I was 12, 10, I said, 'Those are for sure things that I will never do in my life because it just doesn't look like any kind of fun.' Guess what? I am one of the very few people that I've ever met who actually loves to raise money, to do fundraising."
Roger has helped to raise money for a number of organizations, including Maine Conservation Voters, Sustainable Cliff Island, the Cliff Island Corporation for Athletic Conservation and Education, Friends of Fort Gorges, Ocean Side Conservation Trust of Casco Bay, Southern Maine Conservation Collaborative, Portland Trails, the Waynflete School, and the Portland Land Bank Commission. 
Despite his busy schedule and off-the-mainland location, Roger supports Bowdoin annual funds consistently—giving our community an example of how to "do it right," year after year.
---
The From Here campaign has a dollar goal of $500 million. Equally important is our goal to have 85 percent of our alumni and families involved—by making a gift, attending an event, or volunteering.