This annual ceremony recognizes outstanding academic achievement by our students.
Ours is a rigorous academic program, with standards of scholarship and expectations of excellence set by faculty that are difficult to meet.
The outstanding level of achievement demonstrated by these students requires intense focus, a deep pride in one's work, and a passion for learning, and it warrants our full appreciation and congratulations.
History of Sarah and James Bowdoin Day
Our recognition of Bowdoin scholars goes back to 1941. In those days, the students were all men, and this honor was then named exclusively for James Bowdoin III. In 1997, the College—by faculty vote—decided it was appropriate to reestablish this tradition in the name of James and Sarah Bowdoin, who was an active partner in creating this College.
In an unusual move for the times, both Sarah and James Bowdoin signed one of the deeds transferring land from the Bowdoin family to the president and trustees of the College. Sarah's journal of her daily life (which can be found in Special Collections here at Bowdoin) documents her family's collection and curation of art, books, and scientific materials, which the College inherited with a deep debt of gratitude.
Today, we remember the Bowdoin family through this annual event, and with two other traditions: the Gilbert Stuart portraits of James and Sarah Bowdoin in the Museum of Art are decorated today with laurel garlands, and on this day, we also replace our large American flag on the Quad with a smaller flag that flew over the U.S. Capitol on August 7, 1963, to commemorate the birth of Massachusetts Governor James Bowdoin II.


The Almon Goodwin Prize
The Almon Goodwin Prize was established in 1906 by Mrs. Maud Wilder Goodwin in memory of her husband, Almon Goodwin, of the Class of 1862.
The prize is given to an exemplary member of Phi Beta Kappa, and this year's recipient is Charlie McLarnon '24.
Charlie, who comes to Bowdoin from Northborough, Massachusetts, is a mathematics major and a chemistry minor, a clarinetist in the Bowdoin Concert Band, and a member of the Bowdoin Debate Team. They are a 2021–2022 recipient of a Kibbe Science Fellowship for their research project "Quantifying the Effect of a Constrained Olefin Dimerization Catalyst," which sought to identify the materials and conditions necessary to synthesize a catalyst with potential applications to the plastics industry.
This past summer, Charlie was an intern for the Committee for Public Counsel in Massachusetts, where they created reference materials for the office that summarized Massachusetts sentencing guidelines for judges, reviewed and wrote reports describing security camera footage, medical records, and other discovery to help the attorneys prepare for motions and trials, and researched the legality and ethics of electronic monitoring as a pretrial condition of release.
Charlie said of their experience, "The dedication to client-centered advocacy and passion for social justice that the attorneys at CPCS displayed has inspired me, and I plan to pursue a career as a public defender myself."


Phi Beta Kappa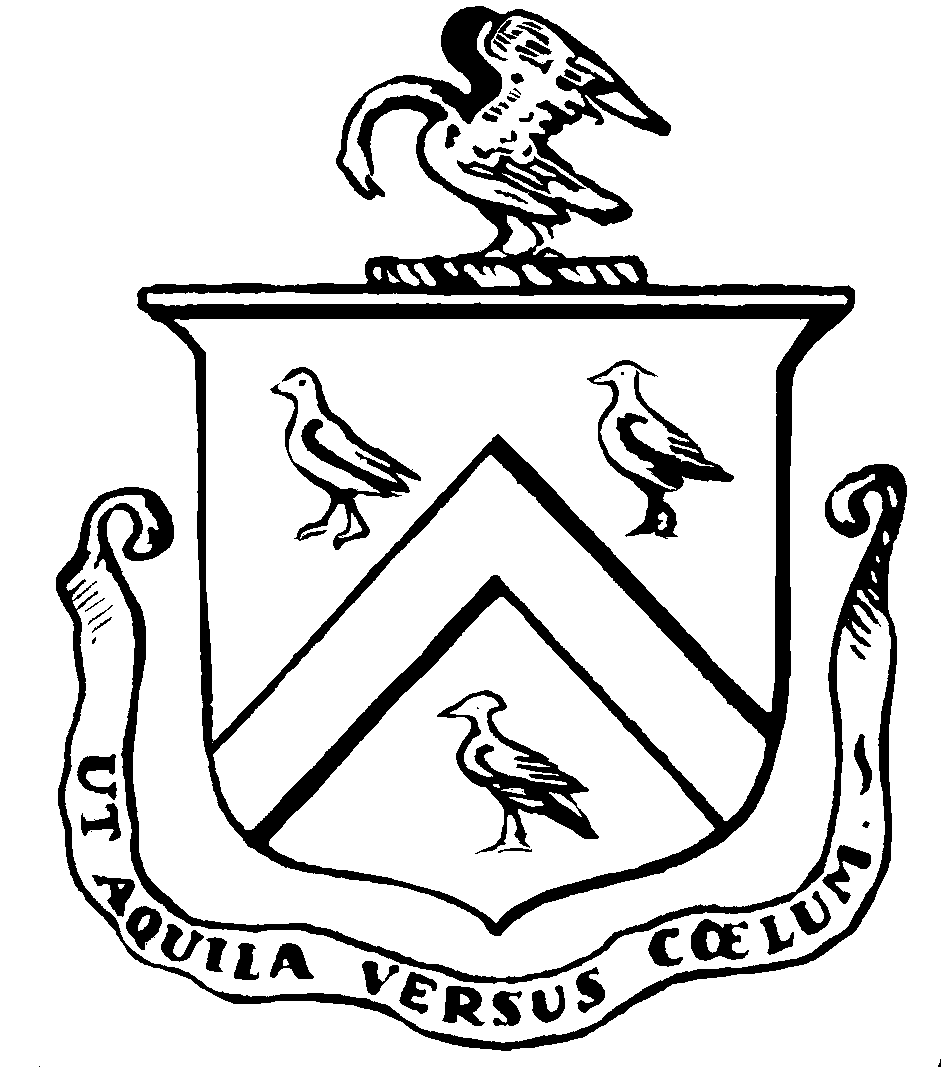 The Bowdoin shield is derived from the coat of arms of the Bowdoin family. Uses of the design and motto date from at least 1755, by the family of Pierre Baudouin; from before 1811, as James Bowdoin III's bookplate; and since 1894 in Bowdoin publications.
The motto, Ut aquila versus coelum, may be translated, "As an eagle [soaring] toward the heavens."
The Phi Beta Kappa Society, a national honorary society for the recognition and promotion of scholarship, was founded in 1776 at the College of William and Mary. The Bowdoin chapter—the sixth in order of establishment, was established in 1825.
Election is based primarily on scholarly achievement, but consideration is given to the student's entire college record. Students elected to Phi Beta Kappa are expected to be persons of integrity and good moral character.
This fall, we recognize the following students who have been elected to Phi Beta Kappa.
From the Class of 2023:
From the Class of 2024:
Julianna Brown
Annika Carey
Katie Draeger
Darien Gillespie
Grant Griesman
Ezra Jones
Kori Kelley
Zach Leibowitz
Calvin Lucido
Stephanie McCurrach
Charlie McLarnon
Alexander Racape
Emily Simons
Nancy Xing
Book Award Winners
A book bearing a replica of the early College bookplate that distinguishes the James Bowdoin Collection in the library is presented to every undergraduate who has carried a full-course program and has received a grade point average of 4.0 in their courses during the last academic year.
This year:
First-year recipients will receive David Driskell: Icons of Nature and History, by Julie L. McGee '82 et al.
Second-year recipients will receive Take Me to the River, by Bowdoin professor of art Michael Kolster.
Third-year recipients will receive Mississippi: An American Journey, by Bowdoin senior writer-in residence Anthony Walton.
From the Class of 2023:
Merline Rhian Feero 

Stephen George Simoes

Alexander Francois Tesson

Abby Wang
From the Class of 2024:
Jenna Marie Albanese
Alexandra Ritchie Ashraf
Astrid Knowles Braun
Katrina Leila Carrier
Samuel David Cooper
Rahul Dasgupta
Cora Dow
Katharine Ramsay Kurtz
Corinne Elizabeth Lamond
Zachary M. Leibowitz
Jared Patrick Lynch
Richard John McNamara
Sejal V. Prachand
Alexander Bryan Racape
Zackery D. Reynolds
Kelly Kristen Stevenson Jr.
Luke Samuel Tingley
Alexander Patrick Tully
Gianna Caitlyn Turk
Karin Arai van Hassel
Lionel Anil Welz
Nicholas Stetson Werner
Nancy Xing
Nicholas Takaki Tienhui Yoong
From the Class of 2025:
Adepoju Olaoluwa Arogundade
Nathan Clay Bailey
Miles Mackinson Berry
Ari Edward Bersch
Alyssa Nicole Bommer
Anna Fiona Bor
Zoe Scott Buettner
Lauren Elizabeth Burke
Zachary Aaron Cheesman
Abigail Rose Chriss
Julia Ann DeLuca
Tej Arun Dhingra
Leah Matheson Dichter
Inga Christhild Dovre
Matthew Russell Duthaler
Emma Marie Fasullo
Emma Frances Bradach Gibbens
Owen Murphy Gramley
Daniel John Ratcliffe Grant
Cooper Robert Harris
Lori Hashasian
Jingyuan Huang
Olivia Marie Kenney
Daniel Kotorri
Stefan Nathaniel Langshur
Maya Juliette Le
Madeline Mackenzie Green Lincoln
Spencer Jaden Mann
Jane Elizabeth McCarter
Vaishali Olduvai Miriyagalla
Claire Madelyn Nguyen
Jondall Taylor Norris
Joseph Chansoo Park
Owen Chian Ratliff
Alicia Lorine Ross
Cassidy Jessenia Scott
Rachel Houston Scruby
Isabel Singh Sharp
Danielle Rose Simon
Julia Joan Smart
Jiahn Son
Claire Alexandra Stoddard
Caroline Griffith Vauclain
Yaerin Anna Han Wallenberger
Rowan Alexander Washburn
Anya Rose Workman
Seo Yeon Yook
Mina Jasmine Zanganeh
Mitchell Franklin Zell
From the Class of 2026:
Charles Thomas Apolinsky
Divya Bhargava
Oliver Chyla Bruce
Anna Chen
Oliver Isaac Clachko
Ethan Christopher Danielson
Carly Jane Davey
Anthony Michael DiChiara
Anna Guethoff
Kyra Elizabeth Hacker
Cordelia Louise Howe Heyman
Skyla Hong
Miya Sachiko Imaeda
Meredith Hailey Jenkins
Surabhi Kalra
Mia Victoria Karlsson
Kiley Elizabeth Keating
Nathan Joseph Kellerman
Tyler Campbell Lenk
Graham Frederick Lucas
Kaya Annika Patel
Liliana M. Restrepo
Alec Edward Rothkowitz
Hailey Frances Ryan
Benjamin Isaac Sachs
Sebastian Robert Sahlman
Younghoon Seo
Blythe Carson Thompson
Elizabeth Daly Walsh
Darcy Elliot Weber
Sarah and James Bowdoin Scholars
Sarah and James Bowdoin Scholars are recognized each year in the fall on the basis of work completed the previous academic year. The award is given to the twenty percent of all eligible students with the highest grade point average.
---
From the Class of 2023:
Caleb Patrick Adams-Hull
Brooke E. Asherman
Althea J. Aslanian
Caitlyn Rita Berry
Gretchen Murphy Clauss
Merline Rhian Feero
Thomas Michael Lang
Hattie Alexandra Sargent Slayton
Stephen George Simoes
Eliza Browning Strout
Alexander Francois Tesson
Abby Wang
Diyaa Raishma Yaqub
Jenna Marie Albanese
Ahmad Adeeb Abdulwadood
Francisco Adrian Adame-Perez
Alexandra Ritchie Ashraf
Matthew C. Audi
Mei Leah Bock
Astrid Knowles Braun
Samara Kane Braverman
Katrina Leila Carrier
Cameron J. Coffey
Sarah Grace Conant
Samuel David Cooper
Rahul Dasgupta
Cora Dow
Charles Joseph Galicich
Min Guo
Jane Charlotte Hirschman
Jillian Garner Horton
Charlotte Allison Howie
Hannah Ashley Kim
Alexander Kozic
Katharine Ramsay Kurtz
Corinne Elizabeth Lamond
Connor Joseph Latona
Zachary M. Leibowitz
Brandon Lozano-Garay
Jared Patrick Lynch
Jorja Isles Markella
Sarah Ashlin McClelland
Richard John McNamara
Abigail Faith Mueller
Adam Charles Nelson
Elliot J. Norwood
Emma Rose Paterson-Dennis
Sejal V. Prachand
Alexander Bryan Racape
Christine Da Silva Ramos
Zackery D. Reynolds
Anika Skye Rubocki
Kelly Kristen Stevenson Jr.
Josephine Price Tidmore
Luke Samuel Tingley
Alexander Patrick Tully
Gianna Caitlyn Turk
Karin Arai van Hassel
Juliana Keyes Vandermark
Lionel Anil Welz
Nicholas Stetson Werner
Carson M. Williams
Nancy Xing

Nicholas Takaki Tienhui Yoong

Tianrui Zhang
Jack Kerry Andrews
Adepoju Olaoluwa Arogundade
Nathan Clay Bailey
Emma Ruesink Barker
Cora E. Baxter
Miles Mackinson Berry
Ari Edward Bersch
Taira Alexander Blakely
Paul Harris Boardman Jr.
Alyssa Nicole Bommer
Anna Fiona Bor
Margaret Tennant Broaddus
Zoe Scott Buettner
Lauren Elizabeth Burke
Hayden Barton Byrne
Amy Cai
Zachary Aaron Cheesman
Anju Sophia Chenaux-Repond
Katherine Thompson Cheston
Abigail Rose Chriss
Addison Davis
Julia Ann DeLuca
Diego Armando DeSousa
Tej Arun Dhingra
Leah Matheson Dichter
Inga Christhild Dovre
Matthew Russell Duthaler
Rhys Aled Edwards
Zelia Talulah Rose Egan
Erica Erdenesanaa
John Michael Swiggum Erlandson
Emma Marie Fasullo
Cara Sydney Nova Fields
William Henry Gaston
Emma Frances Bradach Gibbens
Marc Zephyr Gilmore
Joshua Steven Goldstein
Karen Gonzalez
Owen Murphy Gramley
Daniel John Ratcliffe
Grant Cooper Robert Harris
Lori Hashasian
Ella Alexandra Henry
Mary Elise Henthorn
Brendan James Hill
Frances Isabelle Hornbostel
Stuart Sloan Howard
Ziyou Hu
Jingyuan Huang
Zunain Husain
Benjamin Fletcher Israel
Yusur Omar Jasim
Jasmine Jia
Luna Jiang-Qin
Daniel Seongmin Kang
Ryan Minje Kang
Olivia Marie Kenney
Jack William Kinsella
Kristen Alexis Kinzler
Jessica Lauren Klein
Chun-Wen Ko
Daniel Kotorri
Stefan Nathaniel Langshur
Maya Juliette Le
Jonathan Gordon Lerdau
Madeline Mackenzie Green Lincoln
Cameron Parks Lindsey
Carina Lim Li Xin
Natalie Yoke Phaik Loh
Luisa Isabelle Louchheim
Spencer Jaden Mann
Jane Elizabeth McCarter
Vaishali Olduvai Miriyagalla
Jack Moore
Amanda Gail Newcombe
Claire Madelyn Nguyen
Oscar Koziol Nigam
Jondall Taylor Norris
Emmanuel Amoako Okyere
Jason Alexander Olaru-Hagen
Emma Pond Olney
Joseph Chansoo Park
Zoe Sierra Peterson
Mira Ann Pickus
Regine Pierre-Louis
Benjamin Esteban Pinto Arroyo
Owen Chian Ratliff
Jack Morgan Roberts
Marc Abram Rosenthal
Alicia Lorine Ross
Sebastian Bartolome Mauricio Sanchez
Mia Juliet Schwartz
Cassidy Jessenia Scott
Rachel Houston Scruby
Isabel Singh Sharp
Elana Ruth Levy Sheinkopf
Nicholas Andrew Sibiryakov
Danielle Rose Simon
Julia Joan Smart
Jiahn Son
Claire Alexandra Stoddard
Khue Anh Tran
Vincent T-Khang Tran
Talia Katherine Traskos-Hart
Grace Diane Travis
Caroline Griffith Vauclain
Vaughn Xavier Walsh Vial
Yaerin Anna Han Wallenberger
Rowan Alexander Washburn
Kaitlin Elizabeth Weiss
Maya Patricia White
Roger Martin Wilder
Augusta KaMaileOnaOna Kellogg Winterbottom
Anya Rose Workman
Seo Yeon Yook
Mina Jasmine Zanganeh
Mitchell Franklin Zell
Noah Zuijderwijk
Gwendolyn Wenjie Frances Abbott
Charles Thomas Apolinsky
Victoria Channing Bacall
Olivia Grace Barrett
Caroline Elizabeth Berney
Divya Bhargava
Yasmin Biyashev
Mila Laurita Bonometti
Oliver Chyla Bruce
Chinwe Fleming Bruns
Alexander Chase Byrne
Alessandro Benedetto Carelli
Anna Chen
Runqin Chen
Elizabeth Chmielewski
Aniqa Chowdhury
Oliver Isaac Clachko
Amanda Marie Cooney
Avery Jordan Cutler
Ethan Christopher Danielson
Carly Jane Davey
Anthony Michael DiChiara
Cameron Hong Edgar
Grace Schoen Elliot
Athalia Barker Esty
Nina Elizabeth Fearon
Nicholas James Fortier
Ruby Fyffe
Kira Hedges Gilbert
Evan James Grauer
Cedar Rose Greve
Anna Guethoff
Larah Gutierrez-Camano
Kyra Elizabeth Hacker
Cordelia Louise Howe Heyman
Skyla Hong
Miya Sachiko Imaeda
Ha Young Jang
Meredith Hailey Jenkins
Benjamin Blagden Johnson
Surabhi Kalra
Marley Kamin
Mia Victoria Karlsson
Kiley Elizabeth Keating
Nathan Joseph Kellerman
Samantha Autumn Koegler
Jeongdahl Lee
Jung Yeon Yeon Lee
Tyler Campbell Lenk
Zellie Lipman
Graham Frederick Lucas
Abigail Elise Martin
Emma Mazlish
Nadia Miller
Shihab Sohan Moral
Ashley Bridget Morash
Aurelie Nishimwe
Adam Grant O'Connor
Caleb Stopford Packard
Kaya Annika Patel
Elizabeth B. Perot
Ella Nicole Perry
Lierin Grace Peterson
Kyra Kate Phelan
Grace Raymond
Liliana M. Restrepo
Alec Edward Rothkowitz
Hailey Frances Ryan
Benjamin Isaac Sachs
Sebastian Robert Sahlman
John Anderson Schubert
Anika Sen
Younghoon Seo
Chloe Keyo Sheahan
Aidan Dean Sheeran-Hahnel
Lily Shelley-Kodroff
Gabriel Ronald Shipper
Patrick F. Sullivan
Selima Terras
Jeremy Dante Tewari
Blythe Carson Thompson
Isabelle M. Tsuchitori
Pranavsai Vadlamudi
Anne Patricia Vasquez
Elizabeth Daly Walsh
Darcy Elliot Weber
Emilia Irene Wheatley
Alexander Moffat Wiseman
Ai Lee Woods
Marianna Sofia Zingone