18th-20th Century Russia and the Soviet Union; socialist culture; 19-20th Century Germany; First World War; Second World War; women in modern Europe; visual culture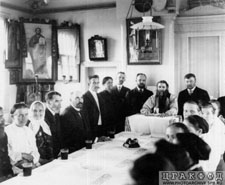 My research focuses on the intersection between religious belief and everyday life in the experience of ordinary Russian people during 19th and 20th centuries, including the so-called "godless" Soviet period. I am interested in the diverse and evolving ways that individuals understood the role of God and faith in their lives, selves and communities – both what they valued as sacred, and how their beliefs gave them a framework for acting, understanding change, and structuring society. These questions are relevant to Russia's past as well as its present, as Russians today debate the role that the Orthodox Church should play in modern society and politics, and the relationship between Orthodoxy and "Russianness."
At the center of my current book project, "Defying Orthodoxy," is the collective experience of the tens of thousands of devout Russian Orthodox believers who, over the course of the last century, have challenged dominant norms of faith, authority and identity in order to proclaim their personal salvation through the teachings and prayers of a charismatic lay preacher known as "Brother Ioann" Churikov (1861-1933).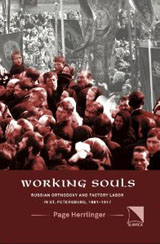 My first book, Working Souls: Russian Orthodoxy and Factory Labor in St. Petersburg, 1880-1917 (Bloomington, Indiana: Slavica Publishers, 2007), addressed questions of religious (and irreligious) identity among workers in Russia's most revolutionary and modern city, St. Petersburg/Petrograd. While documenting the remarkable vitality and diversity of urban religious life at the end of the Imperial era, it explores the various ways in which the components of workers' religious identity – their practices, sensibilities, and beliefs about God, self and society – were transformed by the experience of modern factory life. It also considers the extent to which the evolving spiritual needs and demands of the working class laity precipitated changes in Russian Orthodoxy and the role of the Church in modern society.
"A Case of Unorthodox Orthodoxy: The 'Religious Crimes" of Brother Ioann Churikov and his Followers in Modern Russia, 1905-1914." Book chapter to be published (in Russian) in Vina i Pozor v kontekste traditsionnoi kul'tury eds. Marianna Muraveyva and Natalia Pushkareva (Moscow: Russian Academy of Sciences Press, forthcoming).
"The Religious Landscape in Revolutionary St. Petersburg, 1900-1917." Book chapter to be published in Der Moderne begegnen: Religion und Großstadt 1850-1930, eds. Bettina Hitzer and Joachim Schlor (Berlin, forthcoming).
"Trials of the Unorthodox Orthodox: the Persecution of Ioann Churikov and His Followers in Late Imperial Russia." Book chapter in Centers and Peripheries in the Christian East: Papers from the Second Biennial Conference of the Association for the Study of Eastern Christian History and Culture (forthcoming).
"Raising Lazarus: Orthodoxy and the Factory Narod in St. Petersburg, 1905-1914," Jahrbucher fur Geschichte Osteuropas, vol. 52, no. 3 (2004).
"Orthodoxy and the Experience of Factory Life in St. Petersburg, 1881-1905," in New Labor History: Worker Identity and Experience in Russia, 1840-1918, ed. by Michael Melancon and Alice Pate (Slavica, 2002).