Books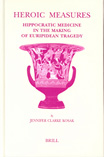 Heroic measures: Hippocratic medicine in the making of Euripidean tragedy. Leiden: Brill Academic Publishers, 2004.
Articles/Book Chapters
"The Wall in Aristophanes' Birds," in City, Countryside and the Spatial Organization of Value in Classical Antiquity, ed. Ralph Rosen and Ineke Sluiter, 173-180. Leiden: Brill Academic Publishers, 2006.
"The male interior: strength, illness and masculinity in Sophokles' Philoktetes," in Greek Drama III. Bulletin of the Institute for Classical Studies Supplement 87 (2006) 49-64.
"A Crying Shame: pitying the sick in the Hippocratic Corpus and Greek tragedy," in Pity and Power in Ancient Athens, ed. Rachel Sternberg, 253-276. Cambridge: Cambridge University Press, 2005.
"Polis Nosousa: Greek ideas about the city and disease in the fifth-century B.C.," in Death and Disease in the Ancient City, ed. E. A. Marshall and V. Hope. New York and London: Routledge, 2000.
"Therapeutic Touch and Sophokles' Philoktetes," Harvard Studies in Classical Philology 99 (1999) 93-134.
Work in Progress
Unmanned: Masculinity and Disease in Ancient Greek Society, a book examining the impact of disease on the performance of masculinity in ancient Greece.
"Fighting and mastering disease: metaphors and masculinity," What's Hippocratic about the Hippocratics? XIIIth Colloquium Hippocraticum, The University of Texas, Austin, TX, August 11-13, 2008.
"Masculinity and illness: some case studies in ancient Greece," What is Masculinity? How Useful is it as a Historical Category? Conference at Birkbeck College, University of London, May 14-16, 2008.
"Masculinity and medicine in Ancient Greece," invited lecture, Smith College, Northampton, MA. March 13, 2008.
"Aelius Aristides and the masculine experience of disease," Approaches to Ancient Medicine, Ancient Medicine Research Seminar, University of Newcastle, Newcastle upon Tyne, UK, August 22-23, 2005.
"Andres gar polis: city limits in classical Greek thought," City and Countryside in the Ancient Imagination, Penn-Leiden Colloquium on Ancient Values, Leiden, the Netherlands, June 3-5, 2004.