Professor of Economics
Contact Information
jgoldste@bowdoin.edu
207-725-3595
Economics

Hubbard Hall - 113
Teaching this semester
ECON 1102. Principles of Macroeconomics

An introduction to economic analysis and institutions, with special emphasis on determinants of the level of national income, prices, and employment. Current problems of inflation and unemployment are explored with the aid of such analysis, and alternative views of the effectiveness of fiscal, monetary, and other governmental policies are analyzed. Attention is given to the sources and consequences of economic growth and to the nature and significance of international linkages through goods and capital markets.
ECON 2221. Marxian Political Economy

An alternative (heterodox) analysis of a capitalist market economy rooted in Marx's methodological framework, which focuses on the interconnected role played by market relations, class/power relations, exploitation and internal tendencies towards growth, crisis, and qualitative change. Students are introduced to the Marxian method and economic theory through a reading of Volume I of "Capital." Subsequently, the Marxian framework is applied to analyze the modern capitalist economy with an emphasis on the secular and cyclical instability of the economy, changing institutional structures and their ability to promote growth, labor market issues, and globalization. Particular attention is paid to the neoliberal reorganization of the economy from 1980 on, the process of financialization and the financial crisis of 2008. The analysis of the modern economy is partially facilitated by a series of videos about the neoliberal era.
Jon Goldstein received his Ph.D. in economics from the University of Massachusetts. He has been on the faculty of Bowdoin College since 1979. He has also held appointments as Visiting Professor at the University of California (Riverside), and the Physics Institute in Nizhni Novgorod, Russia, the University of Massachusetts and as a Resident Scholar at the Jerome Levy Economic Institute at Bard College.
Goldstein's primary research interests are in the areas of macroeconomics and econometrics as applied to issues concerning cyclical fluctuations. His work has focused on the development and empirical testing of theories (models) of pricing, profitability, and investment over the business cycle and the existence of long waves. He has published numerous articles on these s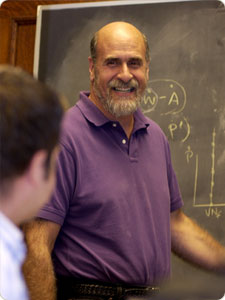 ubjects in academic journals and edited collections.
In 1995-1996 he spent his sabbatic leave in Russia studying Russian labor markets in transition.
In 1999, he participated in a Maine Department of Labor study on the logging industry in Northern Maine.
Currently he serves as an editor of the Review of Radical Political Economics.
Goldstein teaches courses in macroeconomics, statistics, econometrics, Marxian political economy and the business cycle.
He lives in a saltwater farm in nearby Georgetown, Maine and enjoys a variety of outdoor activities including hiking, camping, boating and motorcycling.