Professor of Economics
Contact Information
jgoldste@bowdoin.edu
207-725-3595
Economics

Hubbard Hall - 113
Teaching this semester
ECON 2557. Economic Statistics
An introduction to the data and statistical methods used in economics. A review of the systems that generate economic data and the accuracy of such data is followed by an examination of the statistical methods used in testing the hypotheses of economic theory, both micro- and macro-. Probability, random variables and their distributions, methods of estimating parameters, hypothesis testing, regression, and correlation are covered. The application of multiple regression to economic problems is stressed. Students who have taken Mathematics 2606 are encouraged to take Economics 3516 instead of this course.
ECON 3516. Econometrics
Seminar. A study of the mathematical formulation of economic models and the statistical methods of testing them. A detailed examination of the general linear regression model, its assumptions, and its extensions. Applications to both micro- and macroeconomics are considered. Though most of the course deals with single-equation models, an introduction to the estimation of systems of equations is included. An empirical research paper is required.
Jon Goldstein received his Ph.D. in economics from the University of Massachusetts. He has been on the faculty of Bowdoin College since 1979. He has also held appointments as Visiting Professor at the University of California (Riverside), and the Physics Institute in Nizhni Novgorod, Russia, the University of Massachusetts and as a Resident Scholar at the Jerome Levy Economic Institute at Bard College.
Goldstein's primary research interests are in the areas of macroeconomics and econometrics as applied to issues concerning cyclical fluctuations. His work has focused on the development and empirical testing of theories (models) of pricing, profitability, and investment over the business cycle and the existence of long waves. He has published numerous articles on these s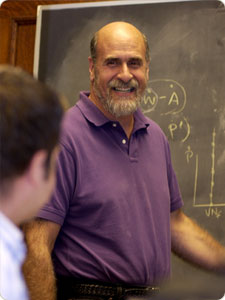 ubjects in academic journals and edited collections.
In 1995-1996 he spent his sabbatic leave in Russia studying Russian labor markets in transition.
In 1999, he participated in a Maine Department of Labor study on the logging industry in Northern Maine.
Currently he serves as an editor of the Review of Radical Political Economics.
Goldstein teaches courses in macroeconomics, statistics, econometrics, Marxian political economy and the business cycle.
He lives in a saltwater farm in nearby Georgetown, Maine and enjoys a variety of outdoor activities including hiking, camping, boating and motorcycling.