Guy Mark Foster
Associate Professor of English
Fall 2013
The End of Blackness? (AFRS 339)
| | |
| --- | --- |
| Phone | 2077984317 |
| Title | Associate Professor |
| Department | English |
| Work Location | Massachusetts Hall |
| E-Mail | gmfoster@bowdoin.edu |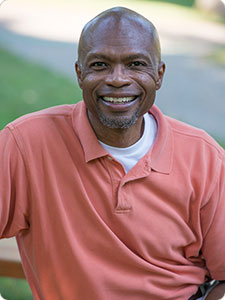 Ph.D. Brown University, English Literature, 2003
M.A. Brown University, English, 1997
B.A. Wheaton College, Writing and Literature, 1994
Areas of Interest
20th Century American literature; African American Literature; Lesbian and Gay Literature; Interracial Narratives; Literary Memoirs; Queer Theory; Psychoanalytic Theory
Works in Progress
Book project: "Waking Up with the Enemy: Postwar African American Literature and the Ethics of Interracial Intimacy"
Publications
"African American Literature and Queer Studies: The Conundrum of James Baldwin." A Companion to African American Literature. Ed. Gene Andrew Jarett, Wiley-Blackwell, 2010.  (Access article in PDF)
"Looking Good: Neutralizing the Desiring (Black Male) Gaze in Alice Walker's Meridian."  Symbiosis 13.2 Special Issue October 2009. (Access article in PDF)
"Translating (Black) Queerness: Unpacking the Conceptual Linkages Between Racialized Masculinities, Consensual Sex, and the Practice of Torture." Souls 11.2 April 2009. (Access article in PDF)
"'Do I look like someone you can come home to from where you may be going?'" Re-mapping Interracial Desire in Octavia Butler's Kindred." African American Review 41.1 Spring 2007. (Access article in PDF)
 "How Dare a Black Woman Make Love to a White Man! Black Women Romance Novelists and the Taboo of Interracial Desire." Empowerment versus Oppression: 21st Century Views of Popular Romance Novels. Ed. Sally Goade, Cambridge Scholars Press, 2007.  (Access article in PDF)
 "Desire and the 'Big Black Sex Cop': Race and the Politics of Intimacy on HBO's Six Feet Under" (The New Queer Aesthetic on Television: Essays on Recent Programming, Eds. James Keller & Leslie Stratyner, McFarland Publishers, 2006)  (Access article in PDF)
Encyclopedia Entries: ZZ Packer and Robert Stepto. An Encyclopedia of African American Literature. Eds. Hans Ostrom and David Macey. Greenwood Press (forthcoming).
"Welcome to the Funhouse: Critical Theory and the 'Problem' of Interracial Sexuality." Review Essay of Black Venus: Sexualized Savages, Primal Fears, and Primitive Narratives in French (Duke UP, 1999), T. Denean Sharpley-Whiting. Radical Philosophy Review 2.2 (Winter, 1999): 10 pages.  (Access article in PDF)
"This Man and Me." Ancestral House: The Black Short Story in The Americas and Europe. Ed. Charles H. Rowell (CO: Westview Press, 1995), Fiction. (Access article in PDF)
Review of Lives of Notable Gay Men and Lesbians: James Baldwin, Randall Kenan (Chelsea House Publishers, 1994). Lambda Book Report. March/April 1994.
Review of The Tranquil Lake of Love: Poems, Carl Cook (Vega Press, 1993). Lambda Book Report. September/October 1993.
"Legacy" and "Lasius Niger." Sojourner: Black Gay Voices in the Age of AIDS. Ed. B. Michael Hunter (NY: Other Countries Press, 1993), Fiction.
"The Book of Luke." Brother to Brother: New Writings by Black Gay Men. Ed. Essex Hemphill (Boston: Alyson Publications, 1991), Fiction.
"Immortally Yours." Shadows of Love: American Gay Fiction. Ed. Charles Jurrist (Boston: Alyson Publications, 1988), Fiction.
Links
Common Hour: The Karofsky Faculty Encore Lecture: "Race Traitors and Their Critics: Unmasking Interracial Anxiety in Octavia Butler's Kindred"
Academic Spotlight: "Romance Novels Explore Racial Boundaries"