Associate Professor of History
(on leave for 2017-18 academic year)
Contact Information
dhecht@bowdoin.edu
207-725-3759
History

Stowe House - 202
Teaching next semester
HIST 1011. Health Histories
Examines the histories – cultural, political, and scientific – through which we have come to understand what constitutes healthy individuals and healthy societies. These definitions are by no means obvious, and they emerge only after protracted struggle. This course will consider a wide variety of such debates, all set in the post-World War II United States. Possible case studies include scientific investigation into the health risks of nuclear fallout; the evolution of abortion rights before and after Roe v. Wade; the development of federal nutrition standards; artistic representation of the AIDS crisis through Tony Kushner's Angels in America; and the politics of whether or not gun violence can be considered a health issue. Course writing will give students the opportunity to engage with primary sources, perform independent research, and explore the concept of public health as it exists beyond doctor's offices and hospitals. This course is part of the following field(s) of study: United States.
HIST 2200. The Nuclear Age
Explores the impact of nuclear energy on American society, politics, and culture. Few aspects of post-World War II United States history were unaffected by the atomic bomb, which decisively shaped the Cold War, helped define the military-industrial complex, and contributed to profound changes in the place of science in American life. Examines the surprisingly varied effects of the atomic bomb throughout American society: on the Cold War, consumer culture, domestic politics, education, family life, and the arts. Uses a wide range of sources—such as newspaper articles, memoirs, film, and policy debates — to examine the profound effects of nuclear energy in United States history. This course is part of the following field(s) of study: United States.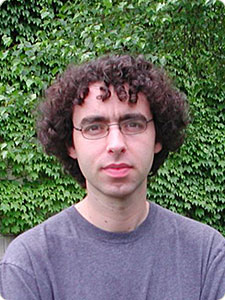 Education
B.A. Brandeis University, History
Ph.D., Yale University, History of Science (2005)
Teaching Areas
David K. Hecht is a historian of science, focusing on the modern United States. His particular interest is in public images of science, and he has published on the phenomenon of "scientific celebrities." His book Storytelling and Science: Rewriting Oppenheimer in the Nuclear Age will be published in May 2015 (University of Massachusetts Press), and he is currently researching a second book project, Rachel Carson and the Challenge of Environmentalism. Other scholarly interests include the history of energy, as well as the role that popular rhetoric about science plays in reinforcing (and sometimes challenging) the status quo. His courses including "The Nuclear Age," "The History of Energy," "Image, Myth, and Memory," and "Science and Society." In 2011 he was awarded the Sydney B. Karofsky prize, Bowdoin's annual teaching prize for junior faculty.
Storytelling and Science: Rewriting Oppenheimer in the Nuclear Age. (Amherst: University of Massachusetts Press, 2015)
"How To Make a Villain: Rachel Carson and the Politics of Anti-Environmentalism," Endeavour 36 (December 2012): 149-155.
 "Constructing a Scientist: Expert Authority and Public Images of Rachel Carson," Historical Studies in the Natural Sciences 41 (Summer 2011): 277-302.
 "A Nuclear Narrative: Robert Oppenheimer, Autobiography, and Public Authority," Biography 33 (Winter 2010): 167-184.
 "The Atomic Hero: Robert Oppenheimer and the Making of Scientific Icons in the early Cold War," Technology and Culture 49 (October 2008): 943-966.