David Collings
Professor of English;  Director of Gay and Lesbian Studies Program
Spring 2013
English Composition (ENG 060B)
Living Deliberately (ENG 346)
| | |
| --- | --- |
| Phone | 2077253737 |
| Title | Professor |
| Department | English |
| 2nd Title | Program Director |
| 2nd Department | GAY AND LESBIAN STUDIES |
| Work Location | 206 Massachusetts Hall |
| E-Mail | dcolling@bowdoin.edu |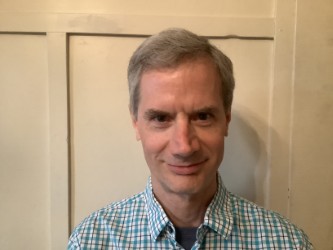 Education:
Ph. D., University of California, Riverside, 1987
Teaching Areas:
English romanticism and British literature, 1780-1835; English literature and social power; gay and lesbian studies; disaster; antirealist and/or uncanny literature.
Research Interests:
English romanticism; the Gothic; secularization; the cultural consequences of anticipating climate change; queer theory; Lacanian cultural theory; the critique of economics.
Work in Progress:
In the Ruins of the Future: On Living with Climate Change.
Selected Publications:
Monstrous Society: Reciprocity, Discipline, and the Political Uncanny, c. 1780-1848.  Bucknell University Press, 2009.
Wordsworthian Errancies: The Poetics of Cultural Dismemberment. Baltimore: Johns Hopkins University Press, 1994.
After the Covenant: Romanticism, Secularization, and Disastrous Transcendence.  European Romantic Review 21 (2010): 345-61.

The Discipline of Death:  Knowledge and Power in An Essay on the Principle of Population.  European Romantic Review 18 (2007): 223-230.
Queer Romanticisms: Past, Present, and Future.  Co-edited with Michael O'Rourke.  Special issue of Romanticism on the Net.  No 36-37, 2004.
Full text »
"The Romance of the Impossible: William Godwin in the Empty Place of Reason".
ELH: English Literary History 70 (2003): 847-874.
( Access article in HTML »
muse members only )   ( Access article in PDF »
muse members only )
"On the Modest Tone of Recent Work in Romantic Studies." College Literature 28 (2001): 207-214.
Abstract »
"Bentham's Auto-Icon: Utilitarianism and the Evisceration of the Common Body."
Prose Studies 23 (2000): 95-127.
"The Harsh Delights of Political Duty: Thelwall, Coleridge, Wordsworth, 1795-1799." Romantic Wars: Studies in Conflict and Culture, 1793-1822. Edited by Philip Shaw. Pages 57-79. Aldershot: Ashgate, 2000.
"Coleridge Beginning a Career: Desultory Authorship in 'Religious Musings.'" ELH: English Literary History 58 (1991): 167-193.
Links