Made In Maine
May 24, 2018 - August 19, 2018
This exhibition features a selection of art works created in Maine during the first half of the twentieth century. Winslow Homer was an important influence for many artists who worked in Maine at this time, including George Bellows, Marsden Hartley, Rockwell Kent, Andrew Wyeth, and Marguerite Zorach, all of whom are represented in this presentation.
Introduction
At the turn of the twentieth century, artists from urban centers such as Boston and New York City made Maine one of their favorite summer destinations.  Aided by improved roads and new rail lines into northern New England, they came in part seeking a natural world that Henry David Thoreau described decades earlier as "something savage and awful, though beautiful."  While Thoreau enjoyed the wildness of the Maine woods, artists gravitated more frequently to the rugged coast, where crashing waves, exposed rocks, and dramatic skies captured their artistic interest.  Artists had discovered Maine long before—most famously, Winslow Homer who lived at Prout's Neck from 1883 to 1910.  Though many found inspiration in Homer's late seascapes, this new generation employed a brighter palette and new compositional strategies that owed much to modernist trends of the period.  Their work ushered in a new chapter in the history of art-making in Maine and demonstrated that modern art was not simply an urban phenomenon.
Works in the Exhibition
"The Beach," oil on canvas, by Charles Woodbury. Gift of Robert W. Olson, Class of 1950, and Robert S. Ecke, M.D., Class of 1931, to honor Paul Nixon, Dean, 1918-1947. Bowdoin College Museum of Art.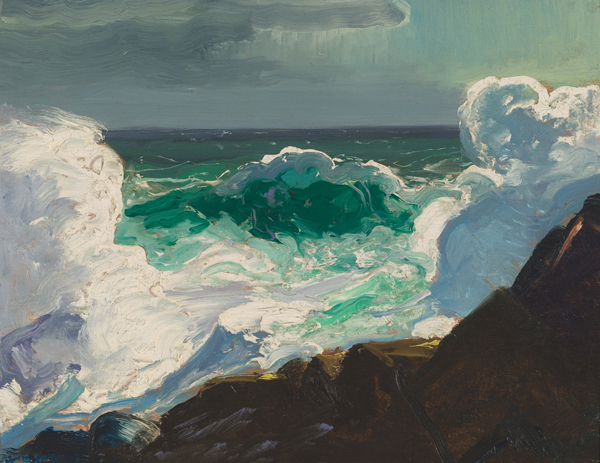 "Green Breaker," 1913, oil on panel by George Bellows. Gift of Remak Ramsay. Bowdoin College Museum of Art.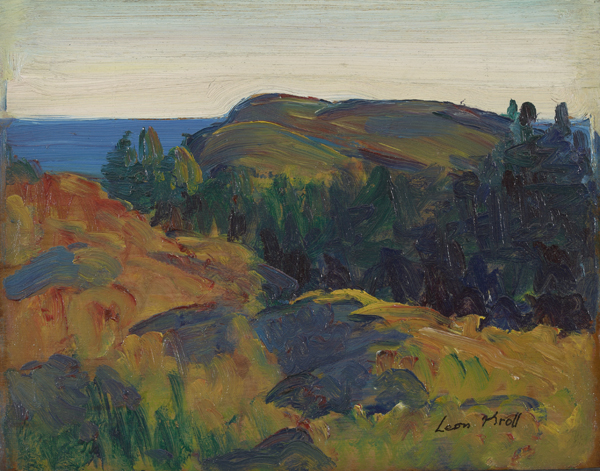 "Monhegan Landscape," 1913, oil on panel by Leon Kroll. Museum Purchase, Elizabeth B. G. Hamlin Fund. Bowdoin College Museum of Art.