Outcomes One Year After Graduation
Based on survey responses collected in the fall of 2017, 88% of Bowdoin's Class of 2016 reported that they were employed or attending graduate school.
70% reported that they were employed.
18% indicated that they were attending graduate school.
3% reported that they were seeking employment.
One Year Out Survey Results   

Class of
2012

Class of
2013

Class of
2014

Class of 
2015

Class of
2016*

Employment (including military or service work)
75%
76%
72%
78%
70%
Graduate school
16%
18%
20%
15%
18%
Seeking employment
4%
2%
2%
2%
3%
Other (fellowship, personal project, caring for family, etc.) 
5%
4%
6%
5%
9%
Total
100%
100%
100%
100%
100%
* Bowdoin adopted a different survey instrument in 2017 (Class of 2016 Alumni Survey), making comparisons to prior years problematic.
Graduate degrees
Bowdoin graduates pursue a variety of advanced degrees. Over the past five years of graduates pursuing advanced degrees one year out, 41% pursued masters degrees, 20% pursued Ph.D.s, 15% pursued medical degrees and 8% pursued law degrees.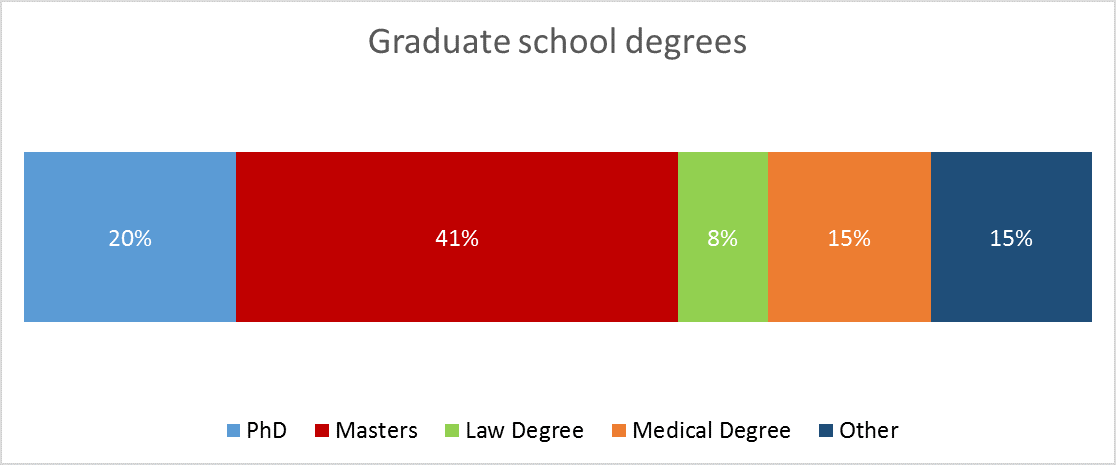 Compared to the Class of 2015, more of the Class of 2016 graduates one year out are pursuing Ph.D.s and law degrees and fewer are pursing masters and medical degrees.
Class of
2012
Class of
2013
Class of
2014
Class of
2015
Class of
2016
PhD
9
21
16
14
18
Masters
32
39
40
30
21
Law Degree
11
3
10
2
7
Medical Degree
12
9
13
10
4
Dental Degree
2
1
2
---
---
Veterinary Degree   
2
3
2
---
---
Other
19
12
4
11
13
Total
87
88
87
67
63
Graduate schools most frequently attended by Bowdoin alumni were:
Boston College
Boston Univeristy
Columbia University
Cornell University
Dartmouth College
Duke University
Georgetown University
Harvard University
Johns Hopkins University
Massachusetts Institute of Technology
New York University
Northeastern
Northwestern
Stanford University
Tufts University
University of California - Berkeley
University of Chicago
University of Michigan
University of Pennsylvania
Yale University
Employers
The following list are employers of Bowdoin alumni one year after graduation:
Amazon
Americorps
Analysis Group
Apple
Athenahealth
Bain Consulting
Barclays
Beth Israel Deaconness Medical Center
Bloomberg
Bloomingdales
Booz Allen Hamilton
Brigham and Womens Hospital
Cambridge Associates
Childrens Hospital (Boston)
Citigroup
Conde Nast
Cowen & Company
Dana Farber Cancer Institute
Dell EMC
Edelman
Epic
ESPN
Eze Software Group
Fidelity Investments
General Reinsurance
Goldman Sachs
Google
Guggenheim Partners
Harlem Childrens Zone
Harvard University
HBO
HSBC
IBM
Jackson Laboratory
JPMorgan Chase
Kaiser Associates
LEGO
LL. Bean
Mass Challenge
Massachusetts General Hospital
MATCH Education
McKinsey & Company
Microsoft
Morgan Stanley
Okta
Peace Corps
Phillips Andover Academy
Prudential Financial
Raytheon
Skadden Arps Slate Meagher & Flom
Sloan Kettering Cancer Center
Sothebys
St. Pauls School (NH)
Suffolk Construction
Sullivan & Cromwell
Teach for America
U.S. Department of Justice
U.S. Department of State
U.S. Marine Corps
Uncommon Schools
Unum
 Note that many graduate students are also employed at the institution that they attend.