The original collection of European paintings, Old Master drawings, and family portraits given by James Bowdoin III and his family in 1811 and 1826 was housed in a sequence of different campus locations until the Walker Art Building was completed in 1894. Included on the National Register of Historic Places, the handsome structure was given to the College by Harriet and Sophia Walker in honor of their uncle Theophilus Walker, a Boston entrepreneur and businessman. The Walker sisters were encyclopedic collectors and supporters of art education. They selected the renowned architect Charles Follen McKim, whose firm McKim, Mead and White also designed the Boston Public Library, The Morgan Library & Museum in New York, and the Brooklyn Museum, among many other important commissions. A landmark building in the history of museum architecture in the United States, the Bowdoin College Museum of Art is one of the few remaining structures in which the architectural and decorative ideals of the late nineteenth century are so fully realized. McKim chose warm brick and limestone with a cooler granite to give life to the "balanced and symmetrical" design he intended to fulfill the Walker sisters' insistence on a "building which shall be entirely devoted to art" and, unlike many other museums of the time, "will also show the purpose for which it is to be used."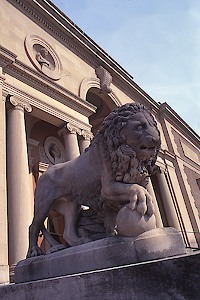 The Museum's façade is based on Renaissance prototypes with a grand stair leading to a dramatically shadowed loggia. On either side are bronze statues of Sophocles and Demosthenes, copies by Sabatino de Angelis, a nineteenth-century Neapolitan sculptor of ancient originals. Two large lions, taken from those at the Loggia dei Lanzi in Florence, stand guard on either side of the stair.
The Museum's original interior consisted of a central rotunda surrounded by three tall, skylit galleries on the entrance level. The dramatic rotunda is capped by a high coffered dome, below which are four large semicircular murals by the leading painters of the American Renaissance: Elihu Vedder, Kenyon Cox, Abbott Thayer and John LaFarge. The mural scheme called for each artist to paint an allegorical representation of one of the four cities perceived at the time as most central to the development of western art. The paintings were commissioned by McKim, who believed in the unity of the arts, and constitute an extremely important ensemble of architectural decoration.
In 1974 the Museum's lower-level spaces were renovated and expanded, when Art Department offices and activities moved next door to the Edward Larrabee Barnes-designed Visual Arts Center.
The Museum's 2005-2007 renovation respects the history and integrity of the original building, while providing new spaces and systems in keeping with twenty-first-century standards.