Osher and West Halls
What makes the LEED silver certified residence halls "green"? Many components of Osher and West, including the materials, heating system, and rainwater system all contribute to the overall sustainability of the buildings. Features include: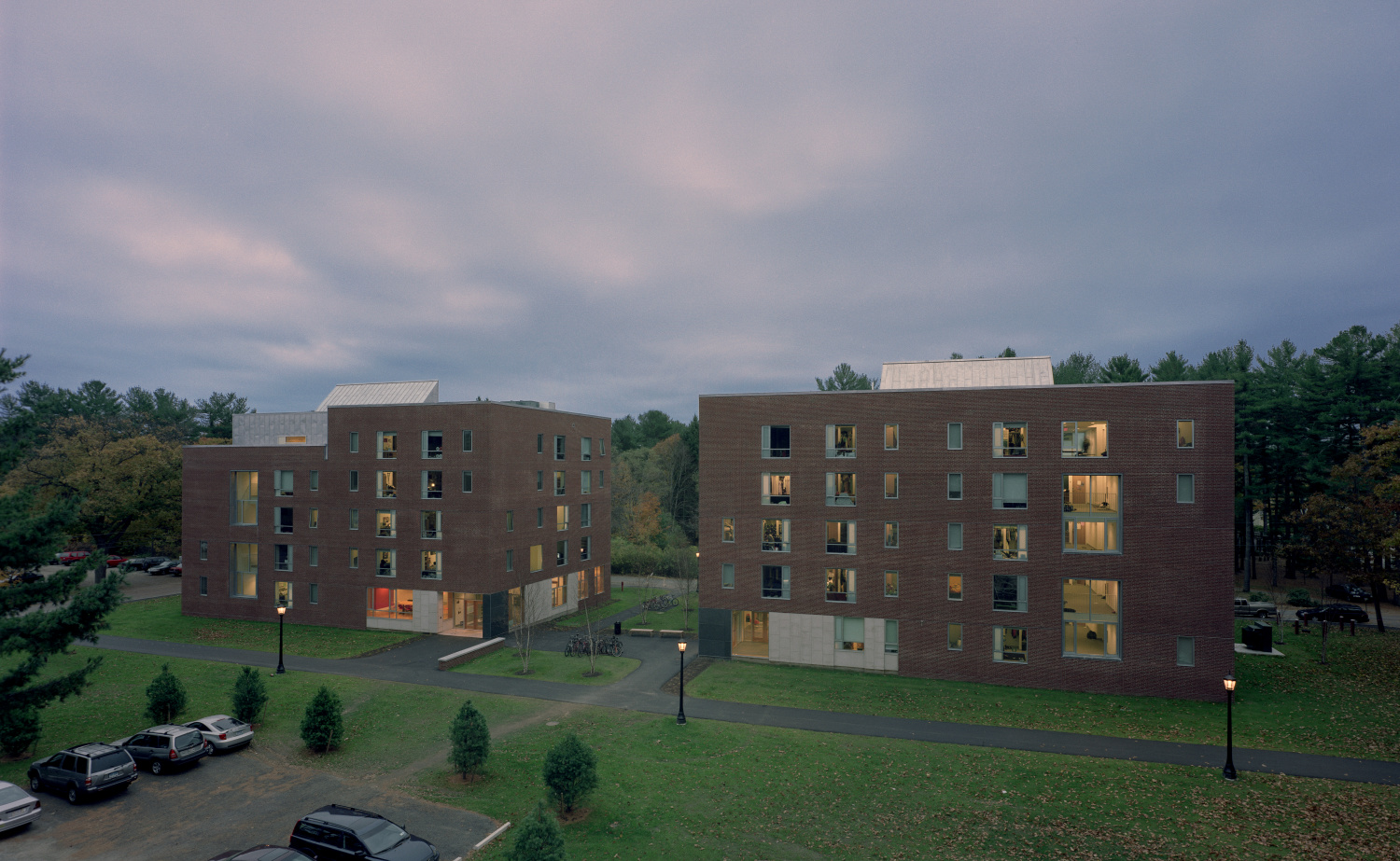 Indoor bike rooms and outdoor racks. These easily accessible rooms and racks encourage students to bike to class and into town, rather than drive a few blocks. This allows more parking for visitors, faculty, and staff, and cuts down on gas emissions in the Brunswick area.
Large windows and skylights allow light to filter through the building. The impressive amount of natural daylight filtering through the building gave the project LEED credits and reduces the need for electricity during daylight hours.
The roofs on both buildings are EnergyStar© rated.  They are white roofs and trap less heat than a traditional black roof, which means the buildings do not require as much cooling as a typical dorm in hot weather.
The rainwater system traps rain in a large tank, where it is purified by ultraviolet radiation and pumped to the toilets. This practice eliminates the use of treated potable water for toilet flushing.
The geothermal heating system takes heat out of groundwater, reducing Bowdoin's need for fossil fuels.
Individual thermostats are present in each dorm suite, and all windows can be opened to promote maximum student comfort.
Many of the materials used in construction are locally manufactured and are composed of a certain percentage of recycled content (See the complete list below). By using recycled materials, Bowdoin helps to create a market for recycled goods and helps to diminish the need to cut down more trees, build more factories, etc.
During the construction process waste was carefully separated so much of it could be recycled, thus reducing the overall amount of waste dumped in the landfill.
Each of the above components garners a certain number of LEED credits when added up earned the building's silver certification.