Adams Hall Renovation
Consistent with Bowdoin College's commitment to sustainable building practices and environmental stewardship, the renovation of Adams Hall followed the Bowdoin College Building Design Standards for Renovation Projects which follow the United States Green Building Council's Leadership in Energy and Environmental Design LEED® construction guidelines.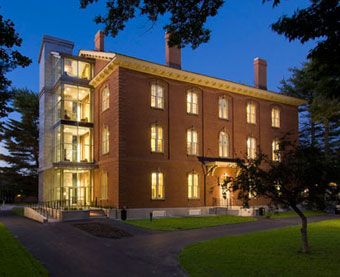 Seth Adams Hall underwent a significant renovation in 2007. Constructed in 1861 to house science laboratories and a new Medical College, the building last saw major work in 1950.   
Every effort was made to reuse as much of the existing building and its materials during the planning and construction of the project. New materials were chosen on the basis of embodied energy, recycled content, and contribution to the healthy indoor environment. Mechanical and electrical systems were selected to reduce energy consumptions to the greatest extent possible. The following is a summary of LEED® strategies pursued with the Adams Hall renovation project.
| | |
| --- | --- |
| Credits | LEED® Category |
| 6 | Sustainable Sites |
| 5 | Water Efficiency |
| 6 | Energy & Atmosphere |
| 6 | Materials & Resources |
| 9 | Indoor Environmental Quality |
| 32 | Total Probable Credit Points |