Energy Conservation
Energy conservation is an important component of Bowdoin's Climate Action Plan. Every little bit DOES make a difference, so please help us cut our costs and our emissions with the simple steps below—and then encourage your friends and roommates to do the same!
Energy Saving Tips
Turn off computers when not in use.
Turn off lights in bedrooms, bathrooms, hallways, classrooms, and common areas when you leave.
Unplug chargers/appliances when not in use; they can use up to 25% of their energy just by being plugged in!
Take the stairs instead of the elevator.
Use energy-efficient CFL or LED light bulbs, which use 75% less energy than traditional bulbs. Get FREE ones from the Sustainability Office;

 

email us!
Monitor electricity use on campus with

 

Bowdoin's Building Dashboard, which displays real-time electricity use in 40+ buildings.
Study in common areas to share light!
Air dry clothes. Loan a drying rack from the Sustainability Office or find one located in the laundry room of your dorm building.
Email Facilities

 

with heating and cooling issues, or call them at x3333.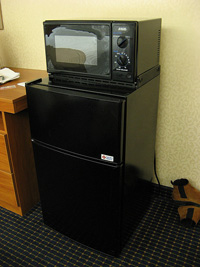 Energy Star Microwave/Fridge
Help Bowdoin reduce electricity costs and greenhouse gas emissions by using only Energy Star-rated appliances. This certification is awarded by the EPA to products that use less energy, save money, and are better for the environment. Mini-refrigerators can account for roughly 65 percent of the energy use in a dorm room since they run 24 hours a day! If you plan on buying a mini-fridge for your room, visit the Energy Star website for a sortable listing of mini-fridges that receive the Energy Star rating.
LED Light Bulbs
Light Emitting Diode (LED) lights are better for the environment than traditional incandescent bulbs because they use 75-90% less energy, reducing emissions associated with electricity generation. LEDs can last as long as 20 years. You can receive free LED light bulbs from the Sustainability Office; email us and we will have an EcoRep deliver them to your room!
Computer Purchasing
Bowdoin's IT department only purchases EPEAT Gold-rated computers unless there is a specific need for specialized equipment with no EPEAT certified option. In 2015 Bowdoin received the EPEAT Purchaser Award for demonstrating excellence in the green procurement of electronics. Bowdoin also considers the power ratings (if available) when purchasing items such as monitors and televisions. In order to reduce waste and save money, Bowdoin does not necessarily replace a monitor when replacing a computer, but if a new monitor is needed we do factor in energy efficiency when purchasing. For laptops, Bowdoin also provides laptop cases that are made from recycled or recyclable materials.