Bicycle Information
Riding your bike is the fastest way to get around campus! The use of bicycles on campus is considered a safe and efficient mode of transportation.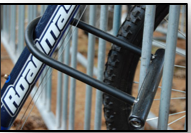 Bicycle Protection
Most bicycles that are stolen were unlocked! 
To help deter theft and assist Security in returning a lost or stolen bicycle you should lock your bicycle at all times and complete a Bicycle Registration free of charge. You may also want to consider registering your bike with the National Bike Registry by visiting their website.
U-bolt locks are recommended and are available for purchase at the Bowdoin Bookstore. While it is important to keep your bike locked keep in mind that you cannot lock a bike to trees, railing, lights, or sign posts. Lock your bike on a bike rack and please be mindful to not lock your bike to another bike. Many dorms also have designated storage rooms.
It is a violation of the American with Disabilities Act (ADA) to hinder building access or egress. Bicycles are NEVER ALLOWED to be locked to hand railings, parked in hallways, stairways, exit pathways, ramps, or anywhere that may impede entry or exit from a building. Bicycles that are locked and removed from these areas will be at the owner's expense.

State and Town Bicycle Laws
Maine laws generally give bicyclists the same rights and responsibilities as motor vehicle operators. Bicyclist may use public roads, but they must obey traffic laws, yield to pedestrians at crosswalks, and yield to traffic when entering a road from a driveway. Drivers must give a 3-foot clearance when passing a cyclist. For a complete list of laws please visit Maine biking laws.
Crosswalks are for pedestrians. A bicyclist is required to dismount and walk the bike across marked crosswalks.
Hoverboards and Similar Electronic Devices are Prohibited.
Visit the Town of Brunswick Bicycles and Skateboards for their municipal code of ordinances regarding bikes/skateboards.