Published January 20, 2021 by Bowdoin News
There's No Escaping Psychologist Barbara Held's Opinions
Clinical and philosophical psychologist Barbara Held has opinions, and thanks to op-ed pages near and far, readers across the country are privy to her professional insights—no couch or copay required.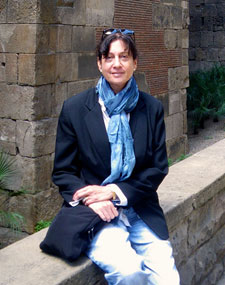 Most recently Held, Bowdoin's Barry N. Wish Professor of Psychology and Social Studies Emerita, writes about failure to distinguish opinion and fact, and what she calls Post-Truth/Hypertruth Anxiety Disorder.

She also warns of rhetorical tricks that make fiction seem like fact, and of confirmation bias, the tendency to accept dubious information if it supports our pre-existing beliefs. Read "Survival and Sanity in Post-Truth, Hypervigilant America" in the Portland Press Herald.
Truth and its exposition have been themes in Held's life. In her New York Daily News piece she offered advice on talking with children about Old Saint Nick, wrapped in her account of outing the "Santa stranger" that visited her Bronx preschool.

Hearing claims of voter fraud by those who called into question the fairness of the election prompted her return to her precocious preschool years for lessons about moral courage, with a shout-out to Mr. Rogers.
"The more you're scared to tell the truth, the more you need to tell it," Held writes. "If you don't, you just might create a monster even scarier than the truth…." Read "Truth and Consequences for Preschoolers and Politicians," which appeared on MSN News and in half a dozen newspapers across Connecticut.
Last summer, Held wrote of COVID-19 anxiety, recalling the polio scares of her childhood, including the time relatives "spit polio germs" on her birthday cake when "helping" to blow out the candles.

The self-described "defensive pessimist" imparted advice she says has held her in good stead: "Think about what can go wrong in feared situations, take all possible precautions and face the situation fortified with plans for coping if the fears are realized. This controls debilitating anxiety, so anxiety-prone people like me can function better and keep moving forward." Read Managing COVID Anxiety in Maine—With Strategies from New York's Polio Years" in the Portland Press Herald.
In her scholarly work, Held has focused on striving for objective knowledge in the face of postmodernist denial of just that. She wrote, "Philosopher Richard Rorty said that 'to know your desires . . . is to know the criterion of truth.' That means desires play a role in deciding what is true and what is not. But if what we accept as true is nothing more than what we desire, while ignoring objective evidence, then we're swimming in a sea of relativism so vast that we may all drown—in a virus, or climate change, or racial injustice, or whatever we prefer not to see." Read "Understanding Science, Truth Properly Can Help Defeat Denial, Distortion" in the Portland Press Herald.