Published December 19, 2018 by Bowdoin News
Campus Observations and Celebrations to Mark Martin Luther King Jr. Day
Martin Luther King Jr. Day falls on Monday, January 21, 2019, the day before the start of the spring semester.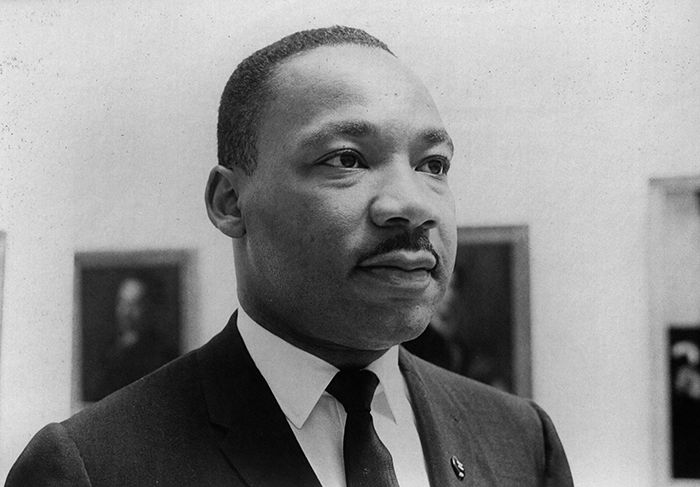 Most students will already have arrived back on campus, and are encouraged to take part in any of the events organized to honor Dr. King's legacy.
Monday, January 21, 2019


"I Have a Dream" Reading
11 a.m., Thorne Hall

King's famous "I Have a Dream" speech delivered during the March on Washington in 1963 will be shown during the lunch hour and will be closed-captioned.



Active in the Archives:  Martin Luther King, Jr. and Bayard Rustin at Bowdoin College
3:30 p.m. - 5 p.m.Nixon Lounge, Hawthorne-Longfellow Library
Presented by Special Collections Education and Outreach Librarian Marieke Van Der Steenhoven
Join staff of Special Collections & Archives for a hands-on exploration of primary sources documenting civil rights leaders Martin Luther King Jr.'s and Bayard Rustin's 1964 visit to Bowdoin College. Engage with a variety of sources to learn more about the circumstances that brought King and Rustin to campus, student activism, and the legacy of this visit.

 

Fierce Compassion


Presented by Baldwin Program for Academic Development Director Katie Byrnes; Counseling Service and Wellness Program Director Bernie Hershberger, Clinical and Emergency Services Associate Director Shelly Roseboro


3:30 p.m.–5 p.m., 30 College Street

This class will discuss the embodiment of fierce compassion by Martin Luther King Jr. and the challenges of fierce compassion in our current socio-political climate. Students will engage in contemplative compassion practices and dialogue about how to practice and embody fierce compassion. Limited to twenty-five participants

(This class has already filled).




Then and Now: Bowdoin College, African Americans and Art
Presented by Assistant Professor of Art History Dana E. Byrd; Bowdoin Museum of Art Co-Director Frank Goodyear, and Kinaya Hassane '19
3:30-5:00 p.m., Zuckert Seminar Room, Museum of Art

Dr. Martin Luther King Jr.'s May 1964 visit to Bowdoin College included a visit to the Bowdoin College Museum of Art. There, King viewed The Portrayal of the Negro in American Painting, an exhibition dedicated to using art to illustrate the presence and contributions of African Americans. Join us for an exploration of art including works related to that landmark exhibition, and more recent acquisitions. Engage in a discussion about the power of art to inspire, raise awareness, create community, and affect change. 


The Content of our Character
Presented by Peter M. Small Associate Professor of Africana Studies and English Tess E. Chakkalakal
4 p.m.–5:30 p.m., Massachusetts Hall Seminar Room 

This class will launch a discussion of Shelby Steele's 1990 book, The Content of Our Character: A New Vision of Race in America. Steele's controversial book was one of the first to consider the legacy of Martin Luther King's ideas in the context of the rise of identity politics, particularly on college campuses. Students will be expected to read Steele's book and come to class to discuss the relevance of the ideas he presents on our context for Bowdoin in the twenty-first. Students who are selected to participate in the class will have a copy of Dr. Steele's book mailed to the address provided in the brief survey.

 Limited to eighteen participants (This class has already filled).
"The Other America": Speech Viewing and Reflection
5 p.m., Daggett Lounge, Thorne Hall

A screening of King's "The Other America" speech delivered at Stanford University April 14, 1967, during which he addresses race, poverty, and economic justice. Following the 47-minute speech there will be an opportunity for student-led discussions and reflections. Attendees who stay for the duration of the speech and the reflection will enjoy a classic Bowdoin Log for dessert.


A discussion of Dr. King's Letter From A Birmingham Jail
Presented by President Clayton Rose
4 p.m.–5:30 p.m., Roux Center for the Environment, Room 207S

Participants will consider the Letter as a tool of leadership. Specifically, what was its meaning and purpose in the moment, and what relevance and resonance does it have for us today? Preparation will include a careful reading of both the Letter and the statement from eight clergy that prompted King's response. Limited to thirty participants (This class has already filled).
Wednesday, February 13, 2019
Annual Martin Luther King Jr. Commemorative Lecture and Q&A:

"The Radical King: His Final Years" by Keynote Speaker Taylor Branch
7 p.m., Kresge Auditorium, Visual Arts Center
9:15 p.m., Post-lecture reflection, Ladd House

Author and historian Taylor Branch's landmark narrative history of the civil rights era, America in the King Years, has been compared with other epic histories such as Shelby Foote's The Civil War and Robert Caro's multi-volume biography of Lyndon Johnson.

The first book of Branch's trilogy, Parting the Waters: America in the King Years, 1954-63, won the Pulitzer Prize and numerous other awards. Branch's other accolades include the National humanities Medal, the Dayton Peace Prize, and a MacArthur Genius Grant.

There will be a reception and book signing immediately following the lecture and Q&A.