Chorus
The Bowdoin Chorus is a diverse group of students, faculty, staff, and community members who perform a wide range of choral repertoire (Music 2745/2746).
Directed by Anthony Antolini, the Bowdoin Chorus is a group of approximately sixty students, faculty, staff, and community singers, of which about half are students. The Chorus performs works with small instrumental ensembles in the fall semester and with a full orchestra in the spring semester. The orchestra is the Mozart Mentors Orchestra, an ensemble that exists solely to accompany large choral works. Fall semester concerts have titles such as "Christmas Jazz," "A Celtic Christmas," "Black Nativity," and "Harps of Gold." Spring semester concerts feature major choral works such as Rachmaninoff's Liturgy of St. John Chrysostom, Mozart's Solemn Vespers, Cherubini's Requiem, Stravinsky's Symphony of Psalms, Haydn's Creation, J.S. Bach's St. John Passion and Prokofiev's Alexander Nevsky Cantata.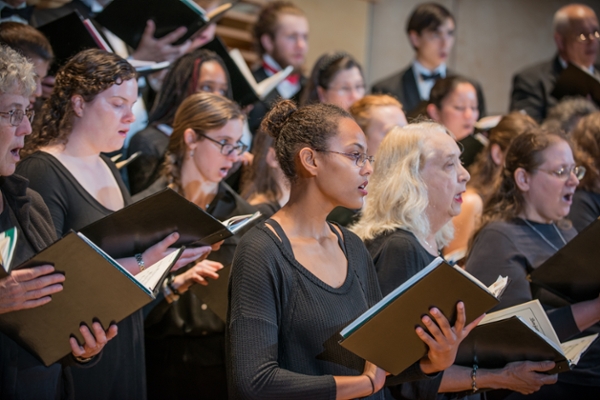 Course Credit
Students may take Chorus for credit (Music 2745/2746). Two semester will satify the VPA (Visual and Performing Arts) requirement.
Auditions
Auditions are held at the beginning of each semester. No solo is required but you may be asked to sing something you know by heart. The audition is not stressful. You will be asked to sing scale patterns to determine your vocal range. You will be asked to sing random 3-note patterns to determine your tonal memory and you may be asked to sing the lower of two notes played simultaneously on the piano. Previous vocal training is not required. Sight reading ability is desired but not required.
Bowdoin faculty, staff, and community members are also welcome to join the Bowdoin Chorus. To schedule an audition, please email Anthony Antolini at aantolin@bowdoin.edu or call 207-725-3347. Auditions are held in Antolini's office, Gibson 209, unless otherwise announced.
Listen
Some concerts are streamed live and archived footage may be available as well at "Bowdoin Talks."