Book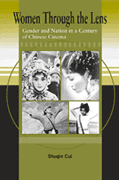 Women Through the Lens: Gender and Nation in a Century of Chinese Cinema, University of Hawaii Press, 2003.
Read the introduction
(PDF)
Journal Articles & Book Chapters


"The Return of the Repressed: Masculinity and Sexuality
Reconsidered" in A Companion to Chinese Cinema,
ed. by Yingjin Zhang, Blackwell Publishing
(forthcoming).

"The Search for Female Sexuality and the Negotiation with Feminism:
Li Yu's Film Trilogy" in Engendering Chinese Cinema, ed. by Lingzhen Wang
University of Cambridge (forthcoming).

"Alternative Visions and Representation: Independent Documentary Filmmaking
in Contemporary China" Journal of Documentary Cinema 4:1 (February) 2010.
"Kekexili: Moral Dilemma and a Man with a Camera," Chinese Films in Focus-2,
ed. by Chris Berry, London: BFI Publishing, 2008.
"Negotiating In-Between: On New-Generation Filmmaking and
Jia Zhangke's Films," Journal of Modern Chinese Literature and Culture,
18-2 (2006): 98-130, reprinted in Chinese Cinema after a Century:
The Interplay of Art, Politics and Commerce,
Hong Kong: University of Hong Kong, 2010.
"Ning Ying's Beijing Trilogy: Cinematic Configuration of Age,
Class and Sexuality" in The Urban Generation:
Chinese Cinema and Society at the Turn of the 21st Century,
(Duke University Press, 2006): 241-263.
"Raise the Red Lantern: Cinematic Orient and Female Conflict" in Film Analysis:
A Norton Reader, W.W. Norton & Company, 2005: 830-849.
Contributor, Encyclopedia of Contemporary Chinese Culture,
Routledge Press, 2005.
"Walking from the Margins and Outside the System: Independent Film Directors in Contemporary China," Post Script 20-2 (Winter/Spring 2001): 77-93, reprinted in Chinese Language Film: Historiography, Poetics, Politics, University of Hawaii Press: 2005.
Read the table of contents
and/or the introduction
(PDF).

"Stanley Kwan's Center Stage: The (Im)possible Engagement between Feminism and Postmodernism," Cinema Journal 39-4 (Summer 2000): 60-80, reprinted in Between Home and World: A Reader in Hong Kong Cinema, Oxford University Press, 2004.
Contributor (30 entries on Fifth-generation films),
Encyclopedia of Chinese Film, Routledge Press, 1998.
"Gendered Perspectives: The Construction of Subjectivity
and Sexuality in Ju Dou," in Sheldon H. Lu, ed.
Transnational Chinese Cinema:
Identity, Nationhood, Gender
University of Hawaii Press, 1997, 303-330.
"Desire in Difference: Female Voice and Point of View in Army Nurse" Annual of Film and Literature, Vol. II (Summer 1996): 63-72.