Associate Professor of Art
Chair of Art Department;  Director of Visual Arts Division
Contact Information
mkolster@bowdoin.edu
207-725-3185
Visual Arts

Edwards Center for Art & Dance - 231
Teaching this semester
VART 1401. Photography I
Photographic visualization and composition as consequences of fundamental techniques of black-and-white still photography. Class discussions and demonstrations, examination of masterworks, and field and laboratory work in 35mm format. Students must provide their own 35mm non-automatic camera.
VART 2405. Photo Seminar
An extension of principles and techniques developed in Visual Arts1401, with increased emphasis on independent projects. Seminar discussion and critiques, and field and laboratory work. Participants must provide their own non-automatic 35mm camera.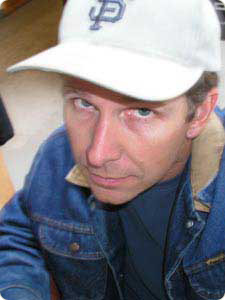 email: michaelkolster@gmail.com
web site: www.michaelkolster.com
Michael Kolster is a 2013 Guggenheim Fellow and associate professor of art at Bowdoin College. He lives in Maine with his wife, Christy Shake, and son, Calvin. He is currently producing ambrotypes for a project about American post-industrial rivers and stereo pairs of plastiglomerates, hybrids of rock and plastic, on the beaches of the island of Hawai'i.
Since 2012 he has mounted solo exhibitions at Schroeder Romero & Shredder Gallery in New York City; the Bowdoin College Museum of Art in Maine; Page Bond Gallery in Richmond, VA; 621 Gallery in Tallahassee, FL; the College of Southern Maryland; SRO Gallery at Texas Tech in Lubbock; Gallery 263 in Cambridge, Massachusetts; and Space Gallery and PhoPa Galleries in Portland, Maine. Loupe, the Journal of the Photographic Resource Center at Boston University and Memorious have published portfolios of his river photographs. He participated in the Portland (Maine) Museum of Art Biennial in October 2015 and George F. Thompson Publishing will be publishing a book of his eastern river ambrotypes in the fall of 2016. 
An earlier project similarly concerned with land use policy and its implications, entitled Changing Places, depicted changes in Las Vegas, San Francisco and New Orleans over a 10-year time span. In 2009 a 23-image portfolio from Changing Places was acquired for the permanent collection of the George Eastman House International Museum of Photography in Rochester, NY. Work from the same series was featured in Consilience - The Journal of Sustainability, published through Columbia University. In 2008, he received the Sydney B. Karofsky Prize for Junior Faculty at Bowdoin in recognition of his teaching.
Since 2002 Michael has maintained a website, The Daily Post, to which he posts a photograph each day (http://DailyPost.bowdoin.edu).
Kolster was born in Milwaukee, Wisconsin, and has lived in Rochester, New York; Rio de Janeiro, Brazil; Boston, Massachusetts; and San Francisco, California. He holds a BA in American Studies from Williams College, an MFA from the Massachusetts College of Art, and a certificate from the full-time Documentary Photography program at the International Center of Photography in New York City.
Current and Recent Projects