David Page
Charles Weston Pickard Professor of Chemistry and Biochemistry, Director
| | |
| --- | --- |
| Phone | |
| Title | Charles Weston Pickard Professor of Chemistry and Biochemistry, Emeritus |
| Department | (None) |
| Work Location | (none) |
| E-Mail | dpage@bowdoin.edu |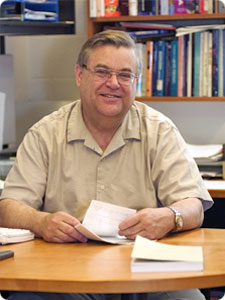 Education:
B.S. Brown University, Chemistry (1965)
Ph.D. Purdue University, Physical Chemistry (1970)
Charles Weston Pickard Professor of Chemistry and Biochemistry
Dr. Page is a Professor of Chemistry and Biochemistry at Bowdoin College in Brunswick, Maine. His current responsibilities include teaching students courses in chemistry and in biochemistry, and conducting research in the area of marine environmental pol lution studies. He has also been a visiting scientist at the Skidaway Institute for Oceanography, Savannah, Georgia, and the Plymouth Marine Laboratory, Plymouth, England.
Dr. Page has more than 130 professional publications, most dealing with various aspects of the fate and effects of petroleum and other pollutants on marine environments. He has conducted interdisciplinary studies with Dr. Edward Gilfillan on the fate and effects of oil spills on natural communities of animals and plants including ways in which to measure sublethal pollutant stress on plants and animals. Because oil spills occur in real-world environments, the presence of other natural and human factors have resulted in studies of the fate and effects of other pollutants such as heavy metals and alkyltins. Major oil spill studies include those from the following vessels; Tamano, Zoe Colocotroni, New Concord, Amoco Cadiz, Exxon Valdez, and many other smaller spills. Dr. Page has had extensive experience fingerprinting petroleum samples from over 75 mystery oil spills. Dr. Page has served as a testimonial expert in a variety of oil spill-related cases involving environmental damages including the Zoe Colocotroni, Amoco Cadiz, and Exxon Valdez, (State and Federal) litigations.
He is a member of the Society of Environmental Toxicologists and Chemists and of the American Chemical Society.