Boody-Johnson Renovations
The renovation project will convert Boody-Johnson into a new College House, joining the string of College Houses that run along the west side of Maine Street. Boody-Johnson will house 26 students, mostly sophomores, in room configurations that include singles, doubles, and triples.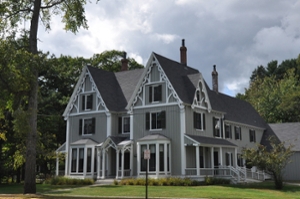 Start Date:
09-01-18
Completion Date:
08-10-19
Architect:
Harriman Associates - Auburn, ME
Contractor:
Zachau Construction - Freeport, ME
The Boody-Johnson House (circa 1849) was gifted to Bowdoin in 1951. For decades it was used as a dean's residence and, more recently, the house has been used for faculty offices and the Chase Barn for seminars and student meeting space.
The original layout of the multi-gabled front of the house will be largely unchanged. Student occupancy of the 2nd and 3rd floors will require an egress stairwell within the back of the house to comply with fire codes.
The connector between the house and barn will serve as an open circulation area providing full ADA accessibility to Chase Barn (a new lounge for housemates) via a new stairway and limited use elevator. The garage below will be converted into a social space for registered events. Exterior work will include a new roof, painting, and landscaping.
The renovation work began in September 2018 and the building will be ready for student occupancy for the fall 2019 semester.