2020 Weekend Schedule
Events throughout the weekend: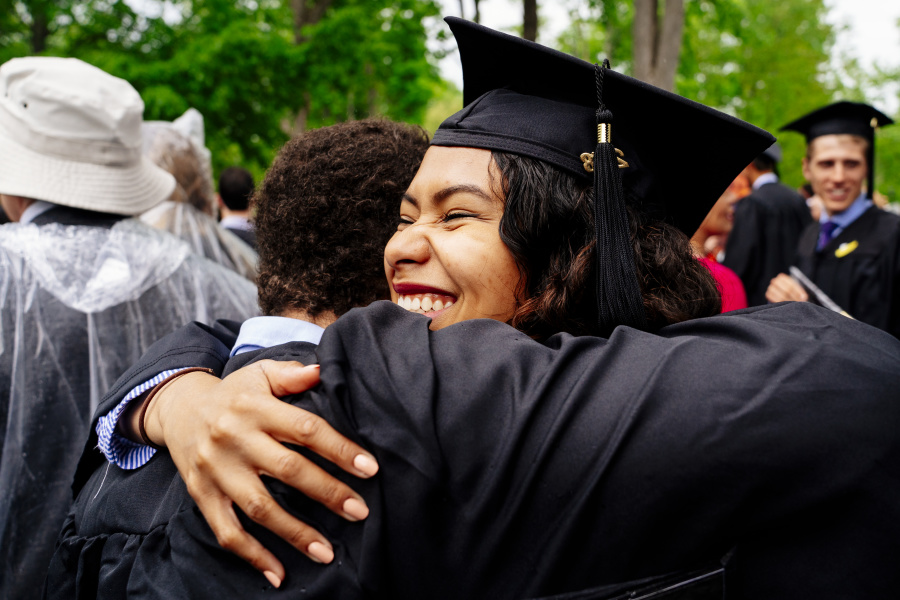 Friday, May 22
Throughout the day:
-Commencement Information Table Open in the David Saul Smith Union
-Annual Meeting of Phi Beta Kappa
-Academic and Departmental Open Houses (11:00 a.m. - 1:30 p.m.) 
-Museum and Library Tours 
-Special events with Honorary Degree Recipients (1:30 p.m. - 4:00 p.m.)
4:30 p.m. The Baccalaureate Ceremony. Held in Watson Arena, this special event marks the official close of the academic year and the coming together of graduates and their families. It features remarks by President Clayton Rose, a speech by a graduating senior, and a keynote address by one of our honorary degree recipients. 
5:30 p.m. Down East Lobster Bake. For members of the class of 2020, their guests, faculty, and staff. Buffet service in a tent adjacent to Farley Field House (next to Watson Arena), with seating inside of Farley. Entrance located on Coffin Street. (Note: Meal tickets are required--an order form will be sent to families in April.) 
---
Saturday, May 23
9:15 a.m. Commencement Processional begins.
10:00 a.m. 215th Commencement Exercises. The Commencement ceremony will be held outside on the quad in front of the Bowdoin College Museum of Art, except in the case of severe weather. If rain is forecasted, come prepared with an umbrella and other rain gear. No tickets are necessary for the outdoor ceremony, and you many bring as many guests as you wish. In the event of severe weather, the ceremony will be held in the  Sidney J. Watson Arena. For information regarding notification, and details for an indoor ceremony, go to the Commencement Frequently Asked Questions page. 
12:00 p.m. Commencement Luncheon. For members of the class of 2020, their guests, faculty, staff, and alumni. Buffet service in a tent adjacent to Farley Field House, with seating inside of Farley. Entrance located on Coffin Street. (Note: Meal tickets are required--an order form will be sent to families in April.)