Coastal Studies Scholars
This program is on temporary hiatus and expects to resume 2024.
Bowdoin established the Coastal Studies Scholar residential position in 2001 to contribute to research, teaching, and mentorship at the Schiller Coastal Studies Center. Coastal Studies Scholars have included scientists, writers, artists, a filmmaker, and a fisherman.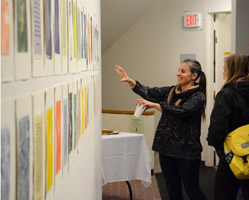 Barbara (Bobbie) R. Lyon, Biological Oceanographer
Fall Semesters, 2015 and 2016
Bobbie Lyon taught Biological Oceanography for the Bowdoin Marine Science Semester, covering topics including major ocean currents, physical structure of the water column, patterns and process of primary production, and structure and function of pelagic food webs.
Bobbie's research focuses on the physiology, gene expression and metabolism of phytoplankton—the microscopic algae which account for ~50% of global O2 production and biological CO2 removal. She investigates how phytoplankton metabolism responds to and regulates climate and other important biogeochemical cycles. Bobbie holds a B.S. in Psychology from Arizona State University and a Ph.D. in Marine Biomedicine and Environmental Science from the Medical University of South Carolina.
David Conover, Documentary Filmmaker
2014-2015
Award-winning documentary filmmaker David Conover '83, was Bowdoin's Coastal Studies Scholar for 2014-2015. Conover has spent 25 years filming the dynamic interface between land and sea, and has extensive knowledge of climate change impacts on the oceans and coasts, and a commitment to effective communication through film. See the story about David's course, Seashore Digital Diaries.
Conover has toted a camera along some of the most extreme coasts on earth, from Newfoundland to Madagascar and Svalbard to the Galápagos. His past includes adventures such as an around-the-world voyage with geneticist Craig Venter, an excavation of the pirate Captain Kidd's ship, and the journey from an analog era into the digital age. Conover has taught a fall course titled "Seashore Digital Diaries," exploring digital multimedia as a tool of inquiry on the coast. His spring course "Science to Story, Digital and Beyond" which has examined how complex science can be translated into stories that engage the public, particularly through digital media. For case studies Conover and his students have focused on climate change science, including issues related to biofuels, ocean acidification, rising sea levels, and superstorms.
A resident of Camden, Maine, Conover operates the production company Compass Light (view some samples of his films). He has pioneered a documentary style called "Experiential TV" through projects such as the ongoing Sunrise Earth series in HD – which showcases the sights and sounds of nature without a single word of narration—and has taught documentary film courses for Maine Media Workshops.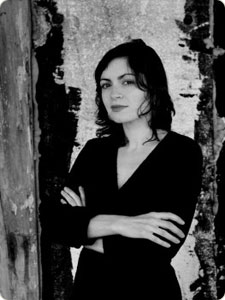 Sarah Braunstein, fiction writer and essayist
2013-2014
Sarah Braunstein is a fiction writer and essayist. Her first novel, The Sweet Relief of Missing Children (W.W. Norton), was a finalist for the 2011 Flaherty-Dunnan First Novel Prize from the Center for Fiction, and won the 2012 Maine Literary Award. In 2010 she was named one of "5 Under 35" fiction writers by the National Book Foundation, and she received a 2007 Rona Jaffee Writer's Award.
At Bowdoin, Sarah taught Homebodies: Gender as Identity in Fiction to first-years students in the Fall. The class read Payton Deeks' honors project "Learning Landscapes: an environmental history of Bowdoin's Coastal Studies Center", walked the property, and then wrote fictional vignettes of past inhabitants. Students reconvened in the farmhouse, in front of the fireplace to read and record their work. Sarah's stories and essays have appeared in The New Yorker, AGNI, Ploughshares, Nylon Magazine, Maine Magazine, Post Road, The Green Mountains Review, and on NPR's All Things Considered. "Benedicta," an essay published in The Sun, was recently adapted for the opera (by Milton Granger) and produced at Georgia State University. A play, String Theory: Three Greek Myths Woven Together (co-written by Michael Barakiva and Amy Boyce Holtcamp) was produced in New York City in 2009 and at Vassar College in 2010. She is working on a new novel set, in part, on the Maine coast and islands. 
She is on the faculty of the Stonecoast MFA program at the University of Southern Maine, and has taught at Colby College, Harvard University Extension and Summer Schools, and in the Stanford University Online Writer's Studio. She holds a BA from Mount Holyoke College, an MFA from the University of Iowa Writers' Workshop, and an MSW from Smith College School for Social Work.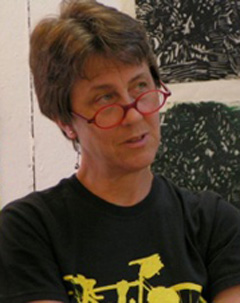 Barbara P. Putnam, Coastal Studies Artist-in-Residence
2012-2013
Barbara began making prints the 3rd grade with knives and linoleum in a summer class at the Worcester Art Museum. She says "the magic of reversal fascinated and hooked me." "Drawing" with knives, began her life-long exploration of linoleum, woodcut, and quilting.
Barbara's primary artistic focus is on wetlands and fragile, transitional ecosystems. Her website notes that she is "deeply concerned with environmental issues and the inter-dependence of elements such as the micro organisms that begin the food chain towards the lobsters we harvest. Our oceans and forests are biomes that nature shapes constantly with indifference to their history; wind, water, and currents nourish and destroy during a season and over the course of thousands of years." She sees "the making of art as research and the hard-edged properties of woodcut evocative of nature's hostility as well as its fragility, beginning with a close observation of shapes brought together with light."
In October 2012, Barbara traveled to the Arctic Circle on a North Pole expeditionary residence administered by the Farm Foundation for the Arts and Sciences. She will teach a visual art course Drawing on Science spring semester.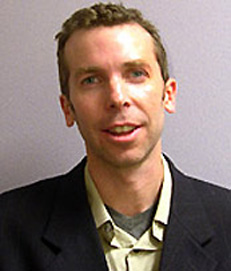 Brian Duff, Associate Professor of Political Science, University of New England
2011-2012

Brian Duff received his Ph.D. from the University of California, Berkeley. He is the author of The Parent as Citizen: A Democratic Dilemma (University of Minnesota Press, 2010) as well as numerous articles. Brian is an expert on the role of ideas about family in politics.
Brian focused on preliminary research studying the role of ideas about family in the political views of two groups: "red families" who typically have children early in their 20's, and often out of wedlock, and "blue families" who have children in their 30's, usually in the context of marriage and an established career. Over the course of the year he became interested in the way expert culture was seeking to "import" in the blue family model into red-family areas, and to the urban poor as well.  An important part of his research became the project of thinking critically about the implications of these initiatives, and their consequences for citizenship.
He presented his preliminary findings at the symposium he coordinated at Bowdoin in the spring semester. There he presented evidence that blue family parenting is often characterized by a profound level of self-conscious uncertainty, and a beholdenness to expert help, that can undermine our sense of competence for citizenship.  He argued that this evidence should make us wary of using the blue family model of parenthood as a model for red families and impoverished families. He expects an article resulting from this research to be forthcoming in the Journal of Family Theory and Research. More importantly, the research will be central to his current book project. 
Brian taught a course for the Government department on the topic of his research, entitled "The Politics of the Family."  Students were able to meet several of the authors on their syllabus, especially June Carbone and Paul Tough, during the symposium in the spring. The April Symposium "The New Politics of Parenthood" featured two keynote speakers, panel and small group discussions on family, citizenship, poverty and public policy. The events were well attended and well received both by students, and faculty across campus, and within the wider community.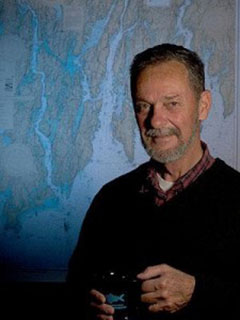 Ted Ames, Fisherman, MacArthur Fellow, 2005 
2010-2011
Ted Ames, a founding board member of the Maine Center for Coastal Fisheries (formerly the Penobscot East Resource Center) and senior advisor, became the 2010-2011 Coastal Studies Scholar. The Maine Center for Coastal Fisheries is a non-profit organization on the dock in Stonington, Maine, with a mission of building marine stewardship at a local community level. The Center serves fifty fishing communities from the islands of Penobscot Bay to the Canadian border. Captain Ames fished commercially for 28 years. He was formerly Vice-Chair of the Maine Department of Marine Resources Hatchery Technology Committee, Executive Director of the Maine Gillnetters Association and director of Alden-Ames Lab, an environmental and water quality laboratory. He received his Bachelors and Masters Degrees in Biochemistry from the University of Maine and was an instructor/teacher of chemistry, biochemistry, and environmental science for ten years. He has authored several peer-reviewed articles on historical fisheries ecology, fishermen's ecological knowledge, and related sub­jects. Ames is the recipient of a 2005 MacArthur Award, and the 2007 Geddes W. Simpson Distinguished Lecturer at the University of Maine.
Ted has been a member of a multi-year collaborative project with scientists and students from Bowdoin, Bates, the University of Southern Maine and the University of Maine, and with stakeholders throughout Maine's Kennebec and Androscoggin water­sheds. The project is examining the ecological recovery of the Androscoggin and Kennebec rivers, their common estuary and nearshore marine environment. The group is working to identify and model the ecological and socioeconomic constraints hin­dering more complete ecosystem recovery, and to predict the economic benefits of further recovery under different scenarios of habitat restoration and dam removal. This collaborative endeavor is a Sustainability Solutions Initiative EPSCor project.
Diane Lee, Associate Professor of Psychology at California State University, Long Beach 
2009-2010

Nominated by the Psychology and Neuroscience departments, Diane Lee, Associate Professor of Psychology at California State University, Long Beach was the Fall 2009 Coastal Studies Scholar. Diane previously spent a sabbatical semester at the Coastal Studies Center (2005) studying the neurobiology of food storing wild birds in collaboration with Bowdoin's Seth Ramus. Diane worked with two Bowdoin students, Devlin Cole '11 and Annie Huyler '12, and two USCLB graduate students Ricca Gardner and Bri Vaughn. She also taught an advanced seminar in behavioral neuroscience and gave a public lecture.
Diane's research team investigated brain plasticity in resident food storing black-capped chickadees and short-distant migrant non-storing dark-eyed juncos over fall and spring seasons. Research such as this may prove to be a vital link in understanding how the brain may actually repair and/or replenish itself and aid in our attempts to prevent deterioration due to age, disease, or physical injury.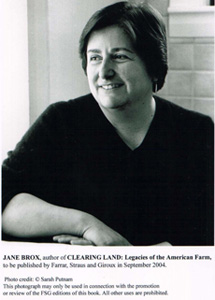 Jane Brox, Author
2009-2010
Jane's course Writing about Place complemented writer-in-residence Anthony Walton's on-going Bowdoin course: Telling Environmental Stories, and deepened the creative nonfiction writing curriculum and connections between the English department and the environmental studies program. Brox gave a public lecture, "Imagining Place" which was co-sponsored by the Joseph McKeen Center's Literature through a Lens on the Common Good Series. Jane's students read a history of the Coastal Studies Center property and selected articles about the history of Harpswell. The class visited the Coastal Studies Center, and the students spent several hours walking the trails and writing about their encounter with the place. Students were then given the opportunity to write a more formal essay on the place, its history, and their impressions of the Center as it exists now.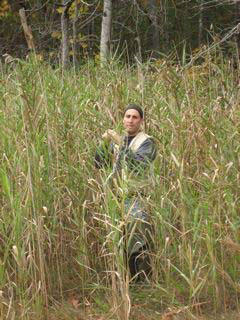 Vladimir Douhovnikoff, Assistant Professor of Biology at Simmons College
2008-2009
As Coastal Studies Scholar Vlad was an adjunct lecturer in Biology and Environmental Studies. In the Fall, Vlad and his class of first-year students explored the basic principles of ecology and environmental science in the course Ecology and Society.
The course grounded the students in interactions between humans and their environment (biotic and abiotic). Through lectures and field exercises the students were exposed to the unity and interconnections of the processes that drive ecological health. The relevance of ecology to today's society was an area of concentration with emphasis on natural resource use and conservation. One of the aims of the course was to give students the basic ecological tools they need to be informed world citizens.
While at Bowdoin, Vlad also spent considerable time studying Phragmites along the New Meadows River, in West Bath near the Bowdoin campus. This invasive grass has expanded into salt and fresh water marshes along coastal Maine. Clonal growth is extensive in Phragmites populations, and is what Vlad expected to find. However, preliminary results show high levels of reproduction by seeds (sexual reproduction) in the local populations studied. If these results hold up, they will challenge researchers to determine what makes Phragmites such an effective invader of wetlands, as this research disputes clonal growth as the cause. The research has implications for new potential methods for the management of the species.
Vlad Douhovnikoff received his Ph.D. (Wildland Resource Science), M.S. (Forest Science), and B.A. (Social Science Field Major) from the University of California, Berkeley.
Peter Mackelworth, Conservation director, Blue World
2007-2008
Dr. Mackelworth is conservation director for 'Blue World', an organization protecting dolphin habitat in Croatia. Dr. Mackelworth taught a course on marine protected areas for the Environmental Studies Program, and gave a public lecture that explored the social aspects of marine conservation in Croatia. Peter received his Ph.D. in Geography at University College, London.

Christopher Scales, Ethnomusicologist, College of William and Mary
2007-2008
An expert in Native American music, Dr. Scales has published on powwow music and spent the fall semester at Bowdoin researching Maine Native American musical styles (Passamaquoddy and Penobscot), traditions that are neglected in the academic literature. In the spring, Dr. Scales taught 'Native North American Music and Dance' which examined musical traditions in Native North America, with a focus on contemporary coastal communities of the Northeast US. One of the culminating projects of the course involved organizing a Wabanaki Festival of the Arts in April in collaboration with the Native American Student's Association; Music, Anthropology and Sociology departments; and the Coastal Studies Center. Wabanaki artists and craftspeople from all over Maine convened at Bowdoin for a day of drumming, singing, dancing, carving demonstrations, and Native story telling.
Sherri Cooper, Biology Program Director and Professor, Bryn Athyn College 
2006-2007
The Coastal Studies Center welcomed Sherri Cooper as Coastal Studies Scholar in Residence. Dr. Cooper is biology Program Director, and Professor at Byrn Athyn College. She is a recognized authority on the historical ecology of Chesapeake Bay and Pamlico Sound and has made seminal contributions in estuary science. Her expertise in reconstructing environmental history and her research while at Bowdoin have added to the study of the ecology and environmental history of Merrymeeting Bay and the Lower Kennebec estuary. Cooper gave a public lecture on her research and taught an upper level course in Coastal Ecology while at Bowdoin She introduced her students to algae related fieldwork, and examined current issues in coastal ecosystems, such as wetland problems in and around Louisiana, increased storm activities,and sea level changes.
Carol Wilson, Architect
2005-2006
The CSC welcomed a host of visiting scholars during the 2005-2006 academic year. In the fall, architect Carol Wilson was our Coastal Studies Scholar. The students enrolled in her "Investigating the Maine Landscape" course learned to appreciate the Coastal Studies Center on many disciplinary fronts including its botany, geology, archaeological sites and aesthetics in order to appreciate the basic underpinnings of building design. Guest lecturers in the class included naturalist, Neil Jorgenson and environmental artist June LaCombe. Ms. Wilson also gave a public lecture entitled "Revolution/ Evolution: architecture, culture and Maine" to a packed audience in Beam classroom in November.
J. Ed Araiza, playwright and director
2005-2006
In the spring, the CSC and the Department of Theatre and Dance had the privilege of hosting actor,playwright and director J. Ed. Araiza who taught two courses: Training, Acting and the Body and Collaborative Creation and the Ensemble. The culmination of these classes was a student-generated public performance in Pickard Theatre held May 4-6 entitled "The Water Project."
Anne Hayden, Policy Analyst, marine resource management focus
2004-2005 
The Coastal Studies Center together with the Environmental Studies Program welcomed Anne Hayden as our visiting scholar. As a policy analyst, Anne focuses on marine-resource management—with a special research concentration in Maine's lobster fishery. Hayden is working to develop a model of locally controlled marine-resources that would borrow from other successful management strategies for other scarce common-property resources such as groundwater and timber. Anne's research comes at a time when both the state and federal government are consideringlocal mechanisms to help address the complexities of regulating marine resources. In the fall, Hayden brought Congressman Tom Allen (D-Maine) to campus for an ocean policy discussion with a group that included six Bowdoin faculty members and nearly a dozen other experts from around the state – including Ted Ames, the lobsterman who recently won the MacArthur "Genius" Award. In the spring, Anne taught the Environmental Studies capstone course "Troubled waters: fishing in the Gulf of Maine" where she led students in several community service projects, including research and data collection for the Gulf of Maine Research Institute and Maine Department of Marine Resources. The class also attended the "Fisherman's Forum," an event held every year in Rockland, Maine that brings together a wide array of people and organizations connected to the Maine fishing industry.
Marney Pratt '97, biologist
2003-2004
The Coastal Studies Center hosted marine biologist Marney Pratt ('97) as the 2003-2004 Coastal Studies Scholar. In the fall, Marney successfully defended her dissertation entitled "Flow, Feeding, and Form: Consequences of Coloniality in Bryozoans" at Department of Biology, Duke University. During the spring semester Marney taught "Intertidal Ecology" to an enthusiastic group of Bowdoin students who were willing to brave the winter weather and ice to learn about Maine intertidal habitats and communities. As part of the class, Marney's students built a website and developed lesson plans for local middle school science classes. Marney will continue her work at the marine lab during the 2004-2005 academic year as Visiting Assistant Professor in the Biology Department.
Connie Chiang, Environmental Historian
2002-2003

During the fall semester, Connie taught "Surf, Sand, and Sea: The American Coastline in Historical Perspective," (History/Environmental Studies 279), a course which examined the historical development of the American coastline, focusing on the Pacific Coast, with a comparative concentration on New England. She and her students explored environmental changes on the coast, the coast as a zone for social and cultural activities, and Americans' shifting perceptions of and attitudes toward their shorelines.
As part of her residency, Connie also brought a comparative perspective to her own research by examining the historical development of fisheries and tourism in Boothbay Harbor and Monterey Bay. At the end of the year, Connie's dissertation research received two prestigious prizes: the 2003 W. Turrentine Jackson Award from the American Historical Association- Pacific Coast Branch and the 2003 Phi Alpha Theta/Westerners International Prize for the best dissertation in Western United States history completed in 2002.
Lucy Barber, Landscape painter
2001-2002

During the 2001-2002 the CSC hosted two artists-in-residence. In the fall, landscape painter Lucy Barber resided at the CSC and taught an advanced landscape painting course. As part of her residency, she also gave a public lecture entitled "Brushstrokes as touches of light: painting at the Coastal Studies Center." The artwork produced by Barber during her residency was exhibited at the Denise Bibro Fine Arts Gallery in New York and in a faculty show at the Icon Gallery in Brunswick.
Nigel Poor, Artist
2001-2002

In the spring the Coastal Studies Center welcomed artist Nigel Poor. (Nigel taught a course entitled "From Observation to Obsession." The final student projects in this class were exhibited in the Terrestrial Lab/Studio in April. The student exhibit was quite a sight to behold with three dimensional artistic rendering filling the entire space. Nigel gave a public lecture in April entitled "Eight words" where she highlighted the creative works made during her residency. Photograms of insect collection that mimicked the nighttime sky at the Coastal Studies Center as well as signatures of all the incoming classes to Bowdoin were among the pieces that captured her imagination.