First-Year Writing Seminar
The First-Year Writing Seminar Program is designed to help introduce students to what it means to undertake serious intellectual work at the college level.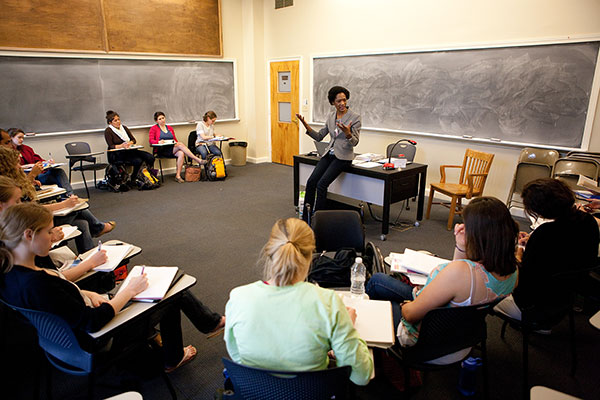 The seminars provide small class settings where students can engage with a particular topic, a professor, and their peers.
Meredith McCarroll, Director of Writing and Rhetoric in the Baldwin Center for Learning and Teaching, works with faculty to develop and teach First-Year Writing Seminar courses, offering one-on-one advising as well as workshops each semester.
Each fall, Bowdoin offers over thirty-five first-year writing seminars on topics that traverse the Bowdoin curriculum. Students choose and register for seminars during orientation in conversation with their faculty advisor. They provide an opportunity for in-depth study of a subject of mutual interest, as well as a place to develop college-level skills of critical thinking, both reading and writing. The development of such skills is a central feature of first-year writing seminars. All first-year writing seminars involve frequent writing practice, individualized feedback on writing, and an assignment structure that teaches students how to draft and revise.
Additionally, the seminars provide both an introduction to library research and an overview of the expectations of academic honesty and citing sources. This opportunity to learn and practice academic writing is both an independent goal of first-year seminars, and an additional means through which faculty can introduce their discipline and help students to engage with a particular subject.
For more information, contact Meredith McCarroll.