School Tours
The Peary-MacMillan Arctic Museum offers guided tours to school groups and other interested organizations.
Tours are led by trained docents and can be geared to any age group, from preschool to adult. For school groups we request that one adult be present for every 10 students.
Tours include highlights of current exhibits as well as hands-on activities. Tour groups will have the opportunity to try on Inuit snow goggles, play with an ajugaq, try a bow-drill, feel various types of fur, and even hold a walrus tusk! Tours can be customized to focus on Arctic exploration, the environment, or Native peoples.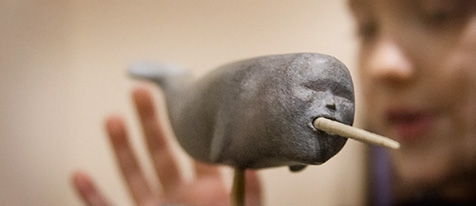 To book a tour, please fill out the Tour Form. Tours are free, but must be scheduled at least three weeks in advance. Late winter and spring are parcticularly busy times so please book early to avoid disappointment.