January 06, 2015 - April 26, 2015
Hubbard Hall foyer

This exhibit highlights a selection of images from MacMillan's last voyage aboard the Bowdoin, in 1954. The photographs are part of a collection recently donated to the museum and seen here for the first time.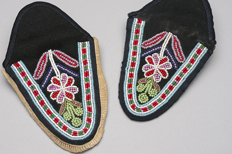 April 28, 2015 - March 27, 2016
Arctic Museum main galleries

This exhibit highlights the beauty and diversity of historic and contemporary beadwork across the north.