Black Alumni Association

Upcoming Events:
BCBAA Homecoming Celebrations
September 30 - October 2, 2022 
Various Locations & Virtual
The newly created BCBAA will host a series of events/activities for its first official homecoming weekend — a weekend to remember. Join alums across 50+ years of Bowdoin history as they embark on a mission to engage alums and current students alike. From a welcome reception to the Battle of the Ages dance party, to a networking brunch, this is a weekend not to miss. Preregistration is requested, Register here
Athletes of Color Coalition Gathering
October 1, 2022, 2:30-5:00 PM ET
Main Quad, rain site: Morrell Lounge, David Saul Smith Union
The Athletes of Color Coalition welcomes all alumni of color, especially athletes, to a special gathering at Harvestfest to learn about the organization, meet the leadership, and connect across the generations.

Recent Events: 
Bowdoin Hosts First Black alumni Association Reunion, June 2022
BCBAA Quarterly Mtg, March 2022 – Minutes 
Black Alumni & Students Ski, February 2022
In celebration of Black History Month 2022, Black Alumni Olivia Orr '12, Naomi Kordak '07, and Fhiwa Ndou '13 joined students from the Center for Multicultural Life and the Bowdoin Outing Club to ski at Mt. Abrams in Greenwood, ME.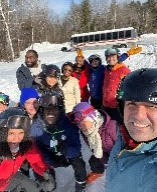 AF/AM/50 
Bowdoin's AF/AM/50 Celebration (Nov. 8-10, 2019) drew more than 500 members of our community to campus to learn, reflect, honor, and reunite around this special milestone. Read more about the weekend on the AF/AM/50 webpage.