Four Fantastic Colleges Are Visiting Your Area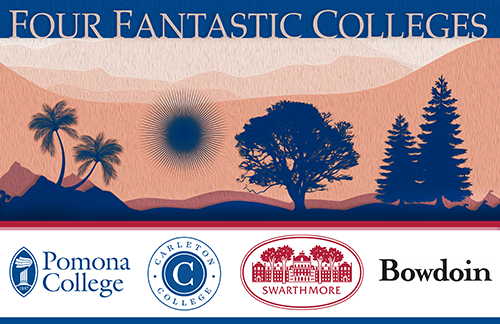 Bowdoin, Carleton, Pomona, and Swarthmore colleges invite students and their families to join us this fall at one of our upcoming information sessions. Each session will provide a window into academic offerings, residential and student life, research opportunities, athletics and student organizations, and financial aid at each college.
The program includes an overview of the liberal arts college experience, general information about selective college admissions and affordability, and brief individual presentations from each institution. A mini-college fair allowing for individual questions will conclude the program.
Please RSVP below for the program nearest you to let us know you will be coming. We look forward to seeing you on the road!
Prospective Students Program
Anchorage, AK - REGISTER
Anchorage Public Library (Z. J. Loussac Library)
Learning Commons - 4th Floor
3600 Denali Street
Anchorage, AK 99503

Sunday, September 8
3:00-4:30pm
Seattle, WA - REGISTER
Seattle Public Library-Central Library
Microsoft Auditorium
1000 4th Ave
Seattle, WA 98104

Monday, September 9
6:30-8:30pm
Boise, ID - REGISTER
Inn at 500 Capitol
500 S Capitol Blvd
Boise, ID 83702-7118

Tuesday, September 10
6:00-8:00pm
Missoula, MT - REGISTER
DoubleTree by Hilton Hotel Missoula - Edgewater
100 Madison St
Missoula, MT 59802-4720

Wednesday, September 11
7:00-9:00pm