Four Fantastic Colleges Are Visiting Your Area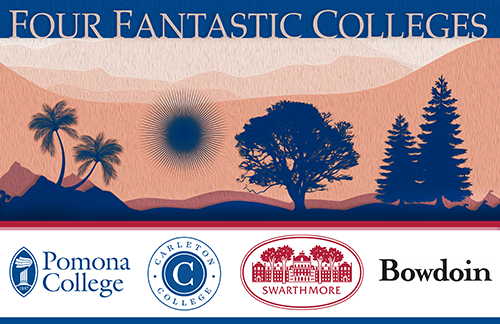 Bowdoin, Carleton, Pomona, and Swarthmore colleges invite students and their families to join us this spring at one of our upcoming information sessions. Each session will provide a window into academic offerings, residential and student life, research opportunities, athletics and student organizations, and financial aid at each college.
The program includes an overview of the liberal arts college experience, general information about selective college admissions and affordability, and brief individual presentations from each institution. A mini-college fair allowing for individual questions will conclude the program.
Please RSVP below for the program nearest you to let us know you will be coming. We look forward to seeing you on the road!
Prospective Students Program
Bethesda, MD - REGISTER
Bethesda Chevy Chase High School
4301 East West Hwy
Bethesda, MD 20814-4420

Sunday, May 19, 2019
3:00–5:00 p.m.
Baltimore, MD - REGISTER
Baltimore Polytechnic Institute
1400 W Cold Spring Ln
Baltimore, MD 21209

Monday, May 20, 2019
6:00–8:00 p.m.
Nashville, TN - REGISTER
University School of Nashville
2000 Edgehill Ave
Nashville, TN 37212

Tuesday, May 21, 2019
7:00–9:00 p.m.
Cincinnati, OH - REGISTER
Seven Hills School – Hillsdale Campus
5400 Red Bank Rd
Cincinnati, OH 45227

Wednesday, May 22, 2019
7:00–9:00 p.m.