CASCO Virtual Conference
If you work with guiding underrepresented and first-generation college students along the path to college preparedness, admission, and enrollment success, this conference is for you. 
The CASCO Conference unites and empowers professionals from high schools, community organizations, and college admissions, financial aid, and student affairs* in building solid pathways for student success. 
*Conference currently focuses on methodology and resources within residential liberal arts colleges and universities.
For general inquiries, please feel free to contact Justin Fahey, associate dean of admissions, at casco@bowdoin.edu.
If you're interested in learning about the 2022 CASCO Conference, please fill out our counselor/CBO inquiry form and indicate your interest in CASCO at the bottom of the page. You may also reach out to Associate Dean of Admissions Justin Fahey at jfahey@bowdoin.edu. 
What happens when professionals from high schools, CBOs, admissions, financial aid, and student affairs gather together to discuss the challenges facing underrepresented students?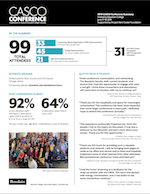 We learn that we can leverage our uniquely different places on the continuum to better understand the intersection of student need, pre-college support, admissions selection, and matriculation/enrollment support. Read a summary of the 2019 CASCO Conference.
Join the discussion on ways we can better support the educational and personal goals of students of color, low-income students, and first-generation college students.
We'll examine academic, social, financial, and other support systems that impact students' experiences in small, residential, liberal arts colleges.
We will identify best practices and create a network of professionals with student success in mind.
Past CASCO Attendees
Community-Based Organizations
Access Opportunity
American Student Assistance
Bowdoin Bound, Inc.
Boys Hope, Girls Hope of New York
Braven
Coalition for College
College Advising Corps
College Bound Initiative
CollegeForSure, LLC
Daniel Murphy Scholarship Fund
Evolve502
Fair Opportunity Project
Global Citizen Year
Global Kids
High Jump
Jack Kent Cooke Foundation
KIPP Foundation
Knowledge Academy 
Minds Matter NYC
Mitchell Institute
MOSTe
National Partnership for Educational Access
Northwestern Academy for Chicago Public Schools
OneGoal
Palouse Pathways
Philadelphia Futures
Scholar Match
Schuler Scholar Program
Senator George J. Mitchell Scholarship Research Institute
Service to School
Student Leadership Network
Students Rising Above
Summer Search
TeenSHARP
The Academy Group
The Opportunity Network
The TEAK Fellowship
The Wily Network
Uplift Education
Yonkers Partners in Education
Higher Education
Bard College
Barnard College
Bates College
Bennington College
Bowdoin College
Brandeis University
Bryn Mawr College
Carleton College
Centre College
Colby College
Colgate University
Colorado College
Connecticut College
Davidson College
Earlham College
Gettysburg College
Grinnell College
Haverford College
Kenyon College
Miami University
Middlebury College
Massachusetts Institute of Technology (MIT)
Occidental College
Olin College of Engineering
Oxford College - Emory University
Pomona College
Princeton University
Skidmore College
Smith College
Swarthmore College
Trinity College
Union College
University of Richmond
Vassar College
Washington University in St. Louis
Wellesley College
Williams College
High Schools
Achievement First Amistad High School, CT
Achievement First University Prep High School, NY
Battle Ground Academy, TN
Coliseum College Prep Academy, CA
Cristo Rey Brooklyn High School, NY
Cristo Rey Jesuit College Preparatory of Houston, TX
Cristo Rey San Jose Jesuit High School, CA
DC Preparatory Academy, DC
Democracy Prep Charter School, NY
Depaul Cristo Rey High School, OH
Dexter Southfield School, MA
EMERGE HISD, TX
English Language Learners International (ELLIS Prep Academy), NY
Hall-Dale High School, ME
Hardin Valley Academy, TN
IDEA Public Schools, TX
KIPP Atlanta Collegiate, GA
KIPP Delta Collegiate HS, AR
KIPP Dubois Collegiate Academy, PA
KIPP Houston Public Schools, TX
KIPP Nashville Collegiate HS, TN
KIPP Philadelphia Public Schools, PA
Loyola Academy, IL
L W Higgins High School, LA
Mascoma Valley Regional High School, NH
McClintock High School, AZ
New Vista High School, CO
North Hollywood High School, CA
Passaic Arts and Science Charter School, NJ
Peak to Peak Charter School, CO
Saint James School, MD
Success Academy High School of the Liberal Arts, NY
The Hotchkiss School, CT
Uncommon Collegiate Charter High School, NY
View Park Middle School, CA
Westbrook High School, ME
VIDEO
2019 CASCO Conference keynote by Aimée Eubanks Davis