Visiting Campus, Spring 2021
Thank you for your interest in visiting Bowdoin College. At this time the campus remains temporarily closed due to COVID-19 precautions. (This includes all members of the public, including newly admitted students and those who have been vaccinated.) We ask that visitors respect the closure to visitors to protect the health and safety of students, faculty and staff, and to ensure that our current students can safely be on campus for their spring semester.
Though our campus is closed, our Admissions and Student Aid counselors are eager to connect with you virtually. Learn more about virtual visit opportunities and programs including student-led virtual campus tours.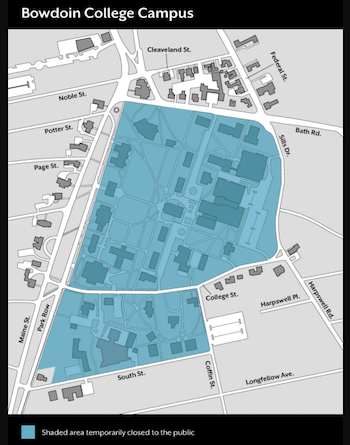 Visitors are welcome to drive around the perimeter of the campus. The Brunswick community is beginning to open; there are places to stay, great restaurants with take-out, and some with outdoor seating. Generally, visitors from other states must get a recent negative COVID-19 test or maintain compliance with a quarantine upon arrival in Maine, with some exemptions in place for select states or circumstances. Visit the Maine Travel and Visitor FAQs page for current travel guidelines.
Admitted Students
We understand that the visit restrictions are challenging when trying to decide which college to attend. Bowdoin is offering a 6-week series of admitted student events where you can build your own schedule of activities. Join the special Bowdoin Class of 2025 community to connect with classmates and our student ambassadors.