Postdoctoral Teaching Fellows
Postdoctoral fellows form an important part of our faculty, allowing Bowdoin to offer exciting new classes in emerging fields or new sub-disciplines, as well as creating important connections to graduate programs and advisors for many of our students contemplating graduate study.
Bowdoin College has been fortunate to create positions for a number of postdoctoral teaching fellows each year. These fellowships are connected to a variety of programs, including the Consortium for Faculty Diversity (CFD), endowed positions such as the Doherty postdoctoral fellowships in marine biology, and grant-funded positions, including a generous grant from the Andrew W. Mellon Foundation to fund postdocs in the humanities and humanistic social sciences.
The Office of the Dean for Academic Affairs works closely with academic departments and programs to provide support for our postdoctoral fellows by fostering research, mentoring teaching, and helping them prepare for academic employment following their time at Bowdoin.
---
Madeline Bedecarre, AB (Bowdoin), MA (Columbia), PhD (School for Advanced Studies in the social Sciences (EHESS)-France), Andrew W. Mellon Postdoctoral Fellow in Francophone Studies
Madeline Bedecarré is a scholar of twentieth- and twenty-first century Francophone African literature. Her research focuses on the conditions of production and circulation of Francophone African literature. Her dissertation on the role of institutional patronage by la Francophonie studies how literary prizes elaborate enduring criteria of literary value. Her dual background in the humanities and the social sciences shapes her interdisciplinary approach to teaching language and literature. She has recently published on the institutionalization of creative writing as an academic discipline in France. She is also a published translator, her translations appear in journals such as Research in African Literatures and Poetics.
Anya A. Golovkova, BA (Moscow State Linguistics University), MA (Columbia), MSt (Oxford), PhD (Cornell), Andrew W. Mellon Postdoctoral Fellow in Religion
Anya Golovkova is a historian of religion and a Sanskritist. Her research focuses on South Asian religious traditions, Hindu Goddesses, and tantric ritual. In her dissertation, she explored unstudied transformations in a popular trans-regional Hindu tantric worship of the Goddess Tripurasundari, now known as Srividya. In her book project, Golovkova delves into previously unstudied Sanskrit texts from the tenth to the fourteenth centuries CE, many of which are only available in the manuscript form. She uncovers vibrant religious communities in Kashmir and south India, which renewed and revitalized the tantric worship of Tripurasundari through innovative re-examination of earlier texts and ideas. In the classroom, Golovkova is committed to using active learning techniques, including an innovative role-playing methodology called Reacting to the Past
Idriss Jebari, BA (University of Geneva), MA (University College London), MA (London School of Economics), PhD (Oxford), Andrew W. Mellon Postdoctoral Fellow in History

After completing his doctorate on the history of the production of critical thought in Morocco and Tunisia at the University of Oxford, Idriss Jebari has held a postdoctoral fellowship at the American University of Beirut to study the dynamics of intellectual and cultural exchanges between the Maghrib and the Mashriq in contemporary Arab thought. He has published on the intellectual projects of several North African intellectual figures and on the theory and practice of Arab intellectual engagements in public affairs. He is also currently involved in a number of initiatives on the humanities in the Arab region with the Arab Council for Social Sciences and frequently provides analysis and comments on current issues on social and political change in North Africa.
Brittany Jellison, BS (University of California-San Diego), PhD (University of California-Davis), Doherty Marine Biology Postdoctoral Scholar
Brittany Jellison is a marine ecologist that studies how environmental change influences coastal marine communities. Through both laboratory experiments and manipulative field studies, she explores how changes to the ocean's chemistry can alter species interactions and trophic cascades. Ocean acidification is expected to detrimentally impact marine organisms by impairing their growth, calcification, and acid-base regulation. Less is known about the capacity of ocean acidification to shift ecological interactions. Brittany examines how changes in carbonate chemistry within coastal zones influence constituent members of food webs. Previously she focused on a model community within tide pools of the eastern Pacific Ocean that includes sea star predators, grazing snail prey, and macro algae. Using this model food web, the potential for ocean acidification to alter the behavior of prey and influence the cascading effects imposed by predators on lower trophic levels is studied.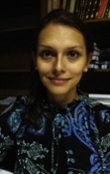 Pamela Klasova, BA, MA (Charles University-Prague), MA (Leide University), PhD (Georgetown University), Andrew W. Mellon Postdoctoral Fellow in Arabic
Pamela Klasova is an Arabist and scholar of early Islam. Early Islam is the fascinating period during which Islamic civilization was first taking shape and Arabic literature played an important role in the process. In her dissertation, she explored the role of public speech in building the Arabo-Islamic Empire. In her book project, she widens the comparative scope of her study to place Arabic oratory side-by-side with other late antique rhetorical traditions in order to explore the role of speech and rhetoric play at this pivotal moment in world history. This is part of her larger intellectual endeavor to understand Islam as part of late antiquity and to underscore the contact and cross-pollination of cultures, exposing Islam as multicultural, cosmopolitan, and diverse. Pamela's research interests also include classical and modern Arabic poetry, Islamic magic and divination, and myth in Arabic literature.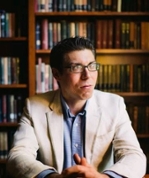 Nicholas K. Kupensky, BA (Bucknell), MPhil, PhD (Yale), Andrew W. Mellon Postdoctoral Fellow in Russian
A scholar of Soviet Cultural Studies, his research investigates the intersection of aesthetics, economics, and politics in Russia, Ukraine, and the United States. His book manuscript, Beyond the Rapids: The Art and Politics of the Dnieper Hydroelectric Station, explores the art, cinema, and literature about the construction - and destruction - of the first major Soviet building project in southern Ukraine. Also a specialist in Carpatho-Rusyn Studies, he recently launched an initiative in the digital and public humanities, The Emil Kubek Project, which researches and publishes the stories of Slavic immigrants who worked in America's mining industry.
Christine Marrewa Karwoski, AA (Holyoke Community), BA (Mount Holyoke), MA (Washington), MA, PhD (Columbia), ASIANetwork-Luce Postdoctoral Teaching Fellow in South and Southeast Asian Studies
Christine Marrewa Karwoski is a cultural historian of South Asia who focuses on the confluence of language, print, and politics in North India over the longue durée. Her current research focuses on communal identity formation and the literature of the Nath yogis (most well-known for their connection with Hatha yoga) from the 17th through the 20th centuries. She examines the religious fluidity of this community of yogis during the early-modern period and questions how colonialism, modernity, and print affected the manner in which the Naths have come to express themselves in their own literature in the 19th and 20th centuries. Marrewa Karwoski has taught classes in Hindi, Sanskrit, South Asian history, Indian film, Islam, and Theory and Cultures.
Allison J. Martino, BA (Denison University), MA (Indiana University), PhD (University of Michigan), Andrew W. Mellon Postdoctoral Fellow in Africana Studies
Allison's research and teaching focuses on African art and visual culture. She is especially interested in textiles and clothing in Ghana, as well as photography and contemporary art. Allison's current project traces the cultural evolution of adinkra cloth from its use in the early nineteenth century as royal dress among Akans of Ghana to its expanding roles today as a global icon of African identity. This work explores the role of cloth and visual culture in constructions of identity and related issues of memory, heritage, and nationalism. Her collaborative research with The National Archives of the UK on the historical textile trade between Africa and the UK – including cloths popularly known as "African wax-prints" – is forthcoming in the Journal of Design History. Allison has also pursued curatorial projects and most recently guest curated the exhibition Unrecorded: Reimagining Artist Identities in Africa (2018) at the University of Michigan Museum of Art.
Tara Mock, BA, MPA (Louisiana State University), MALD (Tufts University), PhD (Michigan State University), CFD Fellow in Africana Studies
Tara Mock is an Africanist scholar of modern Afro-Chinese relations. Her areas of research interest include nation branding, cultural political economy, cultural identity and community formation, and globalization in Africa. In her dissertation, she questioned whether Africa's incorporation into Chinese cosmology within its nation brand, encourages expansion of community identity beyond sanguine and geographical boundaries to include the "Global South" née Chinese. Tara earned her PhD in African American and African Studies at Michigan State University, received a MALD in International Relations from the Fletcher School at Tufts University and studied international business at the HEC School of Management in Jouy-en-Josas, France. 
Jessica Sylvan Mutter, BA (Columbia), MA (American University in Cairo), PhD (University of Chicago), Andrew W. Mellon Postdoctoral Fellow in Religion
Jessica Mutter is a scholar of early Islamic history. Her work examines religious conversion in the early Islamic context: what it signified to members of different religious and cultural communities, and how it was written about in Arabic and Syriac by scholars of the era. Her dissertation examined texts on conversion from Greater Syria and northern Iraq written during the first two hundred years after the Muslim conquests. Jessica is currently developing a book project that examines the ritualization and regulation of conversion in early Islam, which developed in tandem with the standardization of interactions between Muslims and non-Muslims. She is also conducting a study of dialogic structure and narrative voice in the Qur'an.
Fernando L. Nascimento, BS (Catholic University of Campinas), MS, PhD (Catholic University of Sao Paulo), Postdoctoral Fellow in Digital and Computational Studies
A scholar of Digital and Computational Studies, Hermeneutics, and Ethics. He worked for almost twenty years in the telecommunication industry developing software for mobile devices worldwide. In parallel, he has also been studying and teaching Philosophy, with a special focus on the ethical and hermeneutical works of the French philosopher Paul Ricoeur. He is currently working on establishing a digital portal that will provide a template for digital humanities advanced textual analytics on Ricoeur corpus that can be re-instantiated for other thinkers and academic communities. His current research is considering the mutual and bidirectional relationships between hermeneutics and digital textual analysis. This study intends both to reflect on the new hermeneutical possibilities for digital textual analysis and also to discuss how to apply digital textual analysis to provide new ways to interpret and publish humanistic studies. A second research interest area involves the discussion of ethical and ontological aspects of technologies in our current society as well as perspectives for the near future.
Irina Popescu, BA (University of Texas-Austin), MA (UC Santa Barbara), PhD (UC Berkley), Postdoctoral Fellow in Latin American Studies
Irina Popescu's research focuses on the intersections between cultural production and human rights in the Americas. In her dissertation, she explored how the postmodern novel written by women, queer, and writers of color in North and South America reframe the parameters of narrative empathy in order to revise what constitutes as an ethical human rights novel. In her book project, she explores how human rights law and legal policies shapes and is shaped by the formal qualities of the hemispheric novel and other cultural products from the nineteenth to the latter half of the twentieth century. In the classroom she aims to establish an intersection between cultural production, history and ethics in her teaching by linking classroom space and texts to students' wider sociopolitical and cultural lives. Her teaching utilizes creative writing and performance activities to create a classroom environment of openly engaged intellectualism and analysis.
Marcio Siwi, BA (The Colorado College), MA (University of Texas-Austin), PhD (New York University), CFD Postdoctoral Fellow in Latin American Studies
Marcio Siwi's research and teaching center on Latin American Studies, Urban Studies, Race, Brazil, and the history of the United States in the world.  His current book project, "Making the Modern and Cultured City: Art, Architecture, and Urbanism in Postwar São Paulo" explores efforts to transform São Paulo into a world-class city after WWII through a transnational analysis of artistic production, architecture, and urban planning.  These practices are examined as expressions of an idealized urban sensibility inflected by foreign models that leading Paulistanos aspired to produce and as a broader pattern of racial anxiety, uneven development, and spatial segregation.  Prior to coming to Bowdoin he was a College Fellow in History at Harvard University.  Marcio was also Program Manager of the Brazil Studies Program at Harvard's David Rockefeller Center for Latin American Studies (2007-2010) and a Research Associate at the Council on Foreign Relations in New York (2002-2005).  Marcio is a native of São Paulo, Brazil, and a citizen of both Mexico and the United States.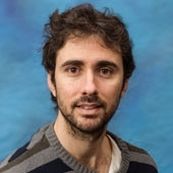 Sebastian Daniel Urli, B.A. (Pontificia Catholic University of Argentina), M.A., Ph.D. (Pittsburgh), Andrew W. Mellon Postdoctoral Fellow in Spanish
His dissertation addresses the self-figuration process of Argentinean writers Jorge Luis Borges, Cesar Fernandez Moreno and Juan Gelman. The principal aim analyzed the paradox of a "lyric I" who portrays himself as constantly fragmentary, yet underlines his status as an author by using autobiographical reference and remarks about his poetic practice and its limits. His main areas of research are twentieth-century and contemporary Latin American poetry and poetics as well as Southern Cone literatures of the same period. He is also particularly interested in literary theory and its connection with philosophy, aesthetics, representation of violence, translation studies and theories of the image.