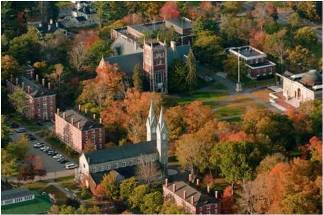 Bowdoin College Summer Programs
Bowdoin College's Summer Programs provide an opportunity for a variety of people to enjoy the College's facilities and to benefit from the expertise of Bowdoin faculty and staff during the non-academic portion of the year. Bowdoin is the longstanding host to several summer programs, including the Bowdoin International Music Festival, the Maine State Music Theatre, Upward Bound and the Infrared Spectroscopy Course. Additional programs are brought to campus each summer by Bowdoin faculty and staff and by outside associations. These include educational seminars, professional conferences, sports clinics, kids' camps, specialized workshops, and social events that are appropriate to the College's overall mission as an educational institution and as a member of the Maine community.
Event Planning

Individuals or organizations interested in holding an event or conference at Bowdoin should contact the Office of Events and Summer Programs, which schedules all summer activities on campus.  A member of our staff will assist you in coordinating dining and catering services, overnight accommodations, meeting spaces, audio-visual services and other amenities.
Contact Us
207-725-3433 (p)
207-725-3925 (f)
summerprograms@bowdoin.edu