Story posted July 15, 2013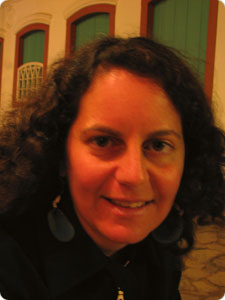 How does your own history help explain what you study and teach?

Some of my historical sensibility came from my grandparents.  My grandfathers came to Peru, my home country, from Turkey and Romania and my grandmothers from Austria and Poland.  For my paternal grandmother, emigrating from Poland meant escaping Auschwitz.  Their stories were part of my life growing up, even though they spoke in Yiddish, and sometimes I did not understand what was going on. History, politics, migration, and immigration were in the air at home.

Violence appeared in my life again when I was five years old. One day I woke up and saw all the dogs from the city in Lima hanging up from the street lights. Even though I was a child and did not understand what was going on, that image has stayed in my mind for years. The Shining Path began during  the 80s, and Peru lived in a perpetual state of emergency.

When I was thirteen years old, I traveled to Cuba on a three month ballet scholarship.  We stayed with Cubans, so we lived the way they lived.  This was during the Cold War and the Soviets were helping Cubans.  I later asked my parents how they allowed me to go when I was so young, and my father said, anything was safer than being with the perpetual violence of the Shining Path.  Many years later in 1999, I traveled to Cuba again to practice modern dance at the Theater of the Revolution and I saw and experienced El período especial (the Special Period).  

History and politics were unavoidable during my first career, in journalism, in the years of Alberto Fujimori's presidency.  I had studied communications at the Universidad de Lima, and after graduation, started working for a major newspaper, El Comercio.  I was responsible for the content of a weekly insert, Visto y Bueno.  My stories were cultural, including reviews of the arts, theater, dance, and cinema.  The pay was horrible but the work was fulfilling.  To me, the arts and literature have always been the most satisfying ways of studying history.  They help me to understand history.
Stories of  the Second World War told by my grandparents, events of the Shining Path active throughout my childhood and adolescence, my experiences in Cuba, and later the Fujimori Regime were key moments of my life, and key moments in the hisotry of the twentieth century.

Beyond the connection of literature to history, what is the common thread in your courses?  Which one is your favorite?

I'll take the last question first.  My favorite course is "Guerra de los Mundos Latinoamericanos" ("War of the Latin American Worlds").  The "war" in the title may be seen most vividly in one of the striking images of the course, one of architecture as represented in literature .  The image is that of a Spanish construction on top of an Incan temple in the isolated city in Vilcashuamán (Ayacucho). The new society imposed something alien on top of the old without supplanting completely what is underneath.  The image shows how we cannot get away from tradition, how tradition and modernity are fighting all the time.

In their own ways my other courses explore the connection between politics, literature, violence, and history.  "Andean Modernities," "Imaginary Cities/Real Cities in Latin America," "Historical Novels in Latin America," "River Plate Writers": all of these courses open windows into the clash between tradition and modernity.

Vilcashuamán Church, Ayacucho
You taught in a variety of places before coming to Bowdoin in 2006.  The University of Lima, the University of Colorado, Cornell University (during your Ph.D. studies), Ithaca College, Colby, and the Middlebury Language School.  Did that make adjusting to teaching at Bowdoin easier or harder?

The amount of experience helped, but the variety didn't matter.  Teaching at the big research universities was not so different from teaching at the liberal arts colleges – not for me anyway.  I teach what fascinates me and try to show students why it's fascinating.  I will say that Bowdoin students, especially in Spanish, have a passion for knowledge and exploring other countries.  They are curious  and motivated, love to study abroad and live different experiences, and I encourage them to do that.

Besides your many published journal articles and book chapters you have a book in progress.  I've had a peek at the title.  A Marooned Discourse, you call it.  What is it about?

You need to peek at the subtitle too!  The part after the colon is, Latin American Novels Entangled in History.  My book analyzes seven contemporary novels, by Antonio Di Benedetto, Reinaldo Arenas, Enrique Rosas Paravicino, Carmen Boullosa and Abel Posse, that simultaneously represent the writing of history in the colonial period (sixteenth-eighteenth centuries) and in the present. In their novels, the colonial power structures that shape race, gender, the notion of time, and how history is written, far from being destroyed in the present, persist as the foundation on which Latin America's marginalized and problematic modernity has been constructed. These writers intentionally refer back to the colonial past to highlight their respective countries' entrapment and to reveal two themes of particular interest. Through the metaphorical or literal figure of the island, they illustrate the notion that, in spite of globalization, Latin America and its inhabitants still remain on the periphery in relation to the great centers of power. Also, by framing the present from the trap of the past, these texts bring to light an ahistoricism constant in Latin American historical novels. The passage of time does not exist, or when it does occur it is circular, thus denying our conception of history as understood in terms of collective crises that inspire progress and positive change.