Summer 2016 Fellows
Kappa Psi Upsilon Environmental Studies Fellowships
Annie Glenn - Merrymeeting Food Council and Access Health
Annie Glenn (Environmental Studies and Sociology major / History minor) interned at the Merrymeeting Food Council and Access Health in Brunswick, ME. "MFC is a collaborative network of farmers, non-profits, businesses, government, and individuals working together in Maine to advance a thriving, resilient food system throughout the Merrymeeting Bay region." Annie's primary project during her 10-week fellowship was to plan the logistics for an "Edible Street," which will provide free edible produce in planters along streets in downtown Bath and at the Bath Housing Authority. Annie's work also included working at the Farmer's Market, gleaning, conducting interviews for the newsletter, grant writing and attending a multitude of fascinating meetings all revolving around different aspects of our food system. 
"My fellowship with the Merrymeeting Food Council and Access Health was invigorating as I met so many individuals in our community dedicated to work involved in our food system. It was amazing to observe through meetings, days in the office, and out in the field the hard work and effort that goes on to create a sustainable, thriving food system that benefits all. I have learned so much about the intricate layers of a food system and got to eat lots of fresh produce too! "
Amanda Perkins – Town of Brunswick Planning and Development
The Town of Brunswick's Department of Planning and Development is responsible for guiding the growth and changes in Brunswick through comprehensive planning, zoning, development review, design review, natural resource regulations, and other permitting and enforcement responsibilities. As a fellow at the Town of Brunswick, Amanda (Environmental Studies and History major) was immersed in a wide range of planning activities such as Staff Development Review, televised Planning Board meetings, rewriting the Town's zoning ordinance, interpreting and visualizing ordinances with maps and diagrams, monitoring conservation easements, and preparing maps for zoning purposes. Amanda also had the opportunity to self-direct a project for the Town in partnership with the Master Plan Implementation Committee conducting an updated parking audit of the downtown area and drafting new parking literature for the Town. The Town's review of parking in Brunswick will continue in partnership with Bowdoin through a Common Good Day project in the fall, surveying visitors to the downtown about their parking habits.
"This fellowship was one of the best learning experiences I've had as a student at Bowdoin. It was exciting to see how many things I learned in Environmental Studies courses bled into the daily activities of the Brunswick Planning Department; I found myself drawing on knowledge from classes I really hadn't thought were central to my education. At the same time, I was impressed to discover how much I didn't know about the inner workings of municipal government and the skills and knowledge required to make decision and best serve the community it is responsible to. I'm so thankful for the synthesizing perspective this fellowship has given me about my education and the community I live in as a Bowdoin student!"
Ethan Barkalow - The Maine Coastal Program
The Maine Coastal Program is a state agency administered by the Maine Department of Agriculture, Conservation and Forestry that distributes funds and manages projects to assess coastal change and the impacts on coastal communities and habitats. Ethan (Environmental Studies and History major) conducted research and investigation into Maine's coastal salt marshes to prepare for the installation of monitoring devices next year that MCP hopes will provide insight on coastal change. Ethan also drafted a grant proposal to secure funding for essential monitoring equipment. Additionally, Ethan joined the Maine Coastal Mapping Initiative (launched by MCP) as one of their Marine Mammal and Avian Observers.
"My fellowship with the Maine Coastal Program provided me with invaluable experience in environmental work in Maine. I engaged in field work in coastal salt marshes, nearshore streams and rivers, and on the open water! I gained transferable skills in communication and collaboration with NGOs and state agencies. My fellowship allowed me to confront tasks that I was unfamiliar with and accomplish them with the guidance of the MCP staff. I have built strong connections here and will continue my involvement with the MCP into the future!"
Ben Jurcic - Kennebec Estuary Land Trust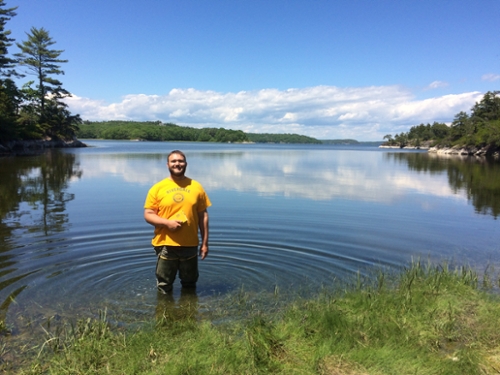 Ben's work at KELT mainly consisted of data collection and data entry for water quality and clam flat research projects as well disseminating that data to local communities. He also assisted with other KELT programs including teaching local youth about clam flats. His focal project for the summer was to research, design, and initiate a plankton characterization experiment for tidal waters over clam flats. He constructed and compiled the necessary materials and drafted protocols to begin testing. He also analyzed the initial data collected. The hope is to expand this project to include community volunteers from around the lower Kennebec. 
"My work with KELT has provided me a special opportunity to apply the scientific techniques I have learned in the classroom and laboratory to projects that are academic in nature, but also extend directly to the benefit and education of local communities. My fellowship illustrated well to me the critical intersection of science and citizenship and how local bodies, regardless of training, can utilize scientific problem solving to achieve a sustainable and burgeoning community."
April Mendez - Maine Migrant Health Program
Maine Migrant Health Program (MMHP) is a federally-qualified health center based out of Augusta that provides health care and health services to Maine's migrant and seasonal farm workers. The organization runs mobile clinics year-round at various agricultural labor camps all throughout the state of Maine. MMHP also has a strong Community Healthy Worker program that serves to ensure that the quality of healthcare they provide is culturally-appropriate. As a fellow at MMHP, April (Psychology and Environment Studies major) staffed many of the mobile clinics as an intake worker, registering patients for 2016 so that they could be seen on the medical unit during the season. Because many of the workers only speak their native-tongue, April served as a Spanish speaker for the program.
"My time with MMHP was absolutely incredible. As someone who has been interested in the agriculture industry, it was very interesting to be able to see a different side of the movement than I had ever been exposed to. The people I worked with had incredible stories and incredible journeys. I got to speak so much Spanish, which is something that I hadn't gotten to do in a long time. I finish up my internship with a huge appreciation for the work my program does and have been inspired to possibly pursue work in public health!"
Emma Moesswilde - Maine Conservation Voters
Emma Moesswilde '18 (Environmental Studies and History major, Teaching minor) spent her summer with Maine Conservation Voters advocating for Maine's environment. She worked with MCV on their annual Environmental Scorecard release and endorsement slates, two important legislative projects. Emma also conducted research on biomass energy in Maine and wrote for Maine newspapers to raise awareness about climate change. In addition, Emma assisted with political organizing in her home county of Waldo in preparation for the upcoming elections. Emma was privileged to attend the National League of Conservation Voters' annual Lobby Day, where she participated in an organizing training and met with the Maine congressional delegation about environmental legislation. 
"Through this fellowship, I was able to learn about political advocacy and community organization, and the important role they play in environmental conservation. I was also able to work with dedicated staff and board members to understand more deeply how nonprofit organizations function and effect change. It was really inspiring to see political and community-based initiatives take effect. After learning more about state politics and conservation, I feel empowered to work with voters and elected officials to protect Maine's natural heritage, and I've gained an interest and experience in environmental politics that I hope to use in the future." 
Jesse Newton - Coastal Enterprises, Inc.
Coastal Enterprises, Inc.  is a mission driven lender focusing on economic development in rural Maine and across the United States. As an intern for CEI, Jesse Newton (Mathematics and Environmental Studies) worked in their Natural Resources department researching and developing several projects to increase the productivity, diversity, and resilience of farmers and fisherman.  Projects included a pilot study that grew five ethnic, or specialty produce items not currently grown commercially in Maine that target its unsaturated market for locally grown, culturally appropriate produce. He also worked on the early stage construction of a comprehensive climate change toolkit that would help farmers adapt to a changing climate.
 "My fellowship at CEI exposed me to the complexity of natural resource management as it connects to healthy communities. CEI is unique in its field for the diversity of projects it's involved with and depth of interest it takes with their clients to assist them with their business to foster success. Working alongside Linnea Patterson, we researched uncommon vegetables, market demand, and climatic conditions, performed demographic analyses, and built a marketing plan for future work on these projects. 
Linnea Patterson - Coastal Enterprises, Inc.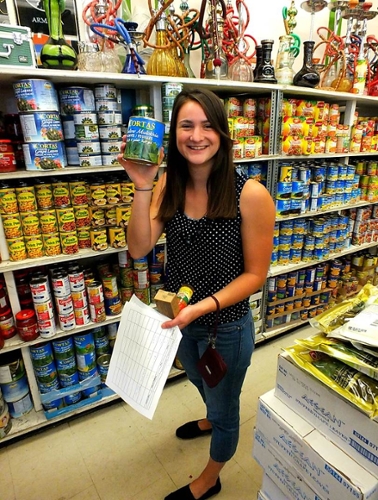 Linnea Patterson (Biology and Environmental Studies major) interned this summer for the Sustainable Agriculture Program of Coastal Enterprises, Inc. CEI, a lender and investor specializing in rural economic development, recently launched a pilot project to supply Maine markets with locally grown ethnic, or specialty, crops. Linnea evaluated the market potential of the produce, designed a marketing plan, and conducted market research in order to establish a foundation for replication in Boston markets. She also developed business counseling tools and an interactive infographic for Maine's farming community. These resources are pieces of a larger initiative to increase the resilience and decrease the vulnerability of farm businesses in the face of a changing climate.
"In the ten weeks that flew by at CEI, I was floored by the passionate and talented people that I worked alongside. I explored the feasibility and profitability of growing specialty produce in Maine and designed questionnaires to help business counselors advise their farmer clientele on climate adaptation strategies. It was a special experience to work on impactful projects with people who truly cared about them. I was proud to be a part of the CEI team (if only for a short time)." 
Stephanie Sun - Maine Coast Fisherman's Association
The Maine Coast Fisherman's Association is an industry-based non-profit that identifies and fosters ways to restore the fisheries of the Gulf of Maine and sustain Maine's fishing communities for future generations. As a fellow at MCFA, Stephanie (Environmental Studies and History major) worked on a variety of projects, from updating MCFA's fishery primer, to helping produce an episode of the Dock Talk podcast, to attending a New England Fisheries Council meeting in Portland, and researching the history and importance of the Portland Fish Exchange. The New England Fisheries Management Council meeting gave Stephanie insight into the way in which fisheries management decisions are made, while site visits to the Portland Fish Exchange and seafood retailers in Portland showed her what happens "behind the scenes" in Maine's seafood food system. 
"Prior to starting my summer with MCFA, my time at Bowdoin had inspired me to become more active and involved with the Town of Brunswick. Little did I know that my time at MCFA would only deepen my understanding of and desire to engage with the people and communities along the Maine coast." 
Meredith Outterson - The Nature Conservancy, Maine Chapter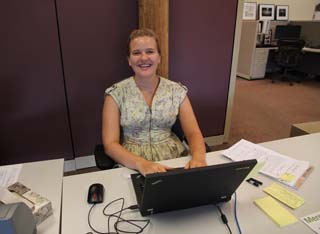 Meredith contributed to a variety of communications and environmental policy projects over the course of her fellowship at the Nature Conservancy in Maine. Working with TNC's Latin America team remotely, she compiled research on the financing magnitude of Water Funds in Colombia and on their potential obstacles and successes.  She (Environmental Studies and Government major) also wrote descriptions to advertise six Maine preserves, to be added to the Chapter's online interactive map to encourage more recreational usage, and tracked what previous Bowdoin-TNC fellows are doing now, in order to highlight their conservation career pathways.  When she wasn't doing those things, Meredith orchestrated a massive organizational overhaul of the Chapter's digital photo files, wrote a new photography protocol for staff, crafted engaging Facebook posts, and participated in conservation fieldwork trips.​
"As a fellow with The Nature Conservancy in Maine, I contributed to a variety of communications and environmental policy projects. Working with TNC's Latin America team remotely, I compiled research on the financing magnitude of Water Funds in Colombia and on their potential obstacles and successes. Water Funds are an innovative mechanism to finance watershed conservation, which TNC is promoting as an effective new model.  I also wrote descriptions to advertise 6 Maine preserves, to be added to the Chapter's online interactive map to encourage more recreational usage, and tracked what previous Bowdoin-TNC fellows are doing now, to highlight their conservation career pathways.  Additionally, I orchestrated a massive organizational overhaul of the Chapter's digital photo files, crafted engaging Facebook posts, and participated in conservation fieldwork."
Kappa Psi Upsilon Sustainability Fellowship
Shannon Deveney - The Nature Conservancy, Rhode Island Chapter

This summer, Shannon Deveney (Environmental Studies and Economics major) interned at the Rhode Island's chapter of The Nature Conservancy. TNC is a global non-profit that is dedicated to protecting and conserving land and water for current and future generations by engaging the young and inspiring a new generation of conservationists. Over this summer, Shannon has researched one of the growing green energy sectors: wind. She worked to uncover the environmental and economic impacts of historic windmills off the coast of Block Island, Rhode Island. She researched environmental impacts caused by both the construction and use of the wind farm and interviewed a multitude of people and businesses to uncover the economic impacts of this alternative energy. She accumulated the history of realties' sales in order to decipher the statistical changes in house prices due to this historic operation.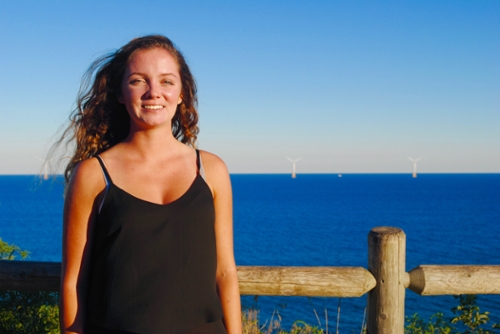 Working under the guidance of The Nature Conservancy this summer has allowed me to further my knowledge of what it is like to work in the field for a global non-profit. I worked alongside the best people and was given the opportunity to talk to experts in other TNC offices and connect with professionals across the globe.  This extraordinary opportunity has opened my eyes to a whole new aspect of environmentalism, encouraged me to step out of my comfort zone to procure vital information, and provided me with invaluable experience in my field of interest.
Cooke Environmental Research Fellowship
Garrett English- Appalachian Mountain Club

In Maine's 100-Mile Wilderness region, Garrett English '16 (Sociology-Environmental Studies) worked as the Maine Woods Initiative documentary photographer with the Appalachian Mountain Club (AMC). AMC's Maine Woods Initiative (MWI) is an innovative strategy for land conservation that combines recreation, resource protection, sustainable forestry, and community partnerships. With the support of the Cooke Fellowship, Garrett was able to experience life on AMC property, photograph MWI events, and interview people who live, work, or recreate on AMC's 70,000 acres of conserved land in the North Woods. In the upcoming year, Garrett will continue investigating the role of people in land conservation.
"I extremely enjoyed receiving an inside look into the Appalachian Mountain Club's Maine Woods Initiative operations. Their initiative supports what I've learned about conservation at Bowdoin – that individuals must be seriously engaged with a landscape for successful conservation. In addition to learning about conservation strategies in the North Woods, I was able to improve my documentary photography skills and become a better researcher. I'm looking forward to continuing my research and a beginning broader investigation into conservation and its sociological implications this fall."