Summer 2015 Fellows
Kappa Psi Upsilon Environmental Studies Fellowships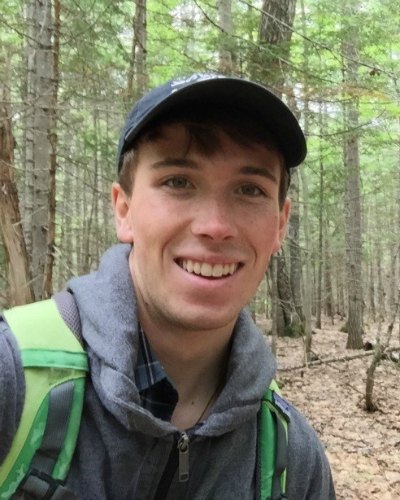 Bridger Tomlin - Town of Brunswick Department of Planning and Development
This summer, Bridger Tomlin (Environmental Studies and History major/Anthropology minor) interned at the Town of Brunswick's Planning and Development office through a Psi Upsilon Environmental Fellowship. Bridger participated in various town meetings, helped plan a promotional video of Brunswick, did 4 conservation easement inspections, learned about local ordinances, and edited zoning maps. His main project was naming trails on the Kate Furbish Preserve after the community that subsisted there historically. In this process, Bridger did historical research and interviews, wrote press releases, designed trails, and presented to the Town Council, Conservation and Recreation Commissions, and Planning Board.
"Through my fellowship I got to experience the real world of local government and all the joy, silliness, and hard work that accompanies it. The people I worked with are the most hard working and caring people. From naming trails on a nature preserve, presenting to Town Council, and doing conservation easement inspections, this experience had a bit of everything.  I really enjoyed getting a behind the scenes perspective on the town of Brunswick and municipal planning."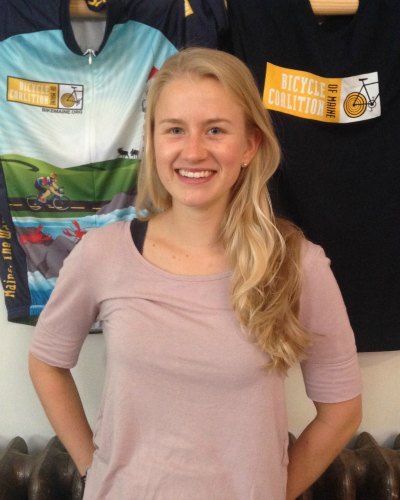 Brooke Goddard - Bicycle Coalition of Maine
The Bicycle Coalition of Maine is a non-profit organization based in Portland that does bicycle encouragement, education and advocacy work throughout the state. As a fellow at BCM, Brooke (Environmental Studies and Economics major) surveyed bike event directors and bike tourists to further BCM's economic impact of bicycling study. The results of the study will be used to advocate for bicycle-friendly infrastructure and legislation. Brooke also completed an assortment of smaller tasks to help BCM organize its three bike ride events: the Maine Women's Ride, the Maine Lobster Ride & Roll and BikeMaine--and got to join in the fun at the first two events.
"My fellowship with the Bicycle Coalition of Maine was a hopeful and energizing experience because I saw that biking is a catalyst for individual lifestyle changes and community rejuvenation, while also being contagious and accessible to all. My experience with BCM was also valuable in that it required me to step outside of my comfort zone and exercise some of my weaknesses. I've learned a lot from the experience, and gained a new hobby too!"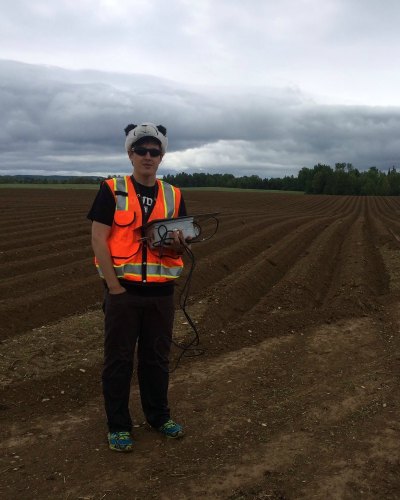 Hunter White - Stantec
Hunter (Environmental Studies and Asian Studies major/Earth and Oceanographic Science minor) interned at the Topsham branch of Stantec, a prominent engineering, consulting, and design firm. Stantec's Topsham office performs a variety of ecological services including acoustic bat surveys across the country.  These surveys determine the potential presence of particular bat species in an area by detecting their echolocation ultrasound calls. Hunter aided in the construction and deployment of bat detectors as well as retrieving detectors from remote locations.
Hunter also conducted his own acoustic bat survey of the Bowdoin College Coastal Studies Center, which was also used to compare the effectiveness of various bat detector models and bat call interpretation software programs.
"I have really enjoyed working with Stantec. I've gotten experience in every part of the environmental consulting industry, from remote field work to drafting reports and proposals. This internship was certainly a useful experience and allowed me to see how I can apply my Environmental Studies knowledge in a practical way. After having this experience, I can definitely see myself pursuing a career in environmental consulting after graduating from Bowdoin."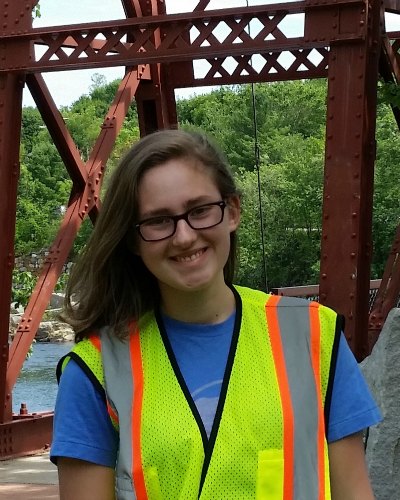 Julia Berkman-Hill - Town of Topsham Department of Planning and Development
This summer, Julia (Biology major) interned with the Topsham Department of Planning and Development worked with the Assistant Planner and Planning Director on a variety of projects tailored to the student's interests. The opportunity gives students experience with environmental field work, historic preservation, GIS, and working in a professional setting. Julia focused on mapping with GIS in preparation for an update to the Comprehensive Plan. This involved creating a database of where recent development has occurred in town, then analyzing its impact on different mapped natural resources. Other projects included a site walk of a town-owned property for the Conservation Commission, working with the Tree Committee to update the street tree inventory, and providing recommendations of new interpretive sign locations for the Historic District Commission. 
"This opportunity has given me much respect for the intricacies of local government and how planners must connect the current interests of landowners, residents, and developers to a long-term vision. Through the work I've done walking the streets of Topsham, meeting with committees, and using GIS, I have gained useful professional skills, gotten to know local community members, and have come to appreciate how the small details of zoning and planning really contribute to a sense of place."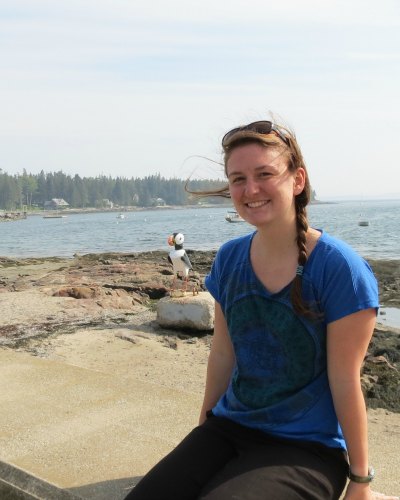 Kaitlyn Theberge - Maine Coast Fisherman's Association
As an intern at the Maine Coast Fishermen's Association, Kaitlyn Theberge '16 (Environmental Studies and French major) became immersed in everything related to ground fish in the state of Maine.  One of her main projects included researching and mapping where local seafood is caught and how it reaches consumers when it stays in Maine.  This will go towards an initiative of promoting locally caught fish and other seafood.  Among other things, Kaitlyn also edited previously recorded interviews with fishermen and industry authorities will go to making a podcast on the history and challenges of the fishing industry of Maine.
"Working at the Maine Coast Fishermen's Association has given me the opportunity to see one of Maine's biggest industries and tourist draws in action.  Fisheries are so much more complicated than they appear, and are saturated in culture, science, and policy.  I really enjoyed seeing what it takes to make it all happen.  And seafood—the part of the process the everyday person sees—has its own surprising set of complexities and issues."
Samantha Stalder - Piping Plover Project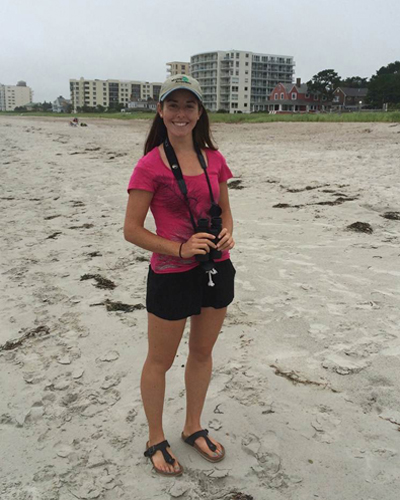 Samantha (Government and Spanish major) interned with Maine Audubon's Piping Plover Project and learned about the many aspects that go into protecting an endangered species – an incredibly complex and difficult process.  Samantha worked alongside biologists in managing about twenty Maine beaches where Piping Plovers nest.  The job included surveying, putting up and taking down fencing, and educating the public about the birds.  She not only learned the logistics of managing elusive birds, but also effective ways of communicating with and educating a multitude of people.
"This fellowship with Maine Audubon's Piping Plover and Least Tern Project opened my eyes to the legal, economic, and environmental aspects that go into protecting an endangered species.  I was inspired by my coworkers' dedication to the cause and had so much fun and gained so much experience working alongside them.  Not only did I learn an incredible amount about birds, but also how to effectively engage the public sector and communicate with many different types of people."
Logan Environmental Fellowship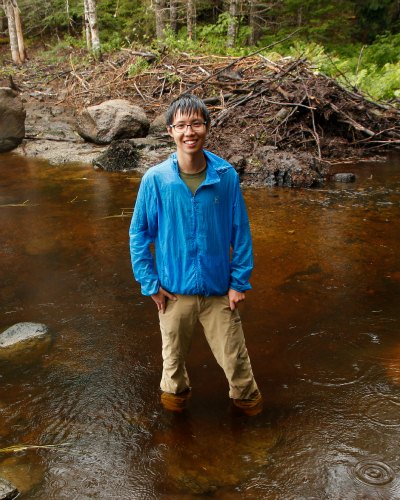 Lu Miao - The Nature Conservancy
This summer Lu Miao (Environmental Studies and Economics major) interned at The Nature Conservancy (TNC), an international non-profit organization dedicated to preserving and protecting ecologically important places for both nature and people. Over the 10 week internship, he was able gain a full picture of conservation from global strategies to local implementations. He participated in a variety of projects, ranging from researching tends in Chinese investment in Africa's hydropower development to monitoring nature preserves in the Debsconeag Lakes Wilderness Area. He also gained marketing experience though outreaching for the World Fish Migration event in 2016 and documenting LEAF program's dam removal project with the marketing expert.
"Working at The Nature Conservancy this summer has allowed me to see what it would be like working in a global conservation organization full-time. I really enjoyed the variety of projects and field work I participated in and those in-depth conversations I had with experts in the wide field of conservation science and policy. For my projects, I have the opportunity to reach out to quite a number of TNC's offices and connect to people who care about nature from all over the world! It was a pleasure to work TNC's dedicated and passionate stuff and I felt that even during my short time at TNC I was already making a difference."
Kappa Psi Upsilon Sustainability and Environmental Justice Fellowships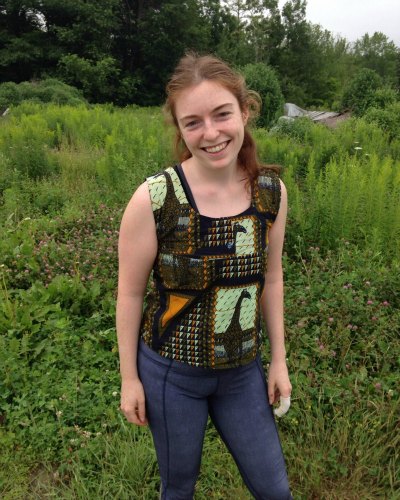 Emily Stewart - Brunswick-Topsham Land Trust & Kennebec Estuary Land Trust
Emily Stewart (Environmental Studies and Government major) conducted her fellowship with the Brunswick-Topsham Land Trust and the Kennebec Estuary Land Trust, nonprofits that have created a Food Council for the Merrymeeting Bay area. She conducted a Food Assessment of towns along Merrymeeting Bay to create a database for the Food Council members to use as they collaborate to strengthen their local food system. Using GIS, she mapped the production, distribution, and retail of local food in fourteen towns, as well as the infrastructure and community organizations that support Maine farms and fisheries.  She also collaborated with the Maine Coast Fishermen's Association to map the seafood system in coastal towns from Portland to Port Clyde.
 
"This summer I learned how inspiring it is to work in a nonprofit organization that is committed  to fostering collaboration and resilience in communities. It was constantly inspiring to work with people who were dedicated to their communities on both a personal and a professional level. I also learned how to translate vast amounts of data into a format that would be useful for people on the ground, which is a skill that gave all of my research purpose and applicability."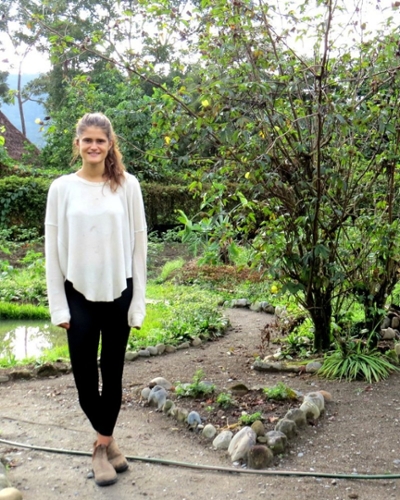 Jamie Ptacek - RUNA Foundation
As a Psi Upsilon Sustainability Fellow, Jamie worked with the RUNA Foundation to research and promote sustainable agriculture development among native farmers in the Peruvian Amazon. The RUNA Foundation is a non-profit organization that creates new value for tropical rainforests while simultaneously improving the lively hoods of indigenous farmers. RUNA employs communities to grow guayusa tea in sustainable agroforestry systems-systems that discourage deforestation for monoculture plantations by giving value to native rainforests. They also support the creation of farmer cooperatives to strengthen local decision making processes, providing funds that communities invest in their own development.  
Jamie's primary project was to work with native farmers to plan and implement a pilot agroforestal plot of guayusa in an area of the Peruvian Amazon where the RUNA Foundation is interested in working. The goal of this project was to monitor plant growth and productivity to determine if guayusa would be a lucrative crop in this environment. 
Jamie also spent time visiting indigenous communities in the Peruvian Amazon and talking with native farmers to determine if guayusa production would be a viable means of diversifying their incomes. She primarily evaluated the socioeconomic structures and current systems of agriculture in the communities by conducting interviews and surveys.
"Working with the RUNA Foundation this summer was an eye opening and humbling experience. I grew acutely aware of the threats that unsustainable systems of agriculture are having on the Amazon rainforest. With this knowledge I gained a better understanding of agroforestry-the science behind it, how to manage these systems, and their utility as a means of discouraging deforestation in the Amazon. With that understanding I grew immensely aware of how vital it is to educate farmers in these indigenous communities to promote more sustainable practices. Working so closely with indigenous farmers was one of the most poignant, experiences I had. They welcomed me in to their homes and communities to show me their cultures and traditions, while we worked towards the common goal of Amazon conservation. I've grown to love this forest and the people who live in it. I am glad to have had the privilege to play a small role in helping to improve the livelihoods of these people and the health of such beautiful and biodiverse rainforest ecosystems."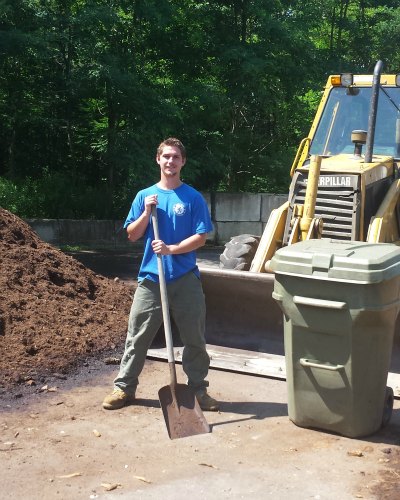 Colton Hall - Maine Department of Environmental Protection, Town of Farmington, University of Maine at Farmington
Colton Hall (Environmental Studies and Earth and Oceanographic Science major) collaborated with the town manager of Farmington, Richard Davis, Mark King of the Maine Department of Environmental Protection, and Dr. Luke Kellett from the University of Maine at Farmington. The primary goal of the fellowship was to manage and grow the newly reopened compost pad owned and operated by both the town and UMF. The fellowship also offered Colton the opportunity to learn about waste diversion and management through a two-week internship at the Waste Management owned Crossroads Landfill. In addition, Colton was exposed to multiple sustainability and compost driven efforts through work with the Maine DEP.
"Last summer I worked through several entities to learn and engage in composting, waste management and diversion, recycling, and sustainability at community and state levels. My primary work was managing and growing a composting initiative that was a collaborative effort between the University of Maine at Farmington and the town of Farmington. In addition, I worked alongside members of Maine DEP on environmental projects such as acoustic bat surveys and whale autopsies. I also spent two weeks interning at the Crossroads Landfill, a Waste Management facility in Norridgewock, where I learned about the corporate side of waste management, recycling and diversion. I had an awesome summer working with some really amazing people and gaining invaluable experience in my field of interest."
Cooke Environmental Research Fellowship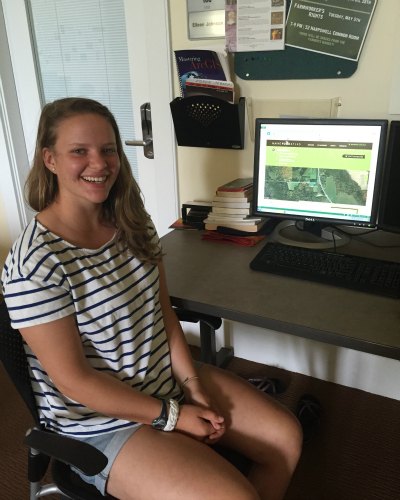 Eliza Huber-Weiss - Cooke Environmental Research
With the Cooke Environmental Fellowship, Eliza Huber-Weiss '17 (Environmental Studies and Earth and Oceanographic Science major) researched the inner workings of the food system of Maine, focusing on Aroostook County. Recently, Aroostook has seen a major decline in the number of farms and an increase in the average size of farms, a trend very different from other places in Maine that are seeing a rise in small, organic, diversified farms. Eliza's work connected her with many people trying to create tools helpful to farmers within Maine, and will continue her work into the fall with Eileen Johnson as an advisor. 
"Studying the food system within Aroostook County allowed me to hone my skills in GIS and research, but also pushed me to immerse myself into the culture of The County, an experience that provoked new questions. I met incredible people that made me see the issues from multiple angles, which helped me realize and appreciate the complexity of food systems and the work it takes to create a sustainable one."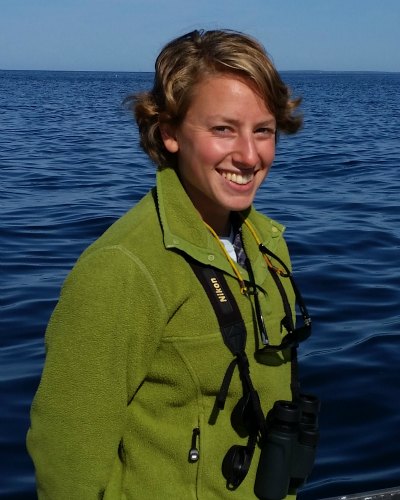 Dana Bloch - Cooke Environmental Research
Dana worked as a Marine Mammal and Avian Observer with the Maine Coastal Mapping Initiative through the Cooke Fellowship. She spent many days on a research vessel, cataloging marine mammal and seabird sightings, and integrated diverse data the research boat collected (bathymetry, bottom substance, water quality, infauna and mega fauna) to gain a better understanding of the complexity of the ocean, particularly in the Gulf of Maine.
"The exposure to field science and the opportunity to work with MCMI, a program geared towards gaining an understanding of the great resource that is the Gulf of Maine, has been an incredible experience. I have learned basic GIS, have had the privilege of spending most days on a boat, observing animals, and have realized that the complexity of the ocean is far beyond our understanding and is thus exceptionally beautiful."
National  Audubon Fellowship


Marisa Browning-Kamins.  To read more about Marisa's experience with National Audubon, see the Bowdoin news
article.
 Project Puffin is a program that is dedicated to restoring seabird diversity in the Gulf of Maine. As an intern for the National Audubon Society, Marisa spent 11 works working for Project Puffin as a seabird island research assistant on Stratton Island, a 24-acre island located in Saco Bay. While living on the island full-time, Marisa assisted with the conservation and monitoring of common tern, roseate tern, and least tern colonies that nest on Stratton Island. She participated with the resighting and banding of various tern species, feeding studies, and the monitoring of the productivity and growth of common tern chicks. She also participated in other tasks such as invasive plant removal, various nest censuses, and educational outreach to visitors to the island.
 "During my summer working for the National Audubon Society, I was offered the extraordinary opportunity to work hands-on with tern species during all stages of their development. Although my knowledge of birds was limited prior to my internship, I learned how to band birds, identify numerous species, and safely handle both adults and chicks (in addition to the numerous other skills I picked up throughout the summer). While working for Project Puffin I was immersed in the realities and complexities of wildlife conservation, an invaluable opportunity for someone interested in pursing a career related to conservation and environmental management.