Artist Alex Katz Talks Hopper
Internationally renowned artist Alex Katz (b.1927) has been spending summers in Maine since he first studied at the Skowhegan School of Painting and Sculpture in 1949. Working within a realist tradition that was, by the late 1940s, less fashionable, Katz pioneered a unique representational style. Over the course of his lengthy career, he has continually reinvented landscape and figure painting and, inevitably, has spent time considering the work of Edward Hopper. Alex Katz was kind enough to agree to design the spare and elegant installation of Edward Hopper's Maine, and to share some of his thoughts about the artist's work.
Watch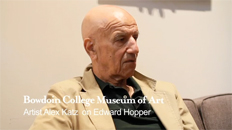 Alex Katz on Edward Hopper.

"If you look at landscape painting from that time in America, there isn't anyone close to him in technique"