Photographs
Historic photographs are one of the strengths of The Peary-MacMillan Arctic Museum collections. There are nearly 30,000 images, most from the eastern North American Arctic. The core of the collection are the 15,000 images taken by Donald B. MacMillan between 1908, when he was a member of Peary's North Pole expedition, and 1954, his last expedition to Greenland. These include black and white images, hand-tinted glass lantern slides, and 35mm transparencies. MacMillan re-visited the same communities in Labrador, Greenland, and Baffin Island on his many expeditions, and in doing so documented their history during a period of significant cultural change. His photographs are supported by photographs taken by other members of his expeditions.
Other highlights of the photograph collection include Emil Diebitsch's photographs of the 1895 Peary Relief Expedition to Greenland, Marius E. Johnston's photographs of the 1910 Rainey-Whitney expedition to Greenland, and photographs of the Crocker Land Expedition donated by the families of expedition members Elmer Ekblaw and Maurice Tanquary. More recent images include an album of photographs from Bluie West 1, an important US military base in Greenland during the Second World War.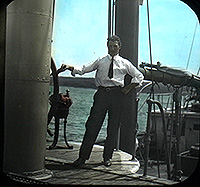 Captain Robert A. Bartlett at the helm of  the SS Roosevelt, 1908-09. Hand tinted glass lantern slide. Donald B. MacMillan. Gift of Donald and Miriam MacMillan.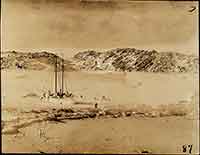 The Bowdoin frozen in at Refuge Harbor, 1923-24. Silver gelatin print. Donald B. MacMillan, Gift of Donald and Miriam MacMillan.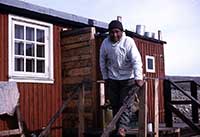 Odaq (Ootah), who was at the North Pole with Peary outside his house in Qaanaaq, Greenland, 35mm transparency, Donald B. MacMillan. Gift of Donald and Miriam MacMillan.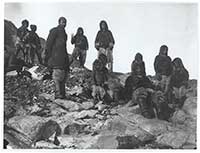 Emil Diebitsch took this photographs of Matthew Henson (standing, left), with a group of Inuit in northwest Greenland, ca. 1987. Silver gelatin print, Emile Diebitsch, Gift of Edward Peary Stafford.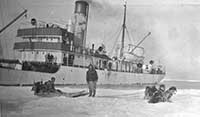 An Inuit family on their dog sledge, in front of the steamer Beothic in Smith Sound, Greenland. Big Game hunters Harry Whitney and Paul Rainey chartered the Beothic for a summer of hunting in the far north in 1910. Silver gelatin print, Marius Johnston, 1910. Gift of Marius E. Johnston.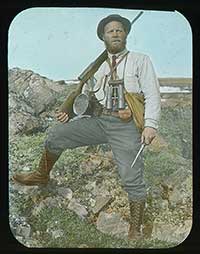 Elmer Ekblaw in the field, northwest Greenland, 1913-1917. Hand-tinted glass lantern slide, Crocker Land Expedition, Given in honor of Walter E. Ekblaw, Jr., devoted son.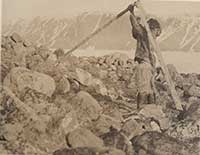 An Inuit man setting up a tupik (tent), northwest Greenland.,Silver gelatin print, Maruice Cole Tanquary, 1913-1917. Gift of Margaret Tanquary Corwin.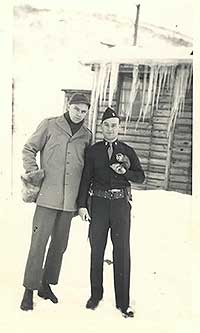 Lt. Manly and an unidentified man holding Cheek the monkey, at Bluie West 1, west Greenland, 1943-44. Silver gelatin print, Carl D. Rutledge, Gift of Carl D. Rutledge.